Peanut Butter Cookie Dough Sandwich Cookies are soft peanut butter cookies made from scratch then filled with homemade peanut butter chocolate chip cookie dough.

The first week in November. Seriously? Already? Where's my September, my October? I feel like I didn't do enough fall things. I want to take a walk in the woods where golden leaves are everywhere. I want to be slightly bundled up in a sweater walking outside in the brisk weather drinking a hot pumpkin spice latte (no ugg boots though – I don't wear those). I want to embrace the unusually warm fall weather because once fall is over, that means the dreaded four letter S word. Snow. Nope not talking about that today. Instead let's talk about COOKIES! Last year you may remember Cookie Week with
Susan of The Girl In The Little Red Kitchen
and
Kim of Cravings Of A Lunatic
. (If not, a group of bloggers are each sharing three cookie recipes this week – see the list at the end of the post). This year we are back with even more cookies to get you through the holidays. And of course we can't have Cookie Week without a giveaway! Keep reading for more info on the sponsors and prizes.
Last year I kicked it off with peanut butter cup sandwich cookies, so it's only fitting that I kick this year off with Peanut Butter Cookie Dough Sandwich Cookies, which are even better. I'm not kidding. Usually I can eat one cookie and give the rest away, but nope I ate a couple then gave the rest away. That's a big deal for someone who constantly has something sweet in her apartment. If you like peanut butter and cookie dough, you're going to love them together as a sandwich cookie.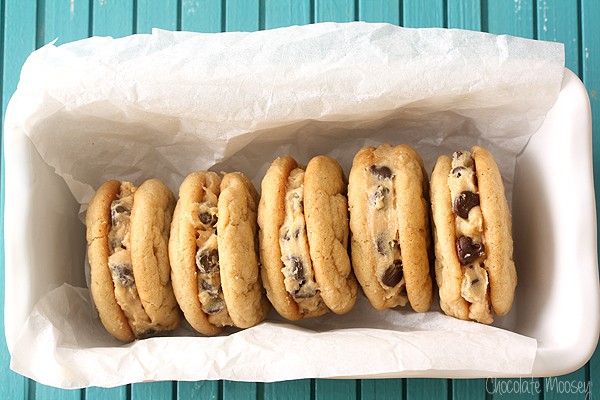 Two words – cookie dough. I don't think there's one person who hasn't snuck a taste of cookie dough when baking cookies, regardless of what Mom said about eating raw eggs. And I don't know about you, but I've never heard on the news "Person dies from eating raw cookie dough." Nevertheless, this cookie dough is egg free. Just make sure you leave some for the actual cookies.
Speaking of cookies, they looked practically perfect after pulling them from the oven. The tops were round and crinkly. They are chewy and soft, but not too soft as you need them firm enough to sandwich together. Every cookie had a matching pair, including size too. Do you realize how rare that is? Usually at the end, you have one cookie slightly bigger than the other.
I'm not going to lie – peanut butter cookie dough sandwich cookies do not mail well BUT they do package well if you're giving them away in person. Two Sundays ago,
Kayle from The Cooking Actress
visited me in Pittsburgh for the day, so I sent her home with a cute Halloween treat box filled with these and another cookie I made (which I'm posting tomorrow). So if you don't know what to get someone for Christmas, I'm sure a box of these cookies will beat an ugly Christmas sweater any day.
Ingredients
Peanut Butter Cookies

1 1/4 cups all-purpose flour
1/4 teaspoon baking soda
1/2 teaspoon salt
1/4 cup (4 tablespoons or 2 ounces) unsalted butter, softened
1/4 cup creamy peanut butter
1/3 cup granulated sugar
1/3 cup packed brown sugar
1 egg, room temperature
1 teaspoon vanilla extract

Peanut Butter Cookie Dough

1/4 cup (4 tablespoons or 2 ounces) unsalted butter, softened
1/4 cup creamy peanut butter
1/4 cup packed brown sugar
1/4 cup all-purpose flour
1/4 cup powdered sugar
1/8 teaspoon salt
2 tablespoons heavy whipping cream (or milk)
1/2 teaspoon vanilla extract
1/2 cup semisweet chocolate chips
Instructions
For the peanut butter cookies

Preheat oven to 350F. Line two cookie sheets with parchment paper.
In a medium bowl, whisk together the flour, baking soda, and salt.
In a large mixing bowl, beat together the butter, peanut butter, sugar, and brown sugar until smooth and creamy, about 2-3 minutes. Beat in the egg and vanilla. Gradually beat in the flour mixture.
Roll the dough into 1-inch balls (roughly 1 tablespoon each) and arrange on the cookie sheets about 2 inches apart. Bake 9-11 minutes or until edges are lightly golden brown. Cool on the sheet for 5 minutes then transfer to a wire rack to cool completely.

For the peanut butter cookie dough

In a large mixing bowl, beat together the butter, peanut butter, and brown sugar until light and creamy, about 2-3 minutes. Add the flour, powdered sugar, and salt until incorporated. Add the heavy cream and vanilla. Beat for another 2 minutes or until light and fluffy. Stir in the chocolate chips.
Add 1 tablespoon of cookie dough to the flat side of one cookie then top with the flat side of another cookie. Gently press together until the filling spreads to the edges. Repeat with remaining cookies and filling.
7.6.3
3338
https://www.chocolatemoosey.com/2014/11/03/peanut-butter-cookie-dough-sandwich-cookies/
Source: Adapted from
The Cookie Dough Lover's Cookbook
Want More Cookie Recipes?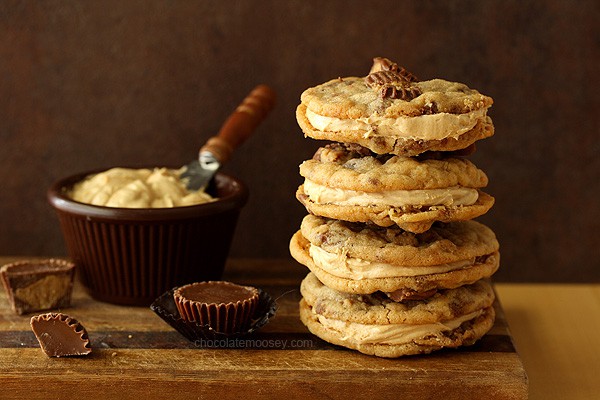 Peanut Butter Cup Sandwich Cookies
Other Cookie Week Bloggers
Other blogs participating later this week include:
Cookie Week Giveaway
Our sponsors for Cookie Week have provided us with some great prizes and we'd like to extend a huge thank you for their generosity. Thanks to Imperial Sugar, Circulon, Peanut Butter & Co. and Page Street Publishing for being a part of Cookie Week!

Here are the prizes – one lucky winner will take it all:
How to enter:
Mandatory Entry: Leave a comment telling me know what your favorite cookie is to bake during the holidays. Many more additional ways to enter in the Rafflecopter widget.
1 (one) lucky person will win a the prizes listed above, who will be randomly chosen through Rafflecopter. This giveaway is open from Monday, November 3rd, 2014 to Monday, November 11th 11:59 EST to US residents only. 1 winner will be contacted by me via email and will have 48 hours to respond, at which time a new winner will be drawn. Good luck!