Melt-in-your-mouth almond snowball cookies with a maraschino cherry surprise and coconut coating will soon be your new favorite cookie.
How would you describe your best cookie? For me, it's texture and flavor. Flavor is pretty self explanatory. I have a lot of favorite ingredients – chocolate, peanut butter, caramel, lemon, marshmallows, cherries. Unless there's anise extract or the cookie was poorly executed, chances are the cookie ranks pretty high on my list. That's where texture comes into play. My two favorite textures are chewy (think chocolate chip cookies) and melt-in-your-mouth (think shortbread). Today I am focusing on melt-in-your-mouth goodness and am beyond excited to share these Cherry Coconut Snowball Cookies with you. Seriously, these are probably the best cookies I've made all season, and that's saying a lot when I made
triple peanut butter cookies
last month. How can something so delicate and small leave your taste buds wanting more? I'm not sure, but you need to make at least several dozen of them to try.
I first saw the idea for these cookies on Pinterest, which led me to Taste Of Home. The original recipe called for quick oats, but I didn't feel like it belonged, so I substituted ground almonds instead. Almonds and maraschino cherries complement each other so well. Have you ever smelled almond extract before? It smells just like maraschino cherries. After baking and cooling (assuming you didn't taste test them all), the cookies get a lovely bath in glaze and coconut. It's a little bit of a messy process, but I promise it's worth every bite.
Snowball cookies make a great homemade gift from the kitchen. I mailed some to a friend recently, so they pass the "can these be mailed" test. You can also package them in a candy box and give them like a box of chocolate covered cherries (except without the chocolate, of course). Or maybe a box of truffles makes a better analogy. Either way, if you gave me a box of these cookies, you'd be my new best friend.
Equipment you may need (Amazon affiliate links):
Cherry Coconut Snowball Cookies
Yield: 18 cookies

Prep Time: 20 minutes

Cook Time: 20 minutes

Total Time: 40 minutes

Melt-in-your-mouth almond snowball cookies with a maraschino cherry surprise and coconut coating will soon be your new favorite cookie.
Ingredients
1 cup all purpose flour
1/4 cup ground almonds
1/4 teaspoon salt
1/2 cup unsalted butter, softened
1/4 cup powdered sugar
1 1/2 teaspoons water
1/2 teaspoon almond extract
18 maraschino cherries, drained
Glaze
1 cup powdered sugar
1 tablespoon milk
1 cup coconut flakes
Instructions
Preheat oven to 350F. Line two baking sheets with parchment paper.
In a medium bowl, whisk together the flour, almonds, and salt.
In a large mixing bowl, beat together the butter and sugar until light and creamy. Beat in the water and almond extract. Gradually beat in the flour mixture until a dough forms.
Shape a tablespoonful of dough around each cherry, forming a ball and place about 2 inches apart on baking sheets. Bake for 18-20 minutes or until bottoms are browned. Remove to wire racks to cool completely.
For the glaze: In a small bowl, beat together the sugar and milk. In another small bowl, add the coconut. Roll each cooled cookie in the glaze then roll in the coconut. Let the glaze harden before serving. Store in an airtight container for up to one week.


Source: Adapted from Taste Of Home
—-
If you liked these Cherry Coconut Snowball Cookies, you may also like these recipes:
From me: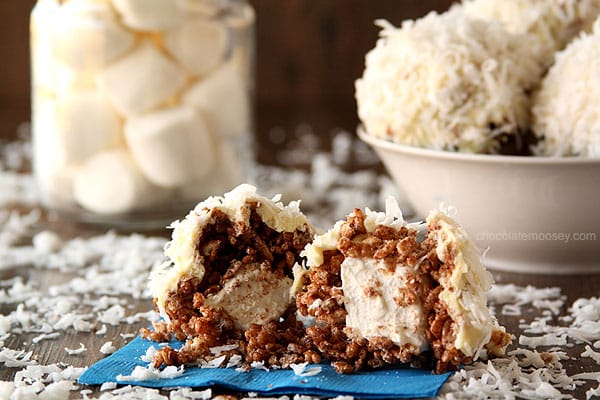 From others: