The best way to celebrate any happy occasion is with sprinkles! Mini Funfetti Cheesecake For Two baked from scratch without Funfetti cake mix.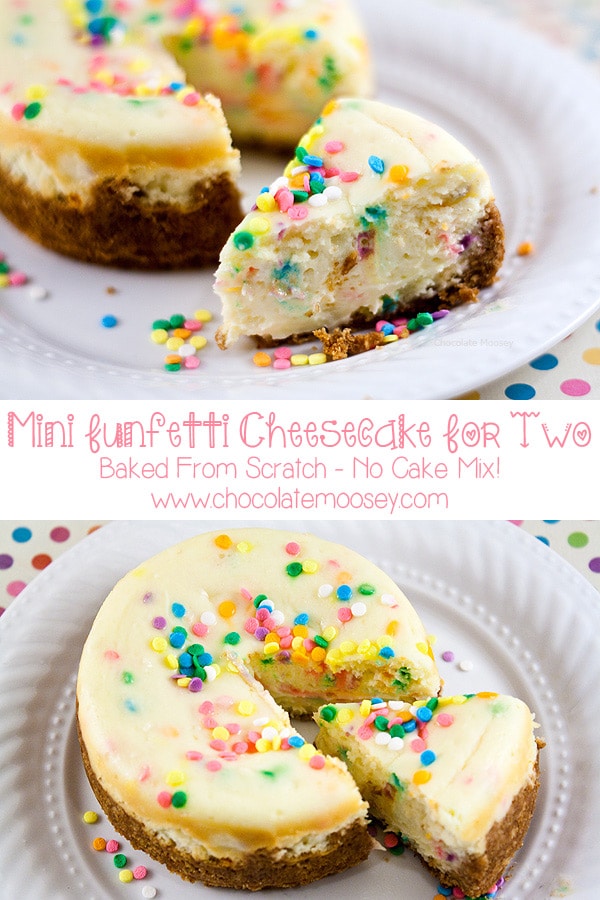 Guys, I have a huge confession to make, one that makes me feel a little ashamed since I have a bake-from-scratch philosophy: I love Funfetti cake mix. It has always been my favorite growing up. Several times I tried to duplicate it from scratch, and either the sprinkles melted and turned my cake pink or that certain taste just wasn't there. It's not a white cake. It's not a yellow cake. It's a Funfetti cake. Does anybody else feel this way? Or am I just crazy? I used to give in and buy a box to throw into recipes, but the problem was I'd only use a few tablespoons at a time, and unless I was making Funfetti recipes every week (I wasn't), that box would sit in my pantry until it expired. I was determined to figure out the flavors of Funfetti cake. After much research (both reading and eating), the prominent flavors are butter and vanilla.
I first made Mini Funfetti Cheesecake For Two for a coworker's birthday because she absolutely loves cheesecake. There's no better way to celebrate a birthday than with confetti sprinkles. I baked them in two mini springform pans so we wouldn't have a ton of cheesecake leftover (not that leftover cheesecake is a bad thing).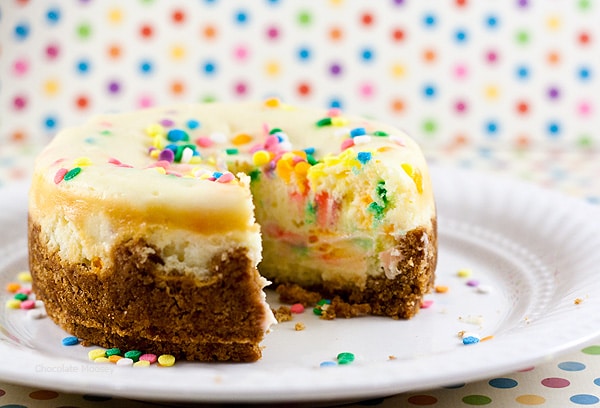 One problem I noticed with homemade Funfetti recipes is a lot of them use butter extract. Butter extract. An ingredient I will never use in my life again unless I'm making Funfetti all the time.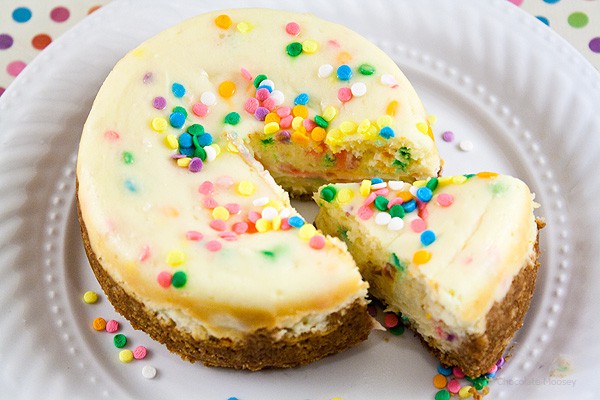 The next best way to add butter flavor? Use real butter. Crazy I know. Much like my
Funfetti layer cake
, I added melted butter to the cheesecake batter for flavor.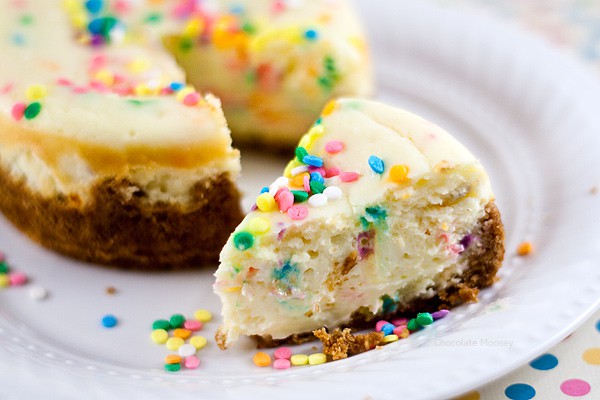 For the sprinkles, you want to use regular sprinkles and not nonpareils, the itty bitty dots. They just end up melting and bleeding together in the batter. I love using confetti sprinkles to stay with the Funfetti theme, but as long as they aren't tiny, any shape will work.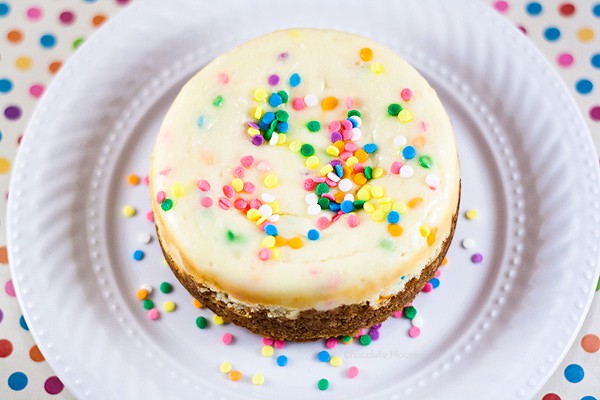 Items You May Need (affiliate links):
Mini Funfetti Cheesecake For Two
Yield:
2 mini cheesecakes
Ingredients
1 cup graham cracker crumbs
8 tablespoons (1/2 cup or 4 ounces) unsalted butter, melted
4 ounces full-fat cream cheese, softened
1/4 cup granulated sugar
1 egg
1 tablespoon vanilla extract
1/4 cup sprinkles
Instructions
Preheat oven to 350F. Lightly grease two 4-inch springform pans.
In a small bowl, mix together the graham cracker crumbs and 2 tablespoons melted butter. Press onto the bottom and side of each pan.
In a large bowl, beat together the cream cheese and sugar until creamy and smooth, about 2-3 minutes. Beat in the egg. Beat in the remaining 6 tablespoons butter and vanilla. Stir in the sprinkles. Divide batter between the pans.
Bake 25-30 minutes or until the center is almost set (the top will be firm but the middle may jiggle slightly when moved). Cool on a wire rack for 10 minutes. Carefully loosen the pan sides and cool 1 hour longer or until room temperature. Refrigerate at least 4 hours or overnight before serving.
Source: Adapted from Taste Of Home