Pumpkin Tiramisu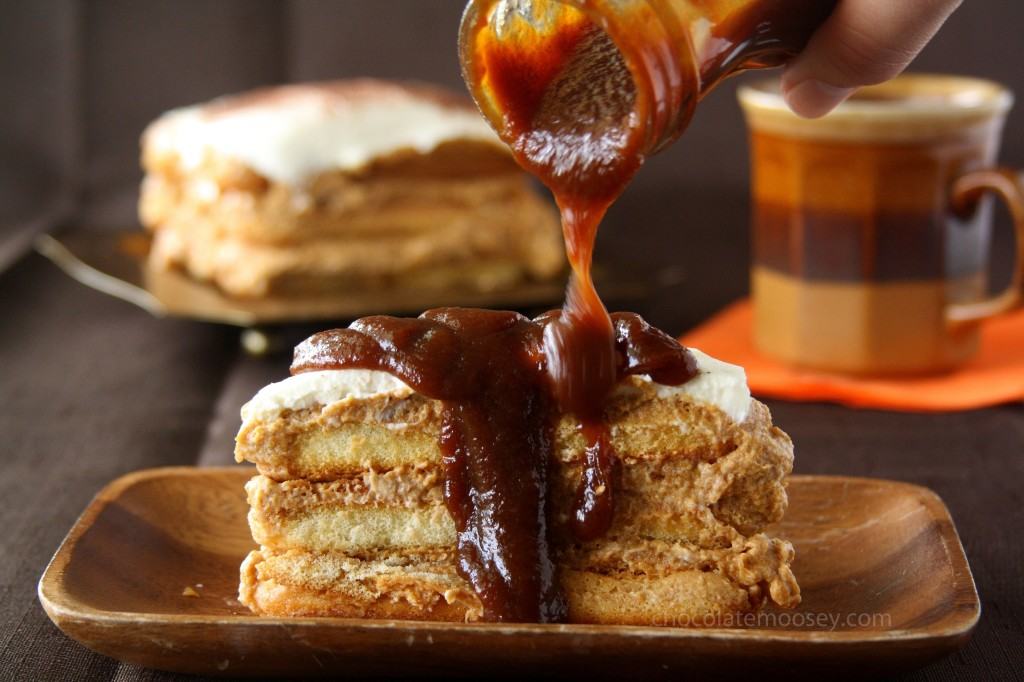 If there is one color that sums up fall, it has to be orange.
Pumpkins, Halloween, leaves, it screams fall.
Now, I know what you're thinking – "Carla, your tiramisu isn't orange. It's…BROWN."
Well I wasn't expecting the Pumpkin Tiramisu to turn out as brown as it did. I was thinking oh the pumpkin filling will be orange!
As soon as I added the cinnamon and clove, all hopes of orange were lost. I didn't even have an orange tablecloth or fake pumpkin, just a lonely little orange napkin.
I even covered it with (brown) Pumpkin Butter Caramel Sauce. Well….at least the lighting makes it look elegant?

If you were here back in June for #strawberryweek, you may remember
the disaster of Strawberry Tiramisu
.
I failed at making homemade ladyfingers. Twice. Then I couldn't find premade ladyfingers at the store. Then I couldn't find mascarpone. And on top of all that, I was sick.
After Dad saved the day with ladyfingers, I had half a package leftover. I knew I wanted to tackle tiramisu again when I was better.
Once I found mascarpone at the store, I grabbed it. Then it sat in my fridge for about two months. Whoops.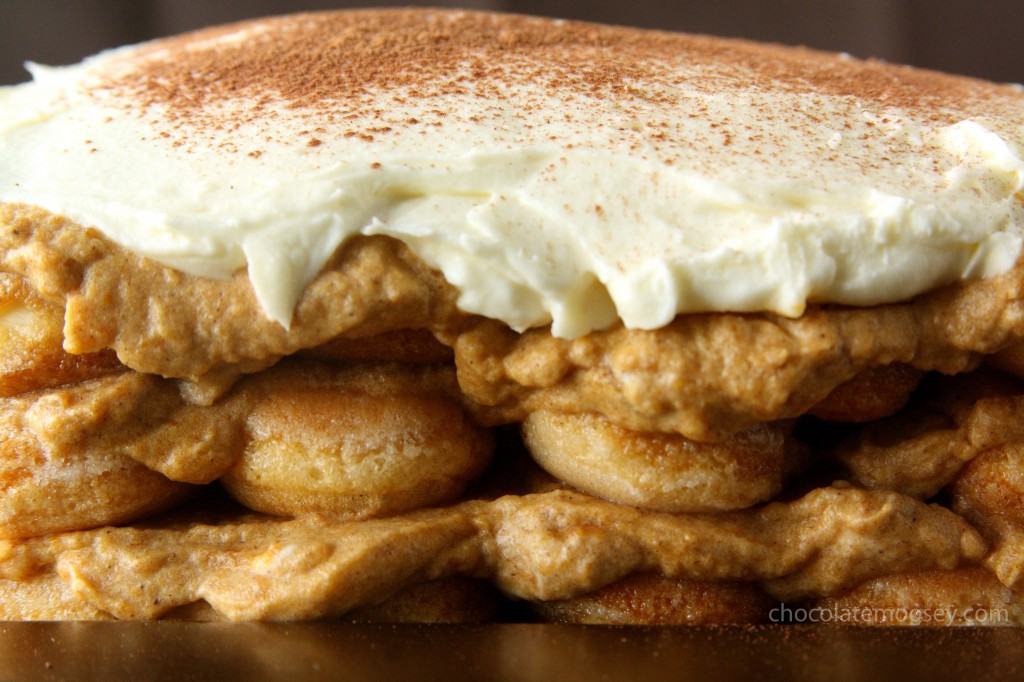 When Pam, our lovely host this week, announced the theme, my mind immediately went to the Pumpkin Tiramisu recipe I had bookmarked for awhile. Not only would it fit the theme, I could finally use up those ladyfingers and mascarpone I had sitting in my kitchen all this time.
I've never had mascarpone before, and I like it.
I really don't know how to explain it. It has the creaminess of cream cheese but is more….cheese tasting.
It's definitely not sweet at all, which is why you often see it in desserts because it cuts the sweetness.
Tiramisu literally translate into "pick me up" because it contains espresso.
However, the espresso wasn't very strong in the Pumpkin Tiramisu. In fact, the original recipe didn't even call for it, but because I didn't have any bourbon, I used espresso.
Soaking the ladyfingers in maple syrup and espresso before assembly allows them to soften by the time you are ready to serve.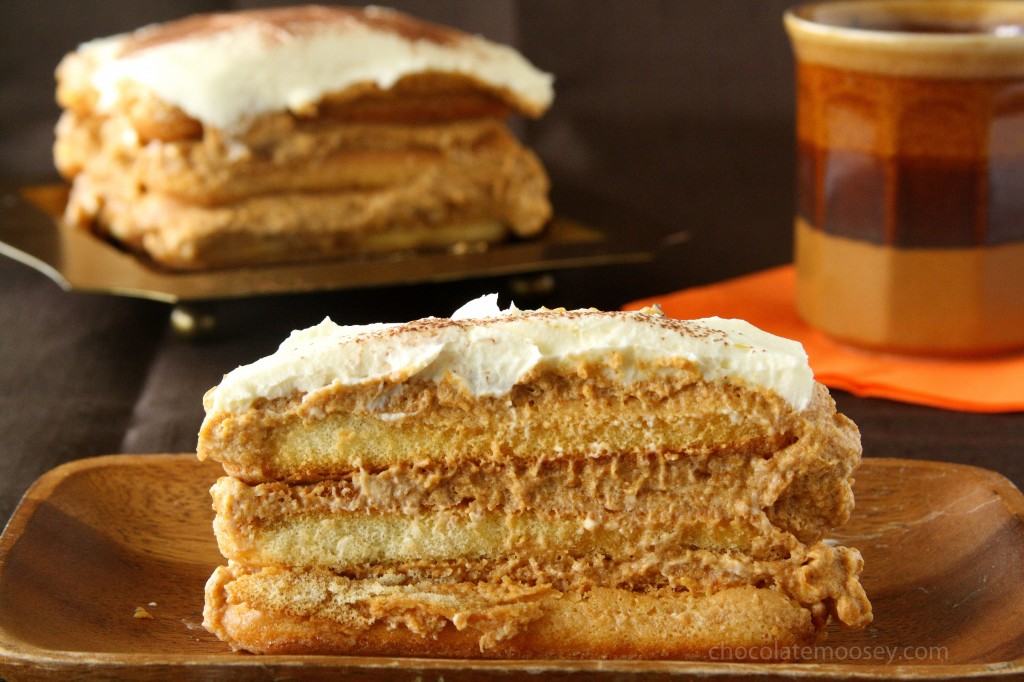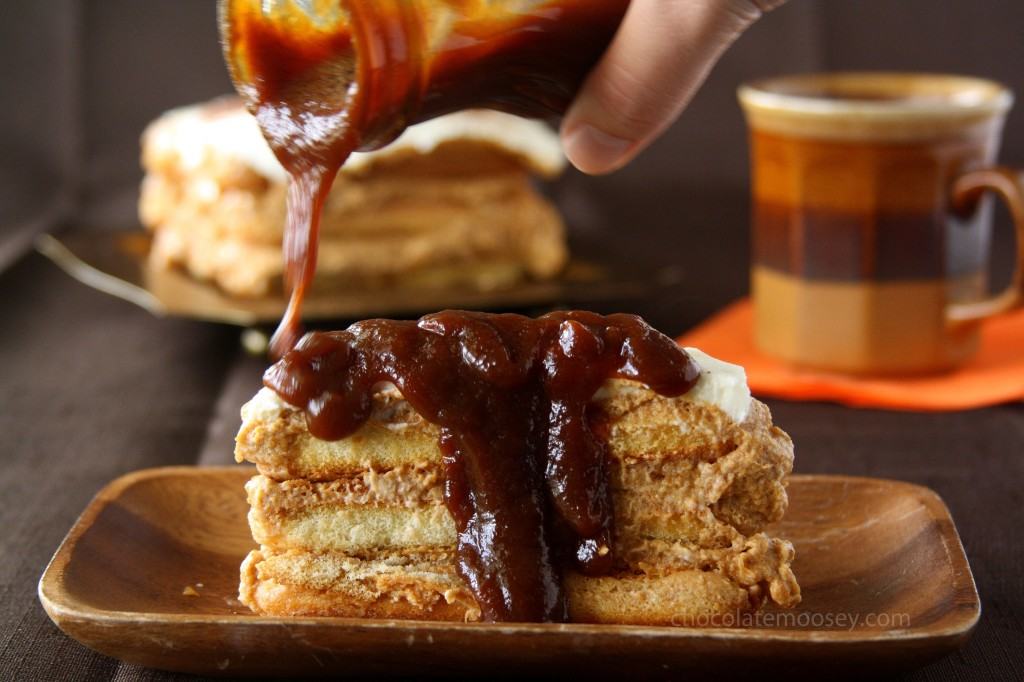 For the sauce, I took pumpkin butter and mixed it with
homemade caramel sauce
.
Of course I encourage making your own (which I included in the recipe), but yes you can buy caramel sauce instead (seriously, just go make homemade, ok?).
So um how does one make a pretty tiramisu? I mean look at mine. The ladyfingers on the right are sliding. I look at photographs then I look at mine and think I'm never photographing tiramisu ever again. I will, however, be making this Pumpkin Tiramisu With Pumpkin Butter Caramel Sauce again. You have the sweetness from the pumpkin filling balanced out by the tangy mascarpone topping. Dust some cocoa powder on top for some bitterness.
Pumpkin Tiramisu with Pumpkin Butter Caramel Sauce
Pumpkin Tiramisu with Pumpkin Butter Caramel Sauce
Ingredients
2/3 cup heavy whipping cream (divided into 1/3 cup and 1/3 cup)
3 Tbsp granulated sugar
1/2 cup pumpkin puree
1/2 tsp ground cinnamon
1/4 tsp ground clove
1/4 tsp ground ginger
Pinch of salt
4 ounces mascarpone cheese
2 Tbsp powdered sugar
1 Tbsp water
1/2 tsp espresso powder
3 Tbsp maple syrup
12 ladyfingers
Cocoa powder for dusting
Caramel Sauce
1/4 cup granulated sugar
1/4 cup heavy whipping cream, room temperature
Pinch of sea salt
Few drops of vanilla extract
1/2 cup pumpkin butter
Instructions
In a medium bowl, beat 1/3 cup cream until it begins to thicken. Gradually add the sugar and continue beating until soft peaks form (this means when you pull the beater(s) straight up, peaks will form but the tips will bend). Set aside.
In a medium bowl, combine the pumpkin, cinnamon, clove, ginger, and salt. Fold in the whipped cream. Set aside.
In another medium bowl, beat together the mascarpone, powdered sugar, and remaining 1/3 cup cream until thickened and smooth. Set aside.
In a small saucepan, bring the water to a boil. Remove from the heat and whisk in espresso powder and maple syrup.
Place the espresso mixture into a bowl wide enough for dipping. Dip 4 ladyfingers into the mixture, coating both sides. Arrange them in a row next to each other on a plate or in a pan (if using a pan, you may need to do two layers of ladyfingers with 6 in each row). Spread 1/3 of the pumpkin mixture on top of the ladyfingers. Dip another 4 ladyfingers into the espresso mixture and make another row. Spread another 1/3 of the pumpkin mixture on top. Dip the remaining 4 ladyfingers and arrange on top. Spread the remaining pumpkin mixture on top then top with the mascarpone layer. Dust with cocoa powder. Cover and refrigerate for at least 8 hours or overnight.
For the caramel sauce: In a deep saucepan, spread granulated sugar in an even layer. Cook over medium heat, watching it carefully until it starts to turn an amber color. Remove from the heat. The sugar keeps cooking, so don't let it get too dark or it will be burnt by the time you are done. Slowly whisk in half of the cream. Be careful because it will bubble up. When it dies down a bit, finish whisking in the rest of the cream then whisk in salt. If the sugar hardens, place the pan back over low heat and stir until it softens again. Strain into a bowl. Whisk in the pumpkin butter. Pour on top of tiramisu when serving. Refrigerate any leftovers.
Source: Adapted from
Taste of Home
This post may contain affiliate links. As an Amazon Associate and member of other affiliate programs, I earn from qualifying purchase.