Puff Pastry Cookie Dough Cinnamon Rolls (Small Batch)
These puff pastry cinnamon rolls stuffed with chocolate chip cookie dough will sweeten up your mood. Recipe makes a small batch of six cinnamon rolls.
These past few months, I've been slacking on reading new books from the library. And by new books, I mean new-to-me cookbooks. My dad asked for my Christmas wish list, which is usually full of cookbooks I want. This year, however, it seems to be a bit short. I'm not sure if it's because I have most of the books I want, my favorite authors aren't releasing books this year, or I'm feeling uninspired. I think it's mainly that last one. Having trouble finalizing my list, I decided to check out the books currently on my wish list to make sure I still wanted them. Ever since I read
The Life-Changing Magic Of Tidying Up
, I've been pickier about which books I want to own. Do I really need to own five ice cream books? Probably not. I ended up taking two books off of my list entirely, but I kept three. That should be enough for this Christmas.
It's funny how opening a cookbook can bring so much inspiration. When I'm reading, I have my list of recipe ideas by my side so I can jot down ideas that pop into my head. Sometimes they may be directly from the book with a few of my twists, like with this Shakshuka recipe. Other times they may get the wheels turning for my own recipes. I first saw the idea for these Puff Pastry Cookie Dough Cinnamon Rolls from The Cookie Dough Lover's Cookbook. The author made a traditional yeast dough, but I decided to speed things up and use puff pastry. All I have to do is thaw the pastry then make and bake my cinnamon rolls without waiting for the dough to rest and rise. Then I used my own simple glaze recipe for the top. The best part is one sheet of puff pastry makes only six cinnamon rolls, which is perfect if you're someone like me who can eat multiple cinnamon rolls in one sitting and doesn't want any temptation from a big pan of leftovers.
These cookie dough cinnamon rolls are what I like to call little sugar bombs as they are a bit on the sweet side between the filling and the glaze. If you have a sweet tooth like me, you'll love this recipe. If you're like one of the judges on Chopped where everything in the dessert round is too sweet, then you probably won't like my cinnamon rolls. Sorry Zakarian – I could never make dessert for you.
I wanted to make sure there was cookie dough in every bite. I hate when I buy cookie dough ice cream, and there's only three pieces for every five bites. I recommend using mini chocolate chips to make it easier to roll up the dough since they are much smaller than regular chocolate chips.
Puff Pastry Cookie Dough Cinnamon Rolls (Small Batch)
Yield: 6 servings
Prep Time: 30 minutes
Cook Time: 25 minutes
Total Time: 55 minutes
These puff pastry cinnamon rolls stuffed with chocolate chip cookie dough will sweeten up your mood. Recipe makes a small batch of six cinnamon rolls.
Ingredients
1 tablespoon unsalted butter, melted
1 sheet puff pastry, thawed according to package directions (it should still be cold but pliable enough to roll)
1/4 cup (2 ounces or 4 tablespoons) unsalted butter, softened
6 tablespoons packed brown sugar
2 tablespoons granulated sugar
1 tablespoon milk
1/2 teaspoon vanilla extract
1/2 cup all-purpose flour
1/4 teaspoon salt
1/2 cup mini semisweet chocolate chips
1/2 teaspoon ground cinnamon
Glaze
1/4 cup powdered sugar, sifted
1 teaspoon milk
1/4 teaspoon vanilla extract
Instructions
Preheat oven to 400F. Brush some of the melted butter into the bottom of a small 5x7 casserole dish or 6 cavities of a muffin pan.
In a large mixing bowl, beat together the softened butter, 1/4 cup brown sugar, and sugar until smooth and creamy. Beat in the milk and vanilla. Gradually beat in the flour, salt, and chocolate chips until a dough forms.
Unfold the puff pastry (if the dough is a little warm, chill it for 15 minutes). Brush the remaining melted butter on top of the dough.
Mix together the remaining 2 tablespoons brown sugar and cinnamon then sprinkle on top of the dough.
Flatten pieces of the cookie dough and evenly place on top of the brown sugar mixture, leaving a 1/2 inch space near the top edge. Starting on the long edge, tightly roll up the dough into a cylinder (if the dough starts to tear, just pinch it back together. If the dough starts to get too warm, refrigerate it for 15 minutes or until cold again).
Cut the dough into 6 even pieces then place into the pan. Bake 20-25 minutes or until the dough is puffed and golden brown. Cool 15 minutes the drizzle with glaze on top (recipe below). Serve warm or at room temperature. Store in an airtight container for up to 2 days.
Glaze
In a medium bowl, whisk together the powdered sugar, milk, and vanilla. It should be slightly thick yet a little runny and hold its shape for a few seconds then smooth itself out when drizzled back into the bowl. If it doesn't hold its shape, add a little more sugar. If it's too thick, add a few more drops of milk.
Source: Filling from
The Cookie Dough Lover's Cookbook
More Puff Pastry Recipes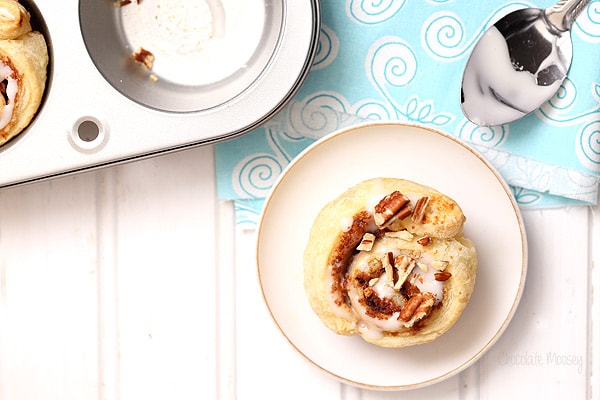 Puff Pastry Cinnamon Rolls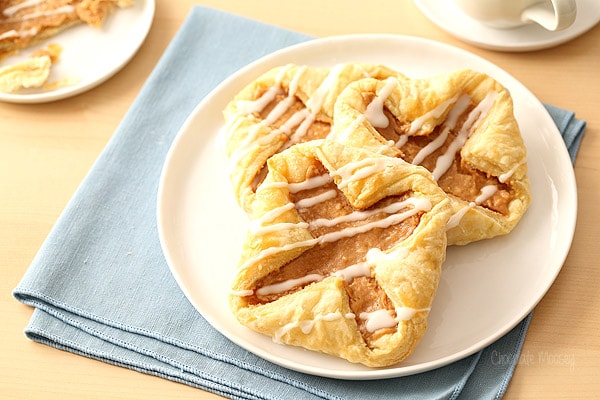 Apple Butter Cream Cheese Danishes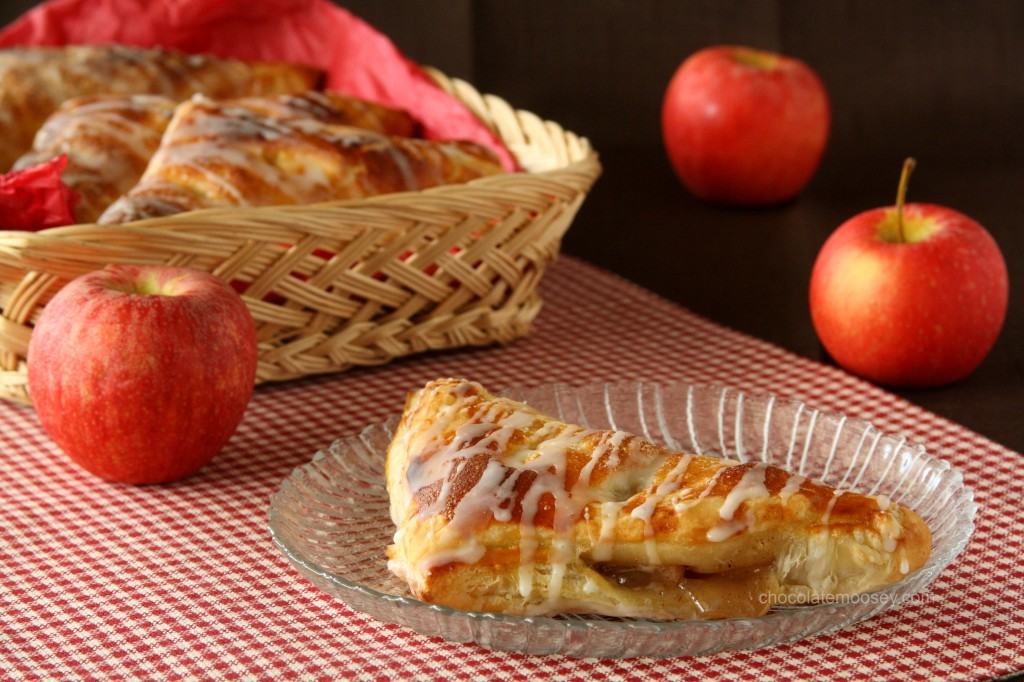 Apple Turnovers
Disclosure – This post contains Amazon affiliate links.
This post may contain affiliate links. As an Amazon Associate and member of other affiliate programs, I earn from qualifying purchase.