Mexican Hot Chocolate Fudge
Stand out from the crowd this Christmas by making easy Mexican Hot Chocolate Fudge, which uses sweetened condensed milk and doesn't require a candy thermometer.

I think it's an understatement that I've been a little obsessed with Mexican spiced chocolate lately.
It all started with my Mexican Mochas (which I probably drink several times a week).
Then as I brainstorm recipe ideas (a process that never sleeps), it's Mexican spice this and Mexican spice that.
I bet I could do a whole series of Mexican spiced recipes and never be bored.
One of those recipe ideas that I just had to post before Christmas is this Mexican Hot Chocolate Fudge. Why? Because Christmas is almost synonymous with making fudge.
Sure, you could give regular chocolate marshmallow fudge, but stand out from the crowd and spice it up with cinnamon and chili powder (and marshmallows – can't have hot chocolate without mini marshmallows!).
Since fudge can be a little finicky to make, I made sure that this recipe had a high success rate by using sweetened condensed milk and chocolate chips, which means no candy thermometer is required.
The first time I heard about Mexican hot chocolate was in my high school Spanish class.
Once in a while we would do mini fiestas during class where every student brought in a Spanish-inspired dish. Of course everyone made the typical tacos, taco dip, enchiladas, Spanish rice, etc.
My teacher decided to educate us and made Mexican hot chocolate. Unfortunately back then, I took one sip and didn't like it.
Maybe it was the way it was prepared or maybe I wasn't ready to experiment with spices.
Fast forward a good chunk of time (has it really been that long?!) to when I made Spiced Cookie Dough Ice Cream. I fell in love with eating chocolate and cinnamon together.
How could I have hated such a beautiful pairing long ago?
I'm not sure when I gave Mexican hot chocolate another chance, but the harmony of chocolate and cinnamon with the subtle hint of chili pepper is becoming my new favorite trio.
Funny how our taste buds evolve over the years.
Why is fudge such a finicky candy to make? I made this fudge multiple times before finally getting it right.
The first two times I tried my evaporated milk method but hated how grainy it turned out. Either it didn't like the spices or I took too long to fold in the marshmallows (which were half melted anyway).
I decided to scrap that recipe and turned to my sweetened condensed milk method. Success!
You don't even have to worry about cooking it to the proper temperature as you pretty much just melt chocolate chips and sweetened condensed milk together.
Fudge made without a candy thermometer? Talk about a winning fudge recipe.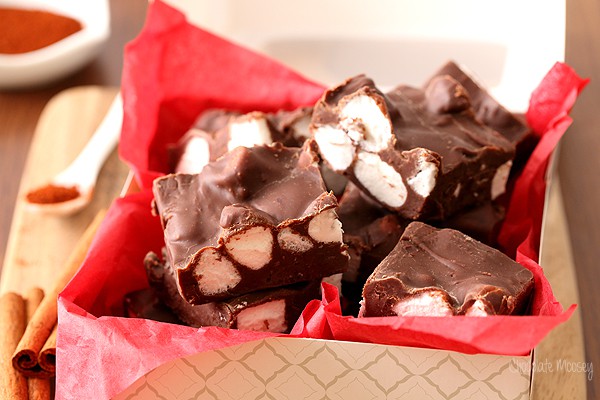 Mexican Hot Chocolate Fudge
Yield: 25 squares
Prep Time: 15 minutes
Cook Time: 5 minutes
Total Time: 20 minutes
Stand out from the crowd this Christmas by making easy Mexican Hot Chocolate Fudge, which uses sweetened condensed milk and doesn't require a candy thermometer.
Ingredients
2 1/2 cups semisweet chocolate chips
1 (14 ounce) can sweetened condensed milk
1 teaspoon ground cinnamon
1/4-1/2 teaspoon ground chili powder*
1 teaspoon vanilla extract
1 1/2 cups mini marshmallows
Instructions
Line an 8x8 pan with parchment paper.
In a large heatproof bowl over a pan of simmering water (do not let the bowl touch the water), melt together the chocolate and sweetened condensed milk.
Remove the bowl from pan. Whisk in the vanilla, cinnamon and chili powder. Wait 2 minutes then fold in the marshmallows.
Spread into the pan and cool until firm, at least 4 hours or overnight (you can store in the refrigerator to speed up the process). Store in an airtight container for up to 1 week.
Notes
*The amount of chili powder is subjective as the heat level varies between brands. Add 1/4 teaspoon then taste. I used 1/2 teaspoon chili powder in my recipe.
More Fudge Recipes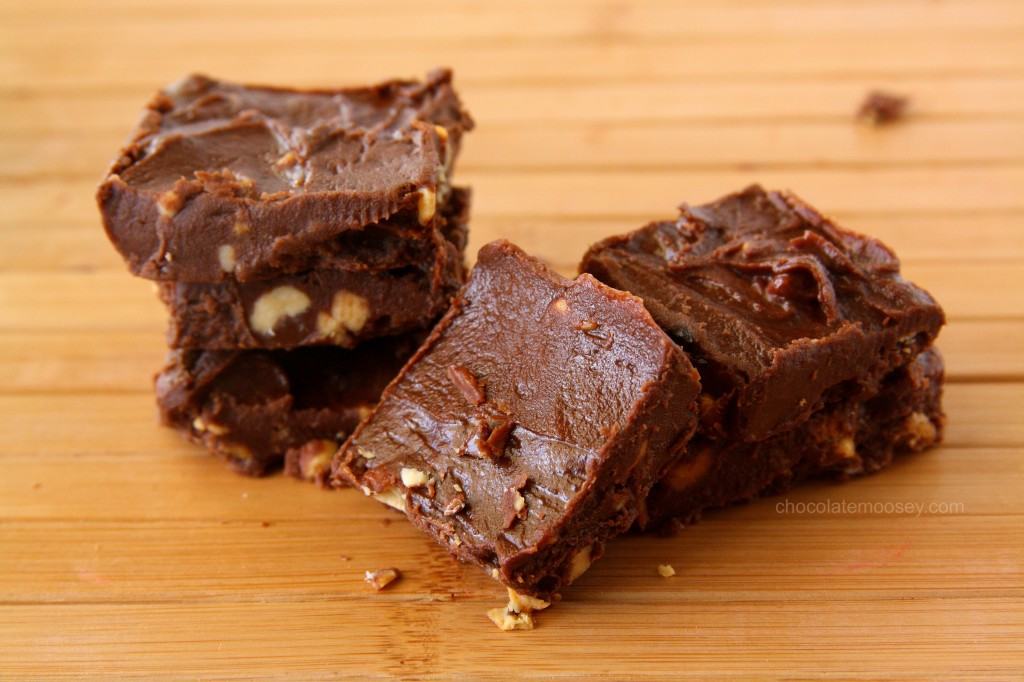 Chocolate Peanut Butter Fudge
This post may contain affiliate links. As an Amazon Associate and member of other affiliate programs, I earn from qualifying purchase.