Fruit Popsicles
Fact: I love ice cream. I can eat it any time, any day, any place. It doesn't matter if it's 90 or -9 degrees outside. However, ice cream has all that fat from the heavy cream and whole milk. So when your craving strikes, why not try fruit popsicles? Pureed fruit, a little bit of water, sugar, and lemon juice. Sometimes you just want a healthy frozen treat. Or you want something cold for a sore throat, and all that dairy from ice cream doesn't help. Not to mention the vitamin boost from the fruit.
I don't buy popsicles from the store, but I imagine their ingredient list is probably ten times that. So far I've made strawberry and black raspberry. I'm sure you could do the same thing with blueberry. Or peach. Or pineapple. Use lime instead of lemon. Cut back on some of the sugar if the fruit is sweet. I've seen some recipes that add herbs, such as strawberry with cilantro. Yesterday I even saw a layered popsicle recipe. I bought push pop molds awhile ago. However, if you don't have any containers, use Dixie cups and popsicle sticks. Or if you are in a really tight bind, you could probably use an ice cube tray. Since the push pops need to stand upright while freezing, I made a holder out of a box: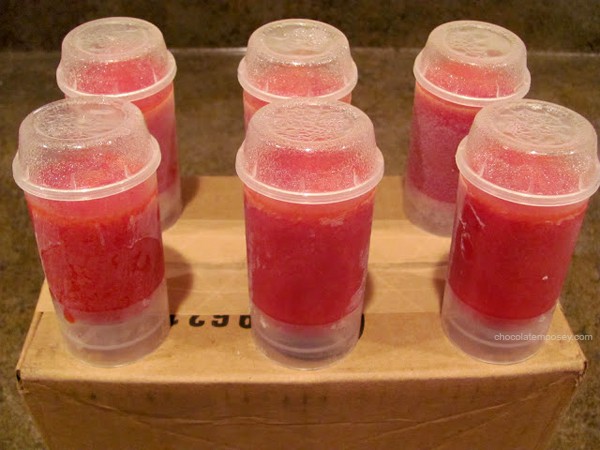 I adjusted the recipe so I only made six popsicles with my molds. Unless you have molds similar to mine, it's hard to say how many this recipe will make. At least the ingredient amounts are easy to double.
Fruit Popsicles
Ingredients
12 oz (1 1/2 cups) strawberries, raspberries, cherries, or peaches
6 Tbsp sugar
4 tsp lemon juice
1/2 cup water
Instructions
Puree the fruit, sugar, lemon juice, and water in a blender. Set a strainer over a bowl (preferably one with a spout) and strain out the seeds.
Pour the mixture into molds. Freeze until firm (roughly few hours). If you are having trouble removing from the mold, dip the bottoms in hot water for 20-30 seconds to loosen.
—-
If you liked these Fruit Popsicles, you may also like these recipes:
This post may contain affiliate links. As an Amazon Associate and member of other affiliate programs, I earn from qualifying purchase.