Buffalo Chicken Tacos
When you don't know what to make for dinner, these Buffalo Chicken Tacos are here to the rescue! Filled with crispy baked buffalo chicken strips, you can have dinner ready from prep to table in an hour.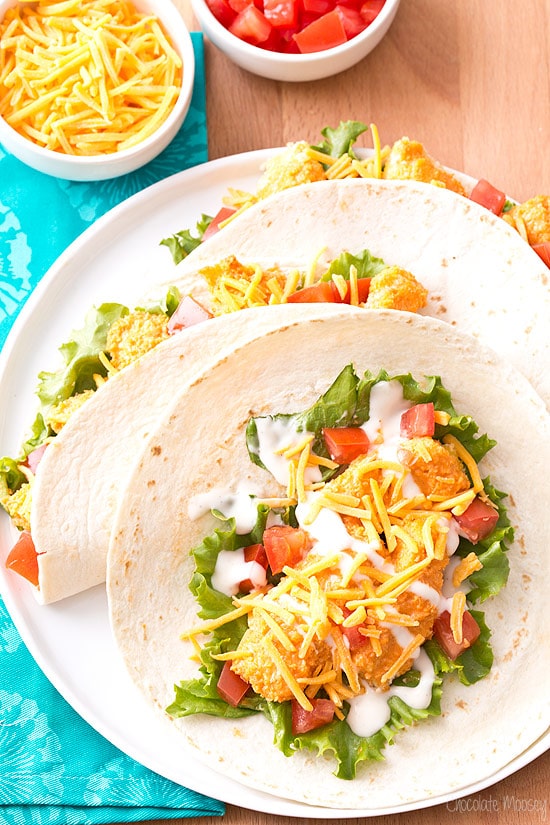 Ever make a new recipe for dinner that you love so much, you end up making it again for dinner the next day because you couldn't stop thinking about it?
One of the running jokes in the food blogging world is once a recipe is up on the blog, you don't make it again because you're too busy making the next recipe.
That statement is partially true; there are some recipes like my Haluski or balsamic chicken with tomatoes that I make over and over but other recipes I make only once a month or even every other month.
Then when I'm repromoting posts on social media, I think "hey I should make that again!" These Buffalo Chicken Tacos are on rotation in my kitchen probably twice a month.
Anything involving buffalo chicken usually gets made more often than other dinner recipes, mainly because the sauce is so easy – butter, hot sauce, and ranch – and I almost always have chicken in the freezer.
I debated on how I wanted to cook the chicken, and since I love eating crispy chicken sandwiches, in the end homemade baked chicken strips won.
Since the chicken only takes 20 minutes to bake, you can have your buffalo chicken tacos prepped and ready to eat in under an hour.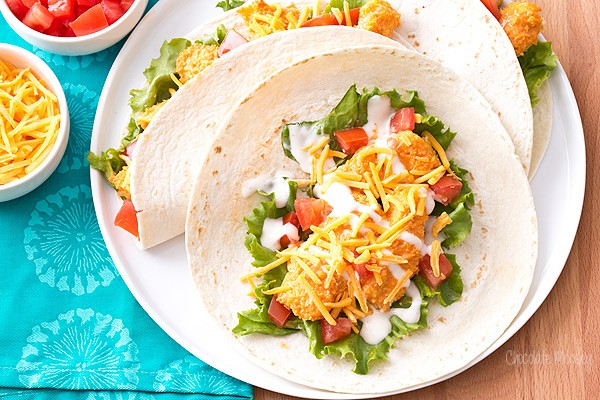 Panko breadcrumbs are key to making the breading crispy.
Panko is a Japanese-style breadcrumb that is more coarse than standard breadcrumbs, and because they are slightly larger crumbs, there is more crunch in every bite.
You can find a box of Panko in your grocery store's Asian aisle. You can also use crushed up cornflakes as a substitute.
Make sure you use a large chicken breast or two chicken thighs.
One time for dinner I forgot that the only chicken breast I had left in the freezer was smaller than usual, so I was really sad when I only had enough filling for two tacos; I'm definitely a three taco kind of girl.
Don't want chicken? Make these tacos with pan fried buffalo shrimp from Grits and Pinecones instead!
Buffalo Chicken Tacos
Yield: 4 servings
Prep Time: 30 minutes
Cook Time: 20 minutes
Total Time: 50 minutes
When you don't know what to make for dinner, these Buffalo Chicken Tacos are here to the rescue! Filled with crispy baked buffalo chicken strips, you can have dinner ready from prep to table in an hour.
Ingredients
1/3 cup all-purpose flour
1/2 teaspoon garlic powder
1/2 teaspoon onion powder
3/4 teaspoon salt, divided
1 egg
1/2 cup Panko breadcrumbs
1 large boneless, skinless chicken breast, cut into 3-inch strips
1 tablespoon unsalted butter
1/4 cup hot sauce
2 tablespoons ranch dressing
3-4 (8-inch) tortillas
3-4 romaine lettuce leaves
1/4 cup chopped tomatoes
1/2 cup shredded cheddar cheese
Instructions
Preheat oven to 425F. Line a rimmed baking sheet or roasting pan with foil and set a wire rack on top.
In one shallow bowl, combine the flour, garlic powder, onion powder, and 1/2 teaspoon salt. In another shallow bowl, lightly beat the egg. In a third shallow bowl, add the breadcrumbs.
Dip one chicken strip into the flour mixture then shake off the excess. Next add it to the beaten egg, letting any excess drip back into the bowl. Finally, coat both sides in the breadcrumbs. Place on the wire rack. Repeat until all of the strips are coated.
Bake for 18-20 minutes or until golden brown and the internal temperature is at least 165F.
Meanwhile, in a large saucepan over medium heat, melt the butter. Whisk in the hot sauce, ranch dressing, and remaining 1/4 teaspoon salt.
Toss the chicken strips in the sauce then assemble tacos with the tortillas, lettuce, tomatoes, and cheese. Serve immediately.
More Buffalo Chicken Recipes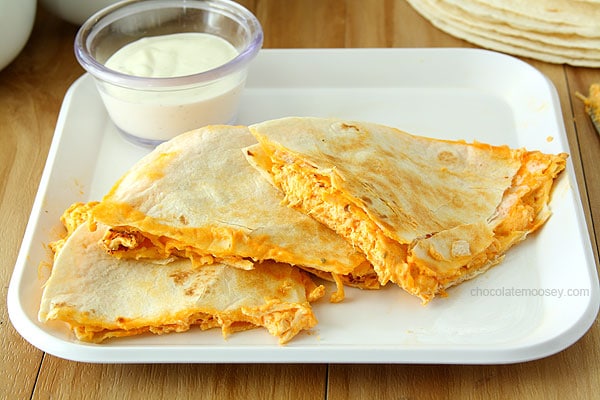 Buffalo Chicken Dip Quesadillas
Disclosure: This recipe was originally developed for Yum Food & Fun For Kids, Summer 2015 issue.
This post may contain affiliate links. As an Amazon Associate and member of other affiliate programs, I earn from qualifying purchase.