Craving warm cookies but don't want to make a large batch? This easy recipe for Small Batch Chocolate Chip Cookies makes a half batch of homemade cookies, perfect to serve as dessert for two people.
What's your favorite cookie?
I'm usually not a boring traditionalist, but mine is the chocolate chip cookie.
It's such a basic answer, but it's the truth. Nothing beats a freshly baked chocolate chip cookie warm from the oven with melted chocolate that gets all over you as you shove them in your face.
In fact, I love them so much I usually avoid making them because I can eat a whole dozen in one night.
As much as I hate the term portion control, I most definitely need it when chocolate chip cookies are involved.
That is what inspired today's Small Batch Chocolate Chip Cookie recipe. I'm getting older but my metabolism isn't getting any faster.
My recipe makes 8 cookies. A little more than a half dozen but less than a full batch.
I've made Small Batch Chocolate Chip Cookie Bars and Chocolate Chip Cut Out Cookies but not an actual small batch of chocolate chip cookies.
Truth is I avoided making cookies for the longest time because they would always spread too much on me.
However, over the years I've learned what makes cookies spread and how to prevent that so I stop ruining batches of cookies.
There is some chill time involved when making the dough, but that also means you can prepare the dough ahead of time, keep them in the freezer, then bake when the urge for warm, melted chocolate chip cookies strikes.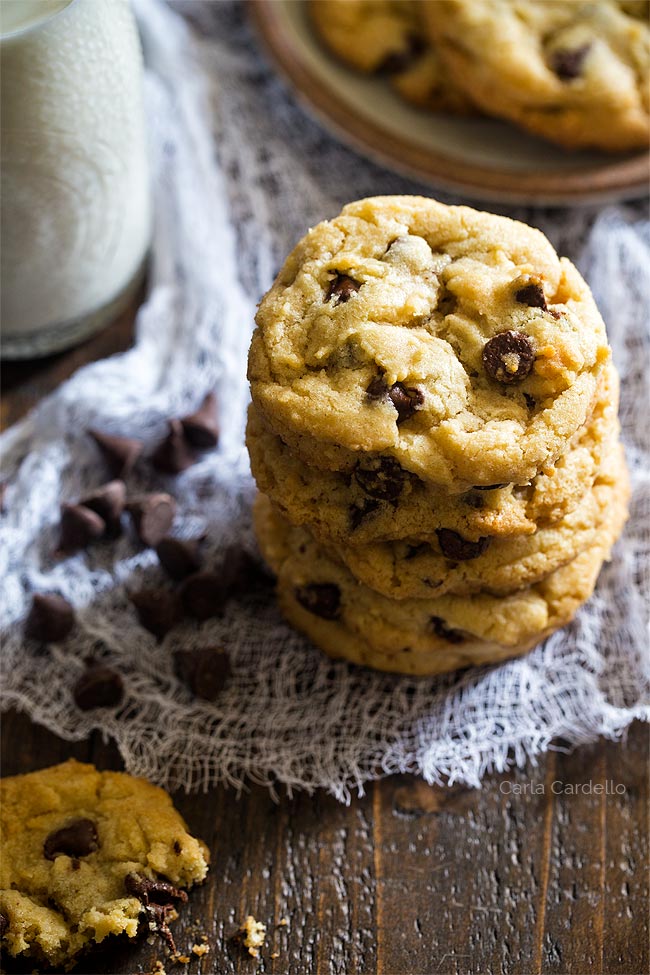 How to make easy small batch chewy chocolate chip cookies
Making chocolate chip cookies is easy as the recipe follows your typical cookie formula.
First, beat together the butter and both sugars until smooth and creamy. In other words, it shouldn't be lumpy with chunks of butter.
Creaming the butter helps develop structure. The water from the butter starts to dissolve the sugar while air is trapped as tiny bubbles in the fat. These air bubbles later help the cookies bake and rise properly.
Because we're making small batch cookies, this process should only take about 1-2 minutes.
Next, add the egg yolk and vanilla. Because I'm cutting this recipe into a small batch, using a whole egg is too much moisture.
Using an egg yolk not only binds the dough together, the fat helps make the dough moist and chewy.
Finally, gradually add your dry ingredients. I like to gently mix everything together in a bowl first to ensure everything is distributed evenly. Once a dough forms, don't forget the chocolate chips!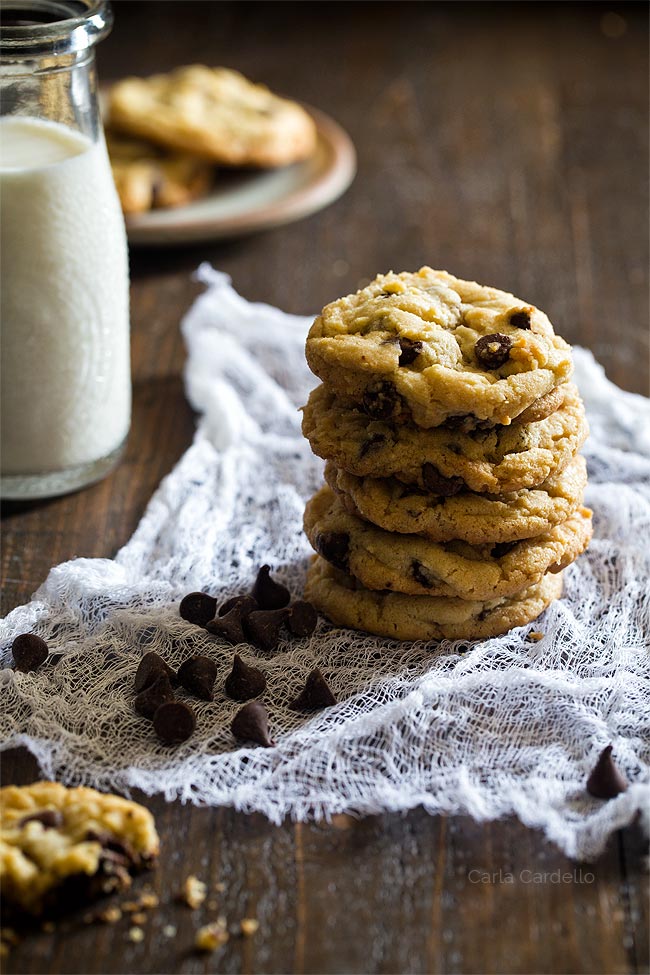 Scooping the cookie dough
I like to use a #40 cookie scoop (affiliate link) to ensure I distribute the dough evenly and the cookies come out roughly the same size.
A scoop certainly isn't necessary, but it does make baking easier.
Don't have a scoop? Measure out 1.5 inch balls, which is equivalent to #40 scoop.
To grease or not to grease your baking sheet?
As tempting as it may be to grease your baking sheet to keep your cookies from sticking, it actually hurts your dough.
The grease causes your cookies to spread more as well as possibly burn them on the bottom.
If you're really worried about your cookies sticking, use a piece of parchment paper for easy removal.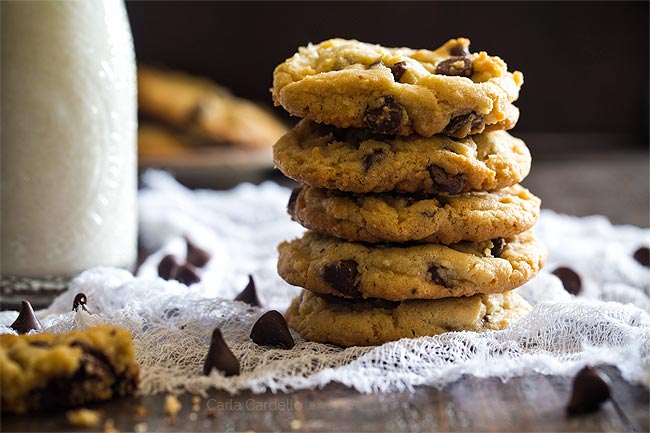 Why do my chocolate chip cookies come out flat?
First things first – make sure you're using an oven thermometer to ensure your oven temperature is accurate. Heat sets the cookies.
Too low and the butter will melt before the dough sets. Too high and the cookies may burn before they're done.
When I first started testing my half batch chocolate chip cookies, my cookies turned out flat. Oven temperature was correct, so I adjusted my ingredients. Next batch still spread more than I liked.
This told me my dough was too warm. That means the butter melts and spreads out before the dough sets into a cookie.
The solution? Chilling the dough for an hour.
Not only does chilling develop more flavor, it slows down the melted butter. Cold butter doesn't spread as quickly as warm butter.
Case in point – if you pressed down on a cold stick of butter, it will barely budge. However, if you pressed down on a warm stick, you would leave a massive indent with butter spreading beneath.
I recommend chilling the cookie dough for an hour before baking. You can even refrigerate cookie dough overnight if you're not ready to bake.
How to keep chocolate chip cookies soft
If you happen to have more self control than me and not eat all of the cookies at once, store them in an airtight container. This keeps chocolate chip cookies soft by reducing moisture loss.
What to do with a leftover egg white?

Because my small batch chocolate chip cookie recipe uses an egg yolk, that means you'll have one leftover egg white.

Here are some recipes using leftover egg whites:
Small Batch Chocolate Chip Cookies
Total Time:
1 hour
30 minutes
Craving warm cookies but don't want to make a large batch? This easy recipe for Small Batch Chocolate Chip Cookies makes a half batch of homemade cookies, perfect to serve as dessert for two people.
Ingredients
2/3 cup all-purpose flour
1/4 teaspoon baking soda
1/4 teaspoon baking powder
1/4 teaspoon salt
1/4 cup (4 tablespoons or 2 ounces) unsalted butter, softened
1/4 cup packed brown sugar
2 tablespoons granulated sugar
1 egg yolk, room temperature
1 teaspoon vanilla extract
1/3 cup semisweet chocolate chips
Instructions
In a medium bowl, whisk together the flour, baking soda, baking powder, and salt.
In another large mixing bowl, beat together the butter, brown sugar, and sugar until light and creamy, about 1-2 minutes.
Beat in the egg yolk until smooth then beat in vanilla.
Gradually beat in the flour mixture until a dough forms then add the chocolate chips.
Using a #40 cookie scoop or by hand, portion the dough into 1 1/2 tablespoon balls. Refrigerate for at least 1 hour.
Preheat oven to 350F. Place the scooped dough on an ungreased baking sheet about 2 inches apart.
Bake 10-12 minutes or until golden brown. Cool completely.
Recommended Products
As an Amazon Associate and member of other affiliate programs, I earn from qualifying purchases.
More Small Batch Cookie Recipes