Mini Hot Chocolate Cheesecakes are reminiscent of a cozy winter drink with chocolate cheesecake batter, mini marshmallows, and a chocolate drizzle on top. Serve up something mini and sweet at your next get together!
January, oh January. It's been quite an up and down month. It's snowing. It's raining. It's sunny. It's warm. It's cold. It's raining again. Last week's inauguration happened, but then I started culinary school earlier this month to be officially certified in the culinary arts (follow along on
Instagram
!). I've been thinking about it for the past year and found a program that fits with my schedule as I'm still working full time (gotta make that income!) while taking classes two days a week. I made some business changes to help compensate for the extra time going back to school (which is still weird for me to say), but don't worry. You won't notice these changes because it's all related to the boring business stuff and not the actual recipes. In fact, I'm continuing my normal recipe schedule with Mini Hot Chocolate Cheesecakes.
After making my mini margarita cheesecakes and mini caramel cheesecakes, it was time for a chocolate version. After all, it would be a disgrace to not have one given my name and the amount of cheesecake recipes I have, right? They're reminiscent of hot chocolate with the chocolate batter, mini marshmallows, and chocolate drizzle on top. After debating on what to use for the crust, I went with graham cracker crumbs to give them both color and flavor contrast from the chocolate. Even though they remind me of winter because hot chocolate is what you drink when it's snowing outside, you can enjoy them any day of the year.
I piled them high with mini marshmallows and "glued" them in place with melted chocolate so they don't fall over. Just don't knock them over before you add the chocolate like I kept doing. You can also pipe
marshmallow whipped cream
on top for the flavor of marshmallows but the look of whipped cream.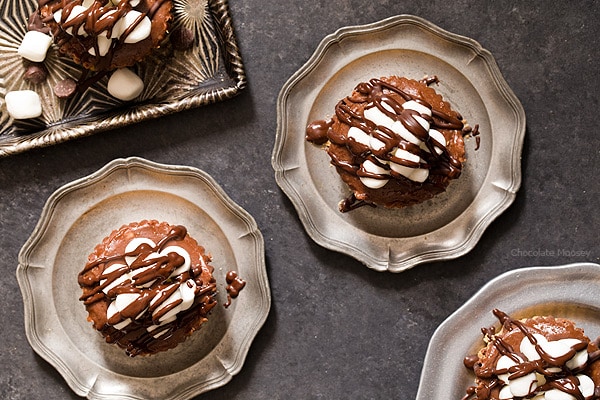 Mini cheesecakes are fun for parties, mainly because you don't have the mess of slicing and serving with crumbs going everywhere. Plus they're shaped like cupcakes but better since they're cheesecake. Game Day is coming up next weekend, so don't forget to serve up something sweet for Half Time!
Yields 12 mini cheesecakes
Mini Hot Chocolate Cheesecakes
30 minPrep Time
20 minCook Time
50 minTotal Time
Ingredients
1 1/4 cup graham cracker crumbs
1/4 cup (2 ounces or 4 tablespoons) unsalted butter, melted
16 ounces cream cheese, softened
1/2 cup granulated sugar
2 eggs
4 ounces semisweet chocolate, melted
1 teaspoon pure vanilla extract
1/2 cup mini marshmallows
1/2 cup semisweet chocolate chips or chopped chocolate, melted
Instructions
Preheat oven to 325°F. Line a muffin pan with 12 paper liners.
In a small bowl, mix together the graham cracker crumbs and melted butter until moistened and clumpy. Press roughly 2 tablespoons into the bottom of each paper liner and bake 5 minutes.
In a large mixing bowl, beat together the cream cheese and sugar until smooth and creamy, about 2-3 minutes. Beat in the eggs, one at a time, then beat in the 4 ounces melted chocolate and vanilla.
Spoon the batter into each liner and bake 20 minutes or until the tops are firm to the touch and a toothpick inserted in the center comes out clean.
Cool completely at room temperature then chill in the refrigerator for at least 4 hours.
Top each cheesecake with a small pile of mini marshmallows then drizzle with melted chocolate chips or chocolate. Let the chocolate harden before serving. Store in an airtight container in the refrigerator for up to 1 week.
7.6.3
3586
https://www.chocolatemoosey.com/2017/01/26/mini-hot-chocolate-cheesecakes/