You'll go nuts for a heavenly slice of Pecan Pie Cheesecake with a homemade pecan graham cracker crust that combines two classic desserts into one sinful bite.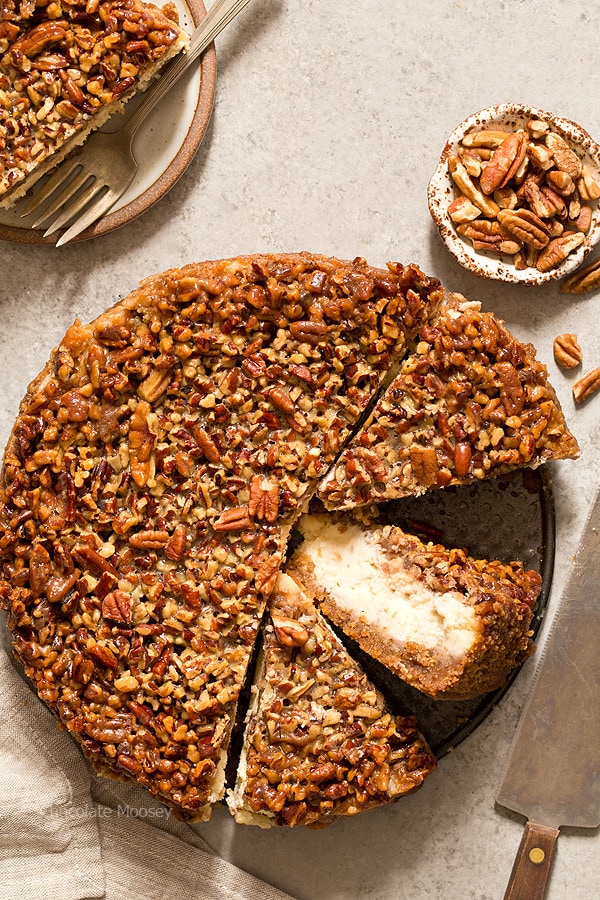 The 2016 Presidential Election was definitely an exhausting and eye opening week. This blog has always been about the food, so I'm not going to express my political views.
All I can ask is to be kind to one another and have an open mind to listen to those who are different from you.
Anyway, it's time to focus on moving forward. Step by step. Piece by piece.
The world is still spinning and we still have to plan the holidays. Thanksgiving is next week (!!!) and Christmas a little over a month away.
When I think of pie for the holidays, I often think of pecan pie. It's a Thanksgiving alternative to pumpkin pie and a strong contender for Christmas dessert.
I've post one variation with German Chocolate Pecan Pie and thought what else could I make.
It shouldn't be a surprise to anybody I came up with Pecan Pie Cheesecake. As the name states, it's a cross between pecan pie and cheesecake.
The bottom is a homemade graham cracker crust with ground pecans.
In the middle is a classic cheesecake filling.
The topping is what you'd find in a pecan pie – pecans, corn syrup, and cream.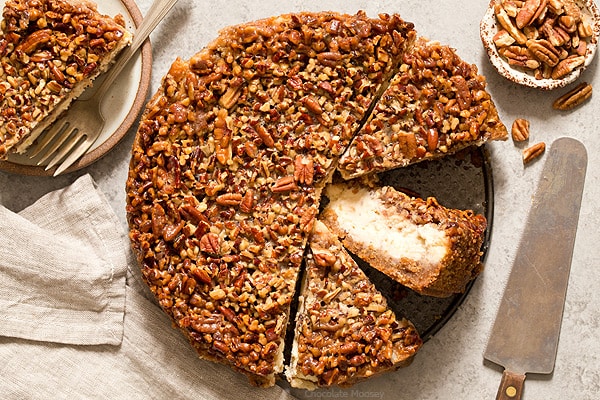 Pecan pie is often a very sweet pie, so it's usually a love it or leave it dessert. I have a big sweet tooth, so of course I'm all in.
For the crust, I added ground pecans for some extra nuttiness. It's subtle but it's a nice touch.
I left the cheesecake filling plain as there is enough flavor going on with the crust and topping.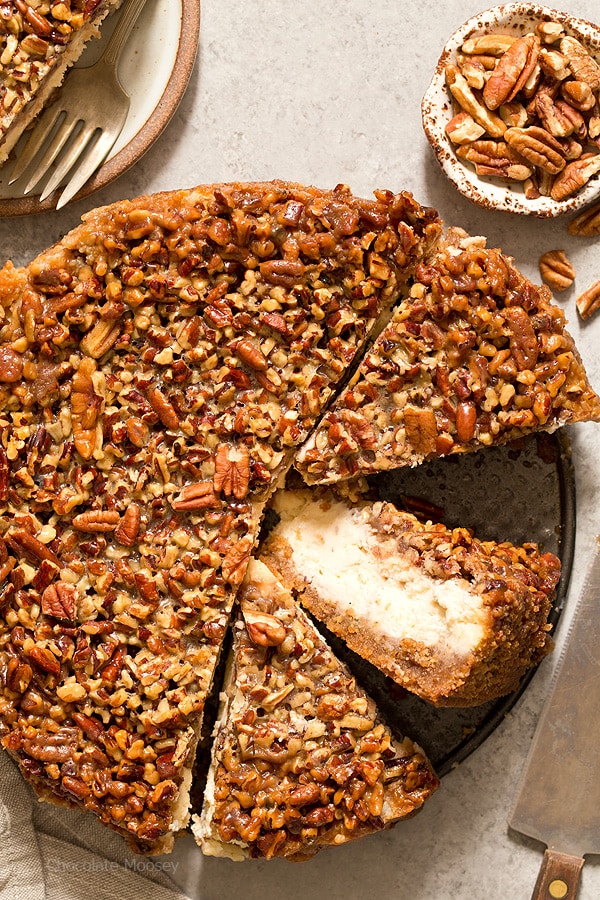 How do you make the pecan pie topping?
The topping is easy to make; all you do is boil sugar, corn syrup, cream, and butter then stir in the pecans. The hardest part is making sure the mixture doesn't bubble over the pan.
What can I substitute for corn syrup?
Corn syrup is one of the main ingredients for the pecan pie topping. However, not everyone has it in their pantry.
To substitute for corn syrup, dissolve 1 cup granulated sugar into 1/4 cup hot water. Then measure out the 1/3 cup you need for this recipe and store the rest for future use. Because corn syrup is sticky, I prefer using a mason jar for storage.
Check out my other recipes using corn syrup to use up the leftover.
Which pan should I use to bake cheesecake?
When making a traditional cheesecake, you always want to use a springform pan (affiliate link). Cheesecake is too fragile to flip out of a cake pan. The springform pan allows you to remove the pan without damaging your dessert.
For this particular recipe, I recommend placing your pan on a baking sheet or having an oven liner underneath.
Because the pecan pie topping is liquidy, the pan may drip. I always have an oven liner but didn't realize the pan dripped.
The next time I heated my oven, I opened the door and smoke poured out everywhere. Turns out the residue left behind on the oven liner burned badly. Whoops.
Other Cheesecake Recipes
Items You May Need (affiliate links):
Pecan Pie Cheesecake
Total Time:
5 hours
45 minutes
You'll go nuts for a heavenly slice of Pecan Pie Cheesecake with a homemade pecan graham cracker crust that combines two classic desserts into one sinful bite.
Ingredients
2 cups graham cracker crumbs
1/2 cup finely ground pecans
6 tablespoons unsalted butter, melted
24 ounces (three 8-ounce bricks) full-fat cream cheese, softened (do not sub fat free)
3/4 cup granulated sugar
3 eggs, room temperature
1 teaspoon vanilla extract
Pecan Pie Topping
1 cup packed brown sugar
1/3 cup light corn syrup
1/3 cup heavy whipping cream
1/4 cup (2 ounces or 4 tablespoons) unsalted butter, cut into 4 pieces
1/2 teaspoon salt
1 teaspoon vanilla extract
2 cups chopped pecans
Instructions
Preheat oven to 350F. Place a 9 inch springform pan on a baking sheet.
In a large bowl, mix together the graham cracker crumbs, ground pecans, and melted butter. Pat into the bottom and roughly 2 inches up the side of the pan.
In a large mixing bowl, beat together the cream cheese and sugar until light and fluffy, about 3-4 minutes.
Beat in the eggs, one at a time, for 1 minute each.
Add the vanilla then beat for an additional 1-2 minutes. Spread the batter into the crust.
Next, make the topping: In a large saucepan, whisk together the brown sugar, corn syrup, heavy cream, butter, and salt. Bring to a rolling boil.
Once boiling, cook about 3 minutes, whisking often to prevent bubbling over. Remove from the heat and stir in the vanilla and pecans.
Pour the topping over the cheesecake then bake 45 minutes. The center will still jiggle but will firm as it cools.
Cool 1 hour in the pan then carefully run a knife along the edge to loosen the cheesecake. Cover and refrigerate for at least 4 hours or overnight. Remove the pan side before serving. Store leftovers in an airtight container in the refrigerator for up to 1 week.