Looking for a caffeine boost? You're going to need a slice of Mocha Brownie Cheesecake with coffee whipped cream to go along with your cup of coffee.
This post is sponsored by Keurig Green Mountain®. All opinions are 100% my own.
Wake up, wake up! It's National Coffee Day (although let's face it – every day is coffee day in my book). It's no secret I love coffee. I enjoy it for necessity and pleasure. Necessity because I can't function without a morning cup. Pleasure because I love the taste and experience. Necessity because I really do get headaches without a cup. Pleasure because I enjoy coffee desserts. Even if I'm trying to be good not drinking a second cup, one smell and I'm weak.
To celebrate this glorious day, I really wanted to make a dessert that screamed coffee. If you don't have coffee running through your veins, this dessert isn't for you because this Mocha Brownie Cheesecake has three layers of coffee – fudgy mocha brownie bottom, coffee cheesecake middle, and coffee whipped cream on top. I love adding coffee to chocolate desserts because it makes the chocolate flavor more prominent, much like adding vanilla to brownies or salt to a cream sauce; you don't really notice the difference until it's not there. Because the chocolate is strong, you don't necessarily taste the coffee in the brownie layer, so I also added coffee to the cheesecake batter and whipped cream. It's like eating a cup of coffee.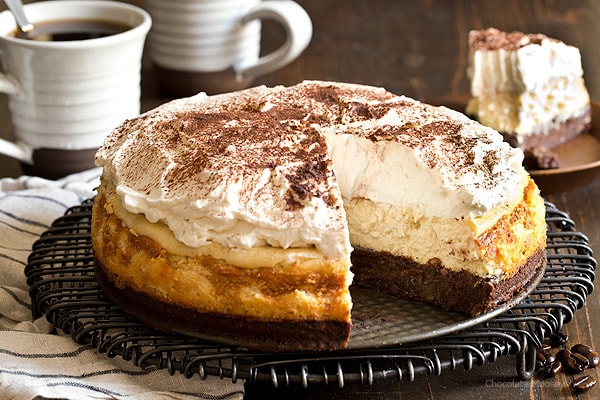 The brownie layer is firm enough to hold up as a "crust" while soft enough to cut with your fork. Nothing is more frustrating than a crust that won't break. For a bit of texture and crunch, I stirred chocolate chips into the brownie batter.
Being the coffee lover I am, I know how important the brewer is to making a cup, and
Keurig® brewers
beat out the rest in convenience, time, and ease. One – when I start my mornings, especially when I'm going to my local coworking space or going on a day trip at 8 AM, I can pop in a K-Cup® pod, select my size, and be on my way. I don't have to weigh and grind up coffee beans or measure and boil water on the stove. When you don't like to wake up early in the morning, every minute counts. Two – when I bake with coffee, I can pop in a K-Cup® pod while prepping my ingredients. Three – the
Keurig K575
is compatible with
K-Carafe® pods
, which means I can brew an entire pot of coffee without owning another coffee maker. I used to own a separate machine for that, which takes up extra space I don't have. If I need to make a pot of coffee when I have company, I can use my K-Carafe® pods.
For the coffee I used
Green Mountain Coffee® Nantucket Blend
because it's a medium roast, which is ideal for baking. Green Mountain Coffee® carefully sources and uses only the top 10 percent of coffee beans in the world in more than 50 distinct varieties of 100 percent Arabica coffee. For those of you conscience about the environment, Keurig does make a reusable
My K-Cup® filter
you can fill.
Although today is National Coffee Day, don't let that stop you from making this dessert all year long. With the holidays coming up, you can make this brownie cheesecake the day before and serve it when company is visiting.
Mocha Brownie Cheesecake
Yield: 8-10 servings

Prep Time: 5 hours

Cook Time: 1 hour

Total Time: 6 hours

Prep time includes 4 hours chill time.
Ingredients
Brownie Layer
1/2 cup (4 ounces) unsalted butter, cut into 8 tablespoons
2 ounces unsweetened chocolate, chopped
1/2 cup unsweetened cocoa powder
1 cup granulated sugar
1/4 teaspoon salt
1 egg, room temperature
1 teaspoon vanilla extract
1/2 cup Green Mountain Coffee® Nantucket Blend, brewed and cooled to room temperature
1 cup all-purpose flour
1/2 cup semisweet chocolate chips
Cheesecake Layer
24 ounces full-fat cream cheese, softened (do not sub fat free)
1 cup granulated sugar
3 eggs
1/2 cup Green Mountain Coffee® Nantucket Blend, brewed and cooled to room temperature
1 teaspoon vanilla extract
Whipped Cream
1 cup cold heavy whipping cream
1/2 cup powdered sugar
1/4 cup Green Mountain Coffee® Nantucket Blend, brewed and cooled to room temperature
1 teaspoon vanilla extract
Cocoa powder, for dusting
Instructions
Preheat oven to 350F. Lightly grease a 9 inch springform pan.
For the brownie layer: In a large saucepan, melt together the butter and unsweetened chocolate.
Remove from the heat and whisk in the cocoa, sugar, and salt (mixture will be grainy - keep going).
Beat in the egg and vanilla then beat in the coffee.
Whisk in the flour just until fully incorporated then stir in the chocolate chips.
Spread the batter into the pan and bake for 20-25 minutes or until the top is firm to the touch but not fully baked.
For the cheesecake layer: While the brownie layer is baking, beat together the cream cheese and sugar in a large mixing bowl until light and fluffy, about 3-4 minutes.
Beat in the eggs, one at a time, for 1 minute each. Add the coffee and vanilla then beat for an additional 1-2 minutes.
Once the brownie layer is done, pour the cheesecake batter on top then bake 40-45 minutes or until the center is almost set (it'll move when the pan is shaken, but the top should be firm when you touch it). Remove from the oven and immediately run a knife around the edge of the pan to loosen the cheesecake (otherwise it may stick and crack while cooling). Cool 1 hour in the pan.
Cover and refrigerate for at least 4 hours or overnight.
For the whipped cream: In a large mixing bowl (with whisk attachment if using a stand mixer), beat the heavy cream until thickened. Gradually beat in the sugar, coffee, and vanilla then continue beating until stiff peaks form (when you pull the beater up, peaks will form and not fall over).
Spread on top of cheesecake then dust with cocoa powder. Refrigerate until ready to serve. For easier cutting, freeze until whipped cream is firm enough to cut. Store leftovers in an airtight container in the refrigerator for up to 1 week.
Disclosure: This post is sponsored by Keurig Green Mountain®. Thank you for supporting me and the companies I work with as sponsored posts help pay for the costs of running Chocolate Moosey, including website hosting and groceries for recipe development.