The taste of s'mores right from your oven! Peanut Butter S'mores Chocolate Chip Skillet Cookie combines graham crackers, toasted marshmallows, chocolate chips, and peanut butter into one heavenly dessert.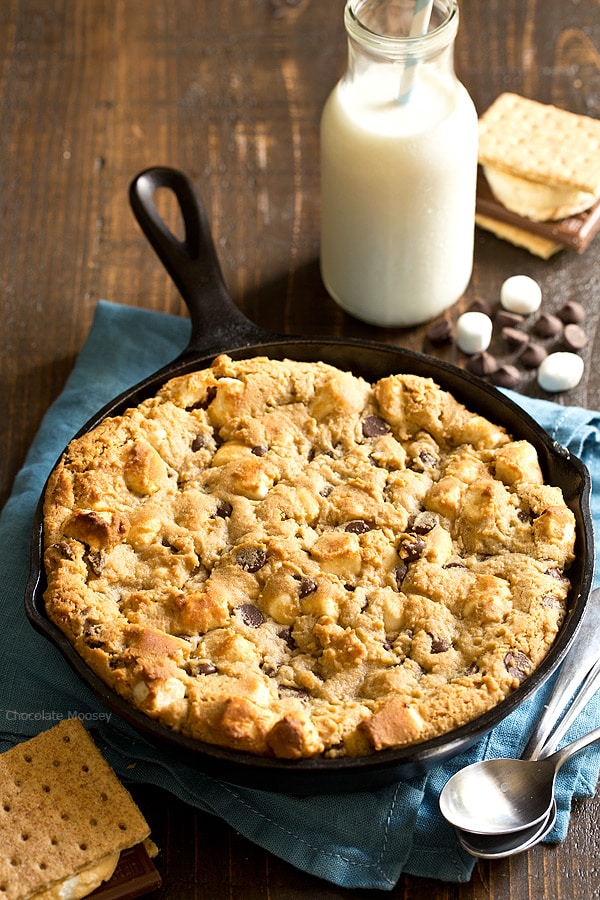 The one thing I've missed out all summer is s'mores. Sure I've done an occasional microwave s'mores, but that's not the same as setting your marshmallows on fire. But I also don't go camping or build bonfires, so I guess I can't complain. The next best thing for this apartment dweller to do is using my oven. Confession – I don't like using my broiler because it smells like the oven might explode every time I use it. You may be wondering, what exactly possessed you to try it again if you felt that way? My answer: I really, really needed toasted marshmallows for my photos (i.e. an excuse to eat two s'mores after I was done shooting). I can't tell you the last time I set a marshmallow on fire, and although I have an electric broiler and not a gas one, it's still capable of charring them. Armed with an open balcony door, oven mitts, and a timer, I successfully accomplished my mission. Which also turned out to be a dangerous one because now I'm more confident in using my broiler for more marshmallows.
Another way to toast marshmallows without setting off your fire alarm is baking them in a GIANT cookie a la Peanut Butter S'mores Chocolate Chip Skillet Cookie. When I say s'mores, I really mean it. Sometimes people leave out the graham cracker, but not me. There are graham cracker crumbs in the dough along with mini marshmallows and chocolate chips. I thought about chopping up a few Hershey bars, but then I made real s'mores with them and ran out. Oops. Then of course I added peanut butter because peanut butter + chocolate chips + toasted marshmallows = love at first bite.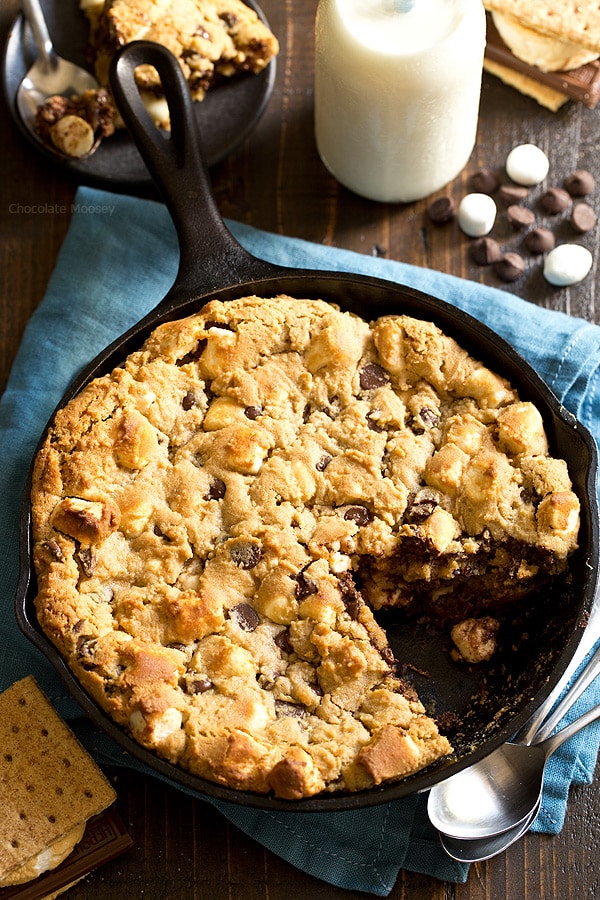 The inspiration for this skillet cookie came from S'mores Day back in August. I saw someone post a skillet cookie similar to this one on Instagram and knew I needed to recreate it. All that gooey marshmallow, chocolate, and peanut butter in one bite.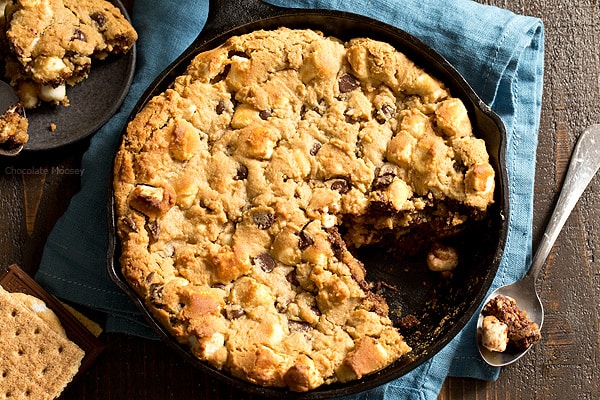 I took my recipe for
Mini Peanut Butter Cup Skillet Cookies
and adjusted it for an
8-inch cast iron skillet
. As you can see by the photos, it fits just right.
What do you do if you don't have a cast iron pan? You can use a regular round cake pan, a pie plate, or a springform pan. The key is a pan that is deep enough so the dough will fit and not overflow. You can also use a regular skillet, but please make sure it's ovenproof.
Yields 6-8 servings
Peanut Butter S'mores Chocolate Chip Skillet Cookie
20 minPrep Time
20 minCook Time
40 minTotal Time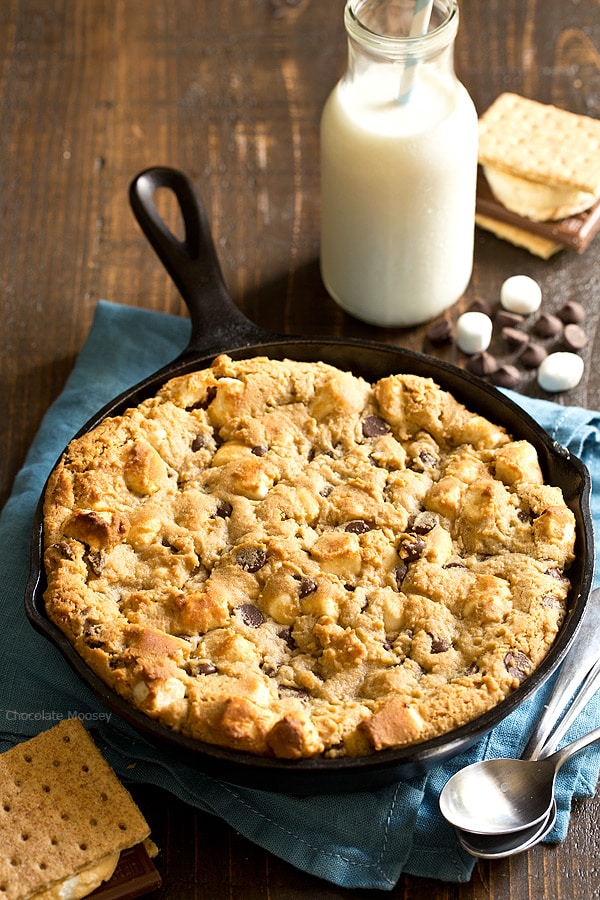 Ingredients
1 cup all-purpose flour
1/2 cup graham cracker crumbs
1 teaspoon baking soda
1/2 teaspoon salt
1/2 cup smooth peanut butter
1/4 cup (2 ounces or 4 tablespoons) unsalted butter, softened
1/2 cup packed brown sugar
1/2 cup granulated sugar
1 egg
1 teaspoon vanilla extract
1 cup semi-sweet chocolate chips
1 cup mini marshmallows
Instructions
Preheat oven to 350F. Have an 8-inch cast iron skillet ready.
In a medium bowl, mix together the flour, graham cracker crumbs, baking soda, and salt.
In a large mixing bowl, beat together the peanut butter, butter, brown sugar, and sugar until creamy and smooth, about 2-3 minutes. Beat in the egg and vanilla. Gradually beat in the flour mixture. Stir in the chocolate chips and marshmallows.
Evenly spread the dough in the pan. Bake 20 minutes for a slightly underbaked cookie (preferred) or 25 minutes for a normal baked cookie. Cool 15 minutes then serve warm or at room temperature.
Notes
Baking For Two: The leftover slices freeze well.
7.6.3
3553
https://www.chocolatemoosey.com/2016/09/15/peanut-butter-smores-chocolate-chip-skillet-cookie/