5 ingredient Quick Pickled Jalapenos are an easy way to pack some spice into your recipes. Eat them straight from the jar, add them to nachos, or set up a taco hummus bar for snacking.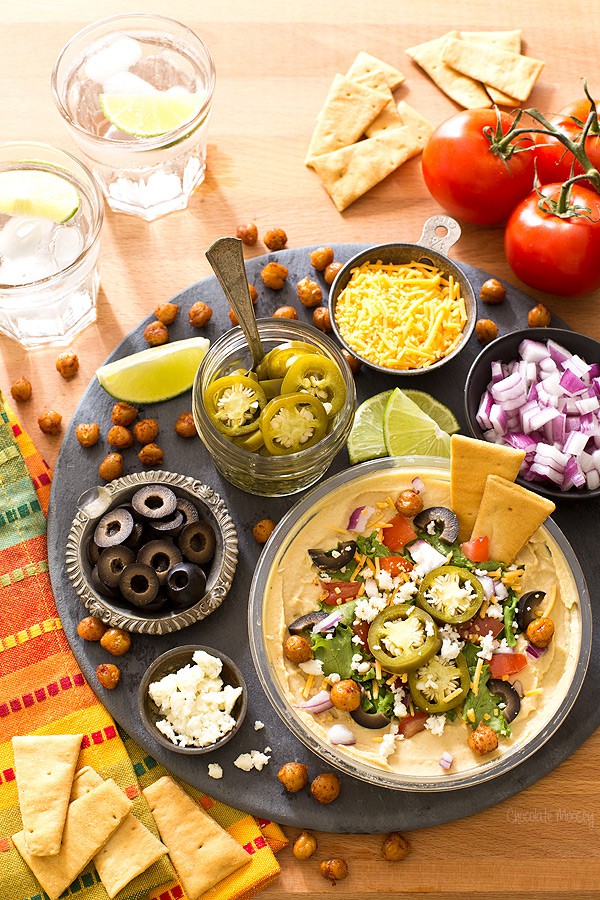 Every time I go to a sports game, whether it's hockey or baseball, I almost always end up with (expensive) nachos, double cheese, and a mountain of pickled jalapenos. Back in January I went to my first hockey game and ate a huge burger for dinner. After the game, I really wanted nachos but learned that concession stands don't stay open, but we did find one still serving food as we were leaving. I bought nachos to go, which meant walking a few blocks to our car because we wanted to save money on parking. There I was, all bundled up in my gloves and coat trekking back to the car holding onto my nachos for dear life while I was trying not to fall on the icy sidewalks. I take my stadium nachos very seriously.
However, you and I both know stadiums are expensive. It's bad enough paying for tickets and parking then you have to pay 5x normal prices for food and drink on top of that. Short of smuggling out jalapenos in my coat pocket, how can I enjoy them at home? By making my own Quick Pickled Jalapenos (bet you didn't see that one coming). Pickling jalapenos at home is easy with using only 5 ingredients – jalapenos, sugar, salt, vinegar, and water. All ingredients I bet you have in your kitchen right now.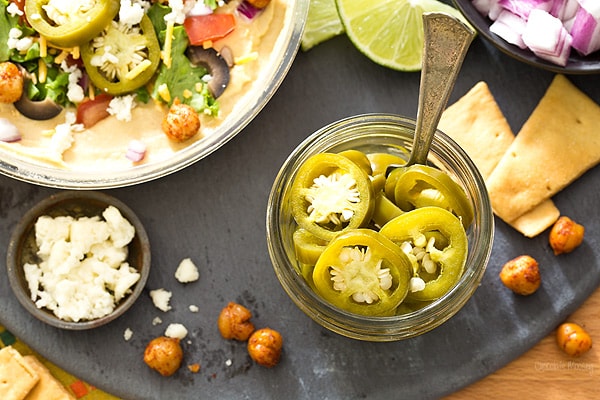 My pickled jalapenos are a bit crunchier than the stadium jalapenos because they are quick pickled, meaning you don't have to wait weeks to enjoy them. I recommend letting them soak in the vinegar mixture overnight, but if you're in a hurry, you can start eating them after the first hour.
Your pickled jalapenos are ready – now what? Besides eating them straight from the jar, you can serve them with
nacho cheese sauce
, on burgers, in salads, or set up a taco hummus bar with all of the taco fixings. Today marks National Hummus Day, which I celebrated last year with Sabra and my
Barbecue Chicken and Corn Tostadas
.
This year I wanted to celebrate it a little more laid back by eating hummus straight from the container and making it a part of my Unofficial Meal, which is an initiative that encourages you to reconnect with your loved ones over a fresh snack while waiting for dinner, asking each other about your day.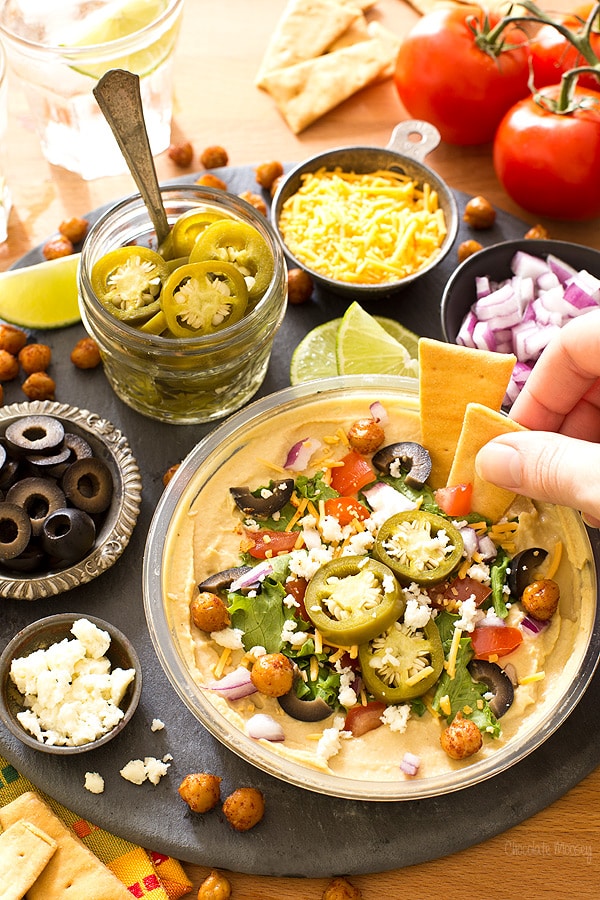 Personally this would be my entire dinner, but I also don't have to worry about sharing since I eat by myself. Ahem. I used their classic flavor for my taco hummus, but chipotle would also make a great base.
To celebrate National Hummus Day, stop by
Sabra's website
for a coupon! Don't wait – it's only available for today until midnight (5/13/16).
Quick Pickled Jalapenos and Taco Hummus Bar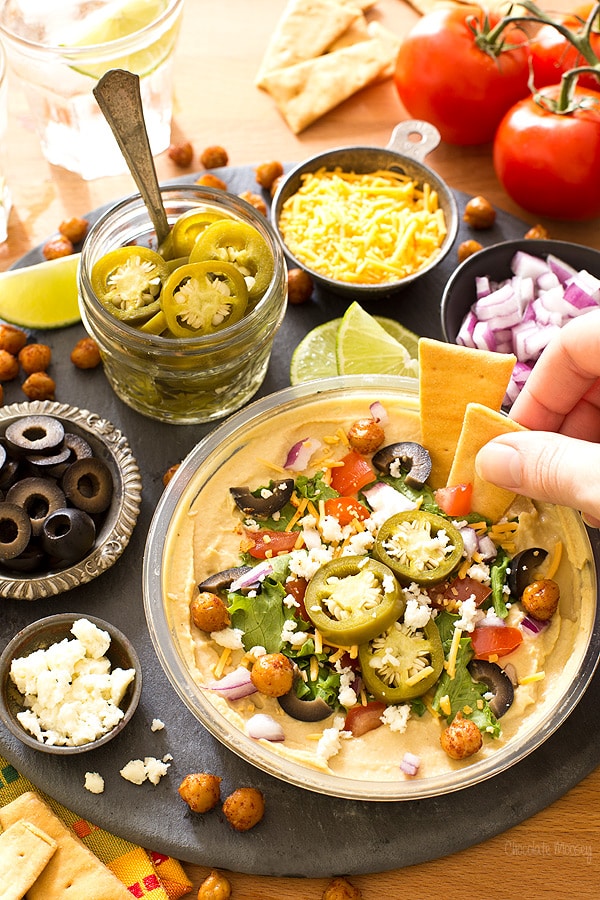 Ingredients
1 cup water
3/4 cup white distilled vinegar
1 tablespoon granulated sugar
1 teaspoon salt
8 large jalapenos, sliced
Instructions
Whisk together the water, vinegar, sugar, and salt in a medium saucepan. Bring to a boil and whisk until sugar and salt has dissolved.
Add the jalapeno slices to a heatproof jar or container. Pour the hot vinegar mixture over the jalapenos. Let sit at room temperature for at least 1 hour before serving. Store in the fridge in an airtight container.
7.8.1.1
3522
https://www.chocolatemoosey.com/2016/05/13/quick-pickled-jalapenos-taco-hummus-bar/
Related Recipes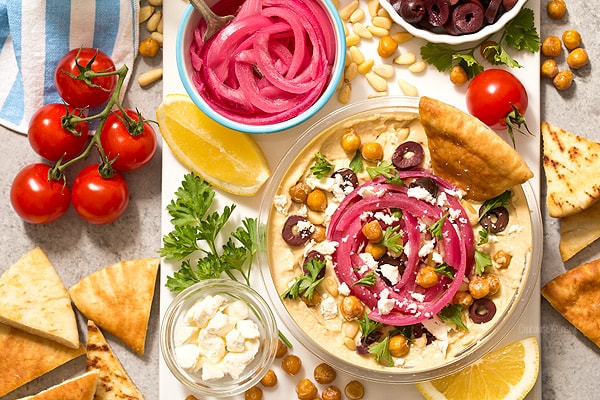 Pickled Red Onions

Homemade Pita Chips
Disclosure: This post is sponsored by Sabra. Thank you for supporting me and the companies I work with as sponsored posts help pay for the costs of running Chocolate Moosey, including website hosting and groceries for recipe development.