Get your fiesta started with this Mexican Beer Cheese Dip with chorizo and jalapeno. Plenty of flavor packed in every cheesy bite!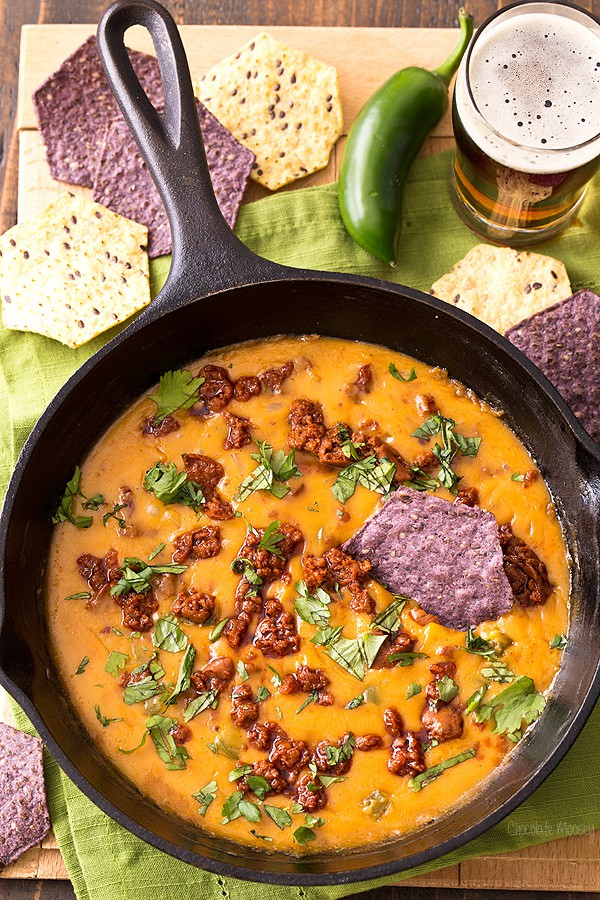 How often do you eat Mexican food? In two weeks it'll be Cinco de Mayo, an excuse for Americans to consume copious amounts of Mexican food, beer, and margaritas in one day. I will be one of those people, although I'll be alone in my kitchen like I am every Thursday night. I eat Mexican food all year round, but there's something about celebrating a holiday that isn't even yours that makes people go crazy and go all out for Mexican everything. What's ironic is Cinco de Mayo isn't about Mexico's independence but rather an unexpected war victory. Whatever the reason, I'll take any excuse to make cheese dip. Put a bowl in front of me, and I can't guarantee I'll share. I'd rather dip my chips in cheese than salsa. Last year for Cinco de Mayo I made Nacho Cheese Dip with roasted jalapenos. This year I wanted to step up my cheese dipping game and do a variation of a beer cheese dip but with a Mexican twist, and that's how this Mexican Beer Cheese Dip was born. I used chorizo – a spicy Mexican pork sausage – for the base because after you cook the sausage, you cook the onion, jalapeno, and garlic in the sausage grease for added flavor. No extra spices are needed because they all come from the chorizo. Whether you make this in May or a random Tuesday in July, this Mexican Beer Cheese Dip is all you need to get your fiesta started.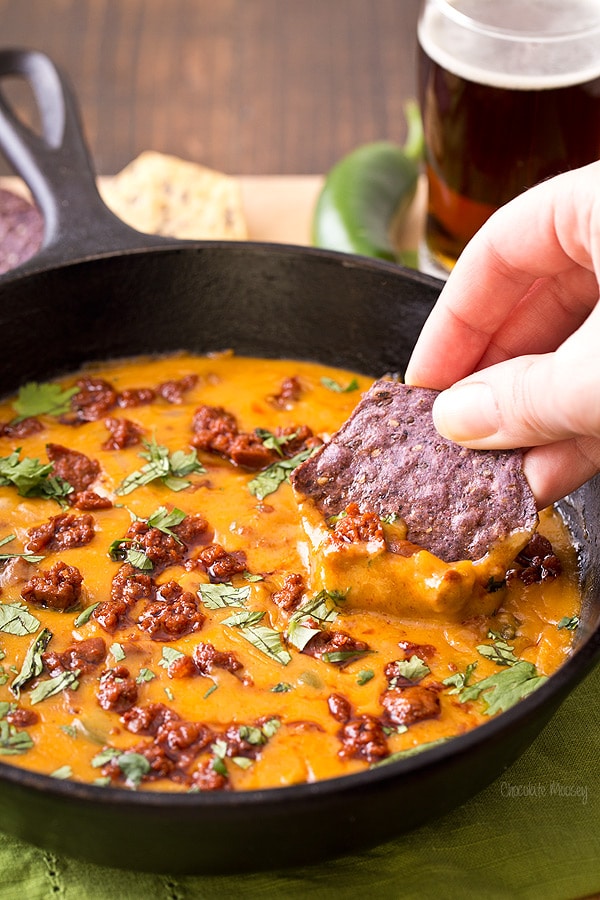 The first time I had chorizo was this past summer when I ordered brunch with a friend at a local diner. We had just finished walking the farmer's market and wanted to grab something to eat. As we walked up to the diner, I saw the menu with today's special – chorizo hash. Now I knew what chorizo was but never actually ate it before. I couldn't stop thinking about it, so that's what I ordered. It was an excellent choice too because I still think about that chorizo hash, and now I've been cooking chorizo at home like crazy.
What would a dip be without chips? I used
Food Should Taste Good™
's multigrain and blue corn tortilla chips to scoop up the beer cheese dip, which are made with real and simple ingredients with sophisticated flavor. I love eating them straight from the bag, but eating them with dip is even better. Food Should Taste Good™ is also non-GMO, certified Kosher and certified gluten-free with many varieties being certified vegan.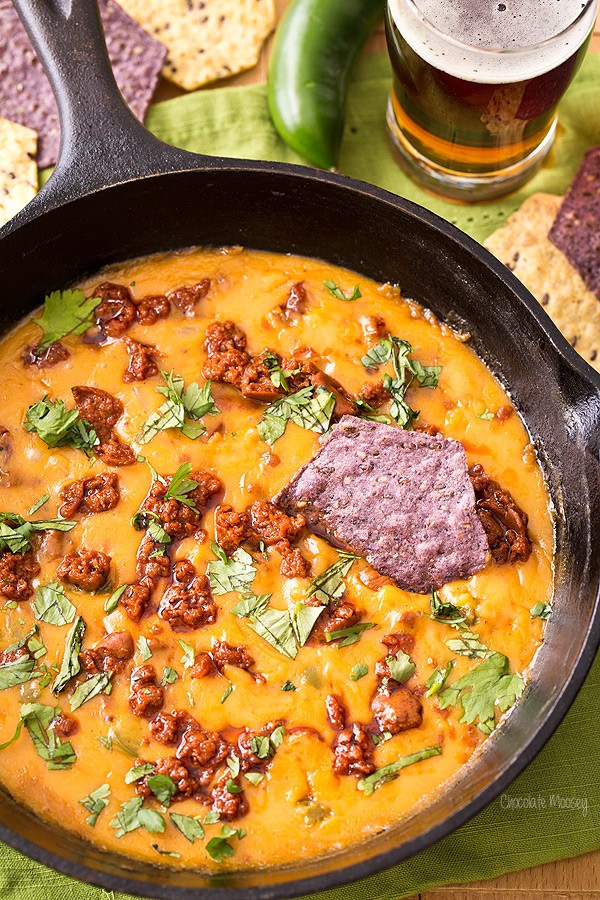 For the beer I used a Mexican lager, but you can use your favorite beer. The beer is a pretty prominent flavor, so make sure whatever beer you use, you also enjoy drinking it. To make this dip without beer, use an equal amount of whole milk. Of course it'll be a regular cheese dip and not a beer cheese dip, but it'll still be tasty with the chorizo.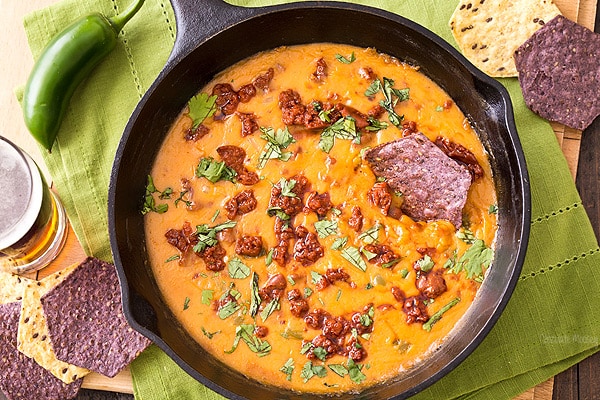 For more information, please check out Food Should Taste Good™'s
website
and say hello on
Facebook
,
Twitter
,
Instagram
, and
Pinterest
.
Mexican Beer Cheese Dip
Yield: 4-6

Prep Time: 15 minutes

Cook Time: 25 minutes

Total Time: 40 minutes
Ingredients
8 ounces (1/2 pound) chorizo, removed from its casing and crumbled
1/2 cup chopped white onion
1 jalapeno, chopped
1 clove garlic, minced
2 tablespoons all-purpose flour
3/4 cup Mexican lager beer*
1/4 cup whole milk
2 cups shredded cheddar cheese
1 teaspoon salt
Cilantro, for garnish
Instructions
In a large hot skillet over medium heat, brown the chorizo until cooked, about 5-7 minutes. Remove the chorizo with a slotted spoon to a bowl, leaving the grease behind.
Add the onion and jalapeno to the hot grease and cook until softened, about 5 minutes. Add garlic and cook 60 seconds.
Stir in flour, coating the onion mixture. Slowly whisk in the beer and milk. Bring to a boil and cook for 3-5 minutes or until thickened. Stir in the cheese and salt until cheese has completely melted. Add the cooked chorizo. Remove from the heat, garnish with cilantro, and serve immediately.
Notes
To make the dip without beer, substitute an equal amount of whole milk.



More Cheese Dips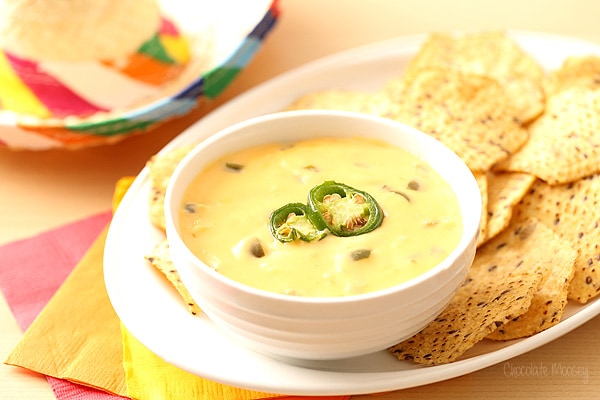 Nacho Cheese Dip and Sauce
Disclosure: This post is sponsored by Food Should Taste Good. Thank you for supporting me and the companies I work with as sponsored posts help pay for the costs of running Chocolate Moosey, including website hosting and groceries for recipe development.