Whether you're looking for a hands-off easy weeknight dinner or a dressed up dinner for two, these Honey Mustard Chicken Thighs with fresh rosemary and crispy chicken skin will not disappoint.
For the past two months, I haven't been feeling very inspired, like I hit a wall and can't get past it.
The most difficult part is I can't pinpoint a reason why.
It's easy to blame it on my job, but I love what I do. I take days off from work, so overworking isn't an issue.
I'm not depressed. Maybe being cooped up inside with the cold and dreary weather finally got to me.
Every day that's it warm enough outside, I'm anxious to get outside and go for a walk. When a cold day sneaks in, it kills me to stay inside.
Whatever the reason, everything is leaving me unmotivated. I look at my editorial calendar for the blog, and I struggle to come up with recipe ideas.
Sure I have a long list of ideas from over the years, but nothing is begging me to run to the kitchen and make it immediately.
When I make plans for the weekend, I can't think of anything I want to do. My menu planning for dinner has tanked as I struggle to think of a single thing I want to eat; I've had too many cheat meals of frozen pizza and Chinese food.
When I write my grocery list, I struggle to add items to the list because I don't know what I want to eat for dinner.
I'd like to think it's a form of writer's block (recipe block?) and it'll pass soon.
It probably doesn't help I'm dealing with taxes, filling out local township paperwork I didn't know I needed, filing for an LLC, deciding on whether I should become an S-Corp, and renewing my driver's license. I really need a break from adulting.
THEN Instagram – the one social media platform I actually enjoy using – decides to change their algorithm, and now nobody is seeing my photos.
Talk about discouraging because I poured a lot of time and energy into growing it, and I had a bit of a momentum going.
I'm starting to feel a little more hopeful for April's recipes, so maybe I'm finally climbing over that wall. This feeling does have to pass eventually, right?
I've been making my Maple Roasted Chicken Quarters a lot because one – it's one of my favorite meals and two – when I don't know what I want to eat, at least I know I can buy chicken quarters and make crispy chicken skin.
As much as I love maple, I wanted to change it up and get me out of my dinner funk.
My original plan for the maple chicken was with chicken thighs, but at that time the butcher ran out. This time they had chicken thighs back in stock, so I picked up a few to make dinner.
I decided to use honey instead of maple, and what goes better with honey than mustard? Add fresh rosemary on top, and now you have Honey Mustard Chicken Thighs as a delicious dinner for two.
Anything with crispy chicken skin is a winner in my book.
You can use any cut of chicken you'd like, but I prefer chicken quarters and thighs. I've tried chicken breast, and although the recipe works fine with it, my personal preference is dark meat.
For the honey, I buy local whenever I can.
Clover is the most common type of honey, but with all of the different varieties out there, as long as you like the honey you're using, it'll work in the honey mustard glaze.
I encourage you to buy honey from a local farm (or a store that carries a local brand) not only to support your local bee farmers but also because it's guaranteed to be real, raw honey.
Sometimes honey at the big chain stores is pasteurized and ultra-filtered to the point where most if not all of the pollen is removed, and technically honey without pollen is not honey.
Not all mustards are created equal.
Dijon mustard works best for the honey glaze because its sharp and strong flavor balances nicely with the sweetness from the honey.
It also has more of a mustard-y bite compared to yellow mustard.
I know the last thing you want to do is buy yet another jar of mustard you may never use again, but trust me. You'll be making this chicken dish over and over.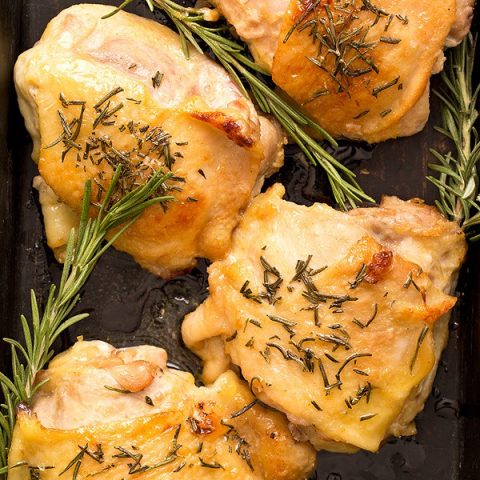 Honey Mustard Chicken Thighs (Dinner For Two)
Yield: 4 servings

Prep Time: 20 minutes

Cook Time: 40 minutes

Total Time: 1 hour

Whether you're looking for a hands-off easy weeknight dinner or a dressed up dinner for two, these Honey Mustard Chicken Thighs with fresh rosemary and crispy chicken skin will not disappoint.
Ingredients
1 tablespoon olive oil
4 large chicken thighs, seasoned with kosher salt as desired
2 tablespoons pure honey
2 tablespoons Dijon mustard
1/4 teaspoon sea salt
1 tablespoon freshly chopped rosemary
Instructions
Preheat oven to 425F. Have a small casserole dish or an 8x8 pan ready.
In a large skillet over medium heat, heat oil. Once hot, add the chicken thighs, skin side down, and brown for 5 minutes. Flip and brown the other side for 5 minutes. If your skillet isn't large enough, you may need to do this in two batches. Add more oil if necessary.
Meanwhile, whisk together honey, mustard, and sea salt. Brush the bottom of the pan with a thin layer of honey mustard.
Once the chicken has finished browning, place chicken in the pan, skin side up. Brush evenly with honey mustard and sprinkle rosemary on top. Bake for 30-45 minutes or until internal temperature reaches 165F.