If you love chocolate, coconut, and coffee, then you'll love these hot Toasted Coconut Mochas topped with homemade whipped cream. The perfect pick me up when you need an energy boost.
One of my favorite things to do on the weekends in Pittsburgh is go to a coffee shop, order a drink for there, then sit and write, which usually ends up being my grocery list. What an exciting afternoon for me. My go-to order is usually a mocha, sometimes a latte depending on my mood and how well the coffee shop can make a mocha; not all mochas are created equal. Since I can't be spending money on coffee drinks every day, during the week I make my own at home inspired by the drinks I buy. Last year I made
Mexican Spiced Mochas
. This time I was in the mood for a Toasted Coconut Mocha.
The first time I had a toasted coconut mocha was when Starbucks had their mocha coconut frappuccino, which is a cold coffee drink blended with ice. I love it, but it's only available during the summer. Instead of waiting that long, I decided to take charge and make one at home. Instead of making it iced, I made a hot toasted coconut mocha. I love chocolate and coconut together, much like a famous candy bar. Topped with homemade whipped cream, coconut mochas make a great afternoon pick me up.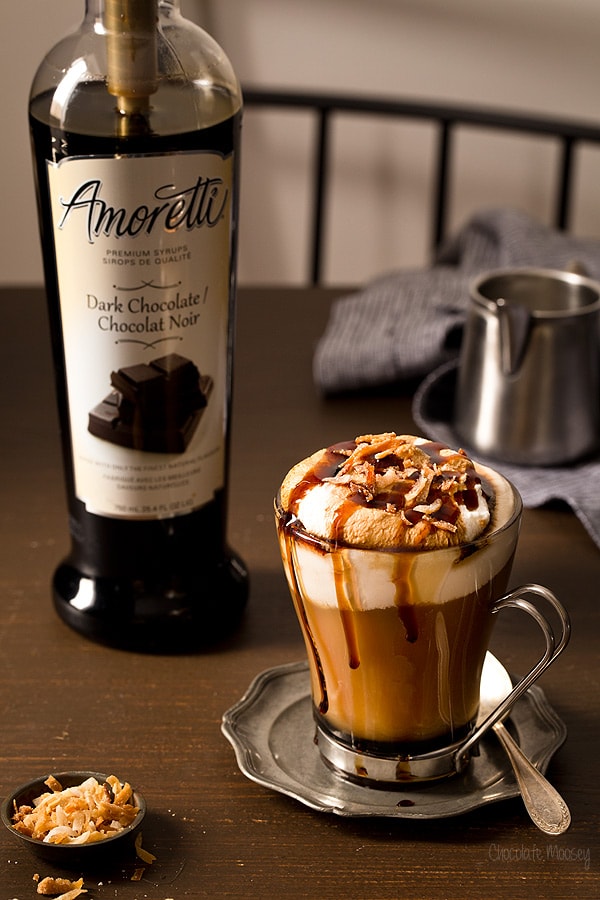 Technically mochas are made with espresso and steamed milk, but since my espresso machine is out of order, I used regular coffee instead. For the mocha part, I used
Amoretti Dark Chocolate Syrup
. Amoretti syrups have a more concentrated flavor than most syrups, which means you only need 1-2 pumps in your drink. This means your bottle will last longer because you don't need to use as much.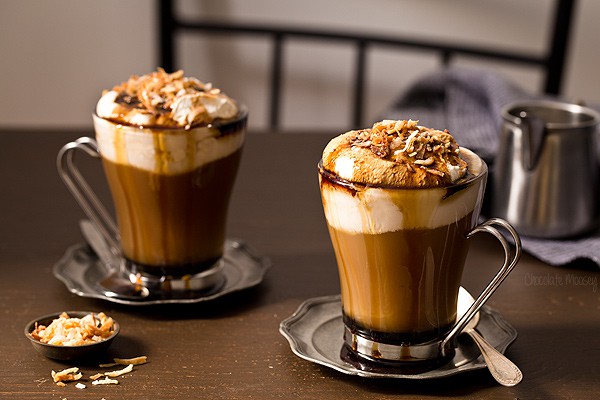 For the coconut flavor, I used coconut extract. If you want an extra strong coconut flavor, you can use coconut milk; however, I usually use dairy milk as it's always in the fridge.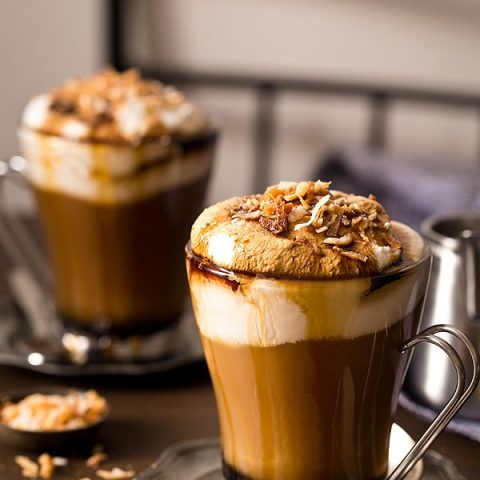 Toasted Coconut Mocha
Ingredients
1/4 cup Amoretti Premium dark chocolate syrup
1 teaspoon coconut extract
16 ounces (2 cups) hot coffee
1/2 cup dairy or coconut milk
1/2 cup toasted coconut
Whipped Cream
1/2 cup heavy whipping cream
1/4 cup powdered sugar
1/2 teaspoon vanilla extract
Instructions
In the bottom of one coffee mug stir together 2 tablespoons chocolate syrup and 1/2 coconut extract. Pour in 1 cup hot coffee and stir until dissolved. Stir in 1/4 cup milk. Repeat with a second coffee mug. Top both with whipped cream and toasted coconut.
Whipped Cream
In a large mixing bowl (with whisk attachment if using a stand mixer), beat the heavy cream until thickened. Gradually beat in the sugar and vanilla then continue beating until stiff peaks form (when you pull the beater up, peaks will form and not fall over).
More Coffee Drinks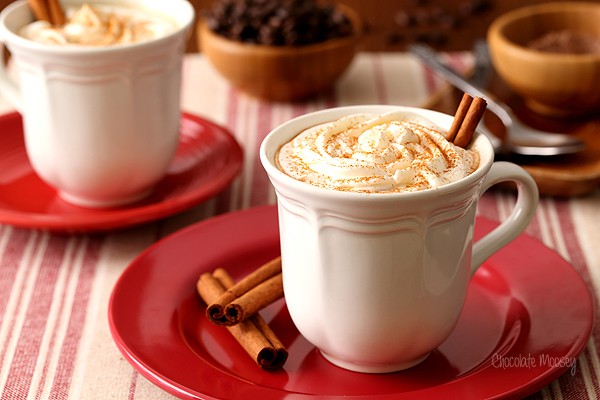 Mexican Spiced Mocha
Disclosure: This post is sponsored by Amoretti. Thank you for supporting me and the companies I work with as sponsored posts help pay for the costs of running Chocolate Moosey, including website hosting and groceries for recipe development.