This healthy one pot Cheesy Chicken and Potato Soup with spinach is a creamy potato soup made without cream, thanks to a special technique using the blender.
Well it finally happened. January turned into January by welcoming us with enough snow to make me not want to leave my apartment. Luckily I work from home so I don't have to leave. I do not miss those days where I would be forced to drive in snow and ice to show up for work. One time I stayed home because my entire driveway was an ice skating rink (we all brought our work laptops home in case that happened, so I still worked). The next day, my boss gave me a really hard time about it and told me how he managed to drive over the big mountain and show up for work. Good for you. I didn't want to die that morning, thankyouverymuch.
ANYWAY. When it's cold and snowy outside, all I want to eat for dinner is soup. Although I'm not one to go health crazy with kale and quinoa, at the same time I don't want a heavy, fattening soup in January. That's when I invented this Cheesy Chicken and Potato Soup. Despite how creamy and comforting it looks, I didn't use a single drop of cream or milk. None. How is it possible to still have a creamy, fulfilling soup without sacrificing flavor? By using pureed potatoes as a thickener! You may have heard of using potato flakes as a thickener, but I used fresh potatoes because that's what I had on hand. Think about your favorite mashed potatoes then think about adding more liquid to make it soup consistency. Then stir in chicken, more potato, and spinach to make it a meal. The best part is nobody will know you made this healthy by leaving out the cream.
I must admit this cheesy chicken and potato soup recipe is not one I would have naturally made. However,
Idaho Potato Commission
challenged me to make a healthy potato soup as most people are getting back on track with their eating habits after the holidays. Potatoes are considered a healthy vegetable because they provide 45 percent of your daily vitamin C, have more potassium than a banana, are heart healthy, and more. How's that for starting the new year off right? If you're interested in reading more about nutrition and healthy facts, you can visit Idaho Potato's
nutrition page
for more information.
If you have leftover soup, it will thicken up greatly in the refrigerator thanks to the pureed potatoes. Add some more chicken broth or water, stir it up, then reheat.
Cheesy Chicken and Potato Soup
Yield: 4

Prep Time: 20 minutes

Cook Time: 40 minutes

Total Time: 1 hour
Ingredients
2 tablespoons vegetable oil
1 large boneless skinless chicken breast, cut into 1-inch pieces and sprinkled with some salt
1/2 cup chopped white onion
1 clove garlic, minced
2 large carrots, peeled and chopped
3 cups chicken broth
1 pound Idaho® potatoes, peeled and cubed (roughly 2 large potatoes)
1/2 teaspoon salt
2 cups shredded cheddar cheese
4 cups fresh spinach leaves
1 tablespoon lemon juice
1 green onion, chopped
Instructions
In a Dutch oven or large pot, heat 1 tablespoon oil. Once hot, add the chicken in a single layer. Cook for 4 minutes then flip and cook until no longer pink in the middle, another 3-5 minutes. Transfer the chicken to a bowl and keep warm.
Add remaining 1 tablespoon oil to any meat drippings left in the pan. Once hot, add onion and carrots. Cook until softened, about 5 minutes. Add the garlic and cook 30 seconds. Slowly stir in some of the broth, scraping up any brown bits left on the bottom of the pan, then finish stirring in the rest of the broth. Bring to a boil.
Once boiling, add the potatoes and salt. Cook until soft, roughly 10-12 minutes. Reserve 1 cup of the potato, carrot, and onion mixture.
Add half of the soup to a blender then puree for 30 seconds (be very careful as hot liquid expands when blended). Add the rest of the soup then puree until smooth.
Pour the soup back into the pot and bring to a boil. Stir in the cheese until melted. Stir in the spinach and cook until wilted, about 2-3 minutes. Stir in the lemon juice, reserved potato mixture, and chicken. Garnish with green onion before serving.
More Potato Dinner Recipes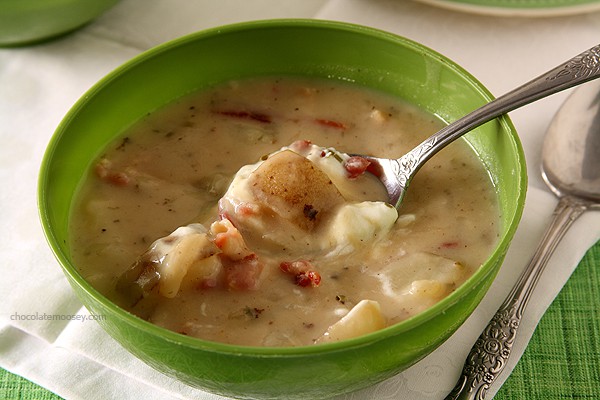 Baked Potato Soup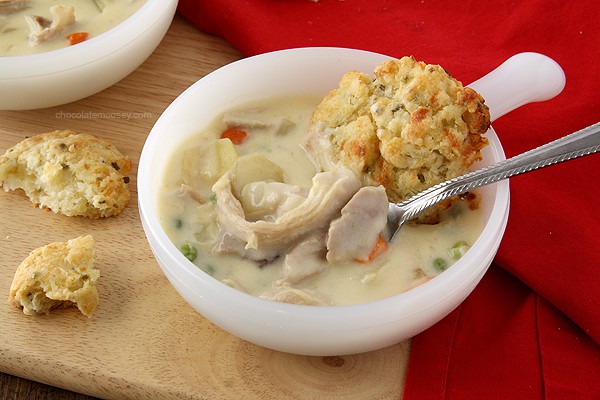 Chicken Pot Pie Soup

Loaded Baked Potato Casserole
Disclosure: This post is sponsored by Idaho Potato Commission. I was also invited to experience the harvest tour for no additional compensation. Thank you for supporting me and the companies I work with as sponsored posts help pay for the costs of running Chocolate Moosey, including website hosting and groceries for recipe development.