These oatmeal chocolate chip cookies cut into wedges are everything you want in a cookie – soft and chewy with a bit of nuttiness from the oats and of course warm, melted chocolate chips in every bite.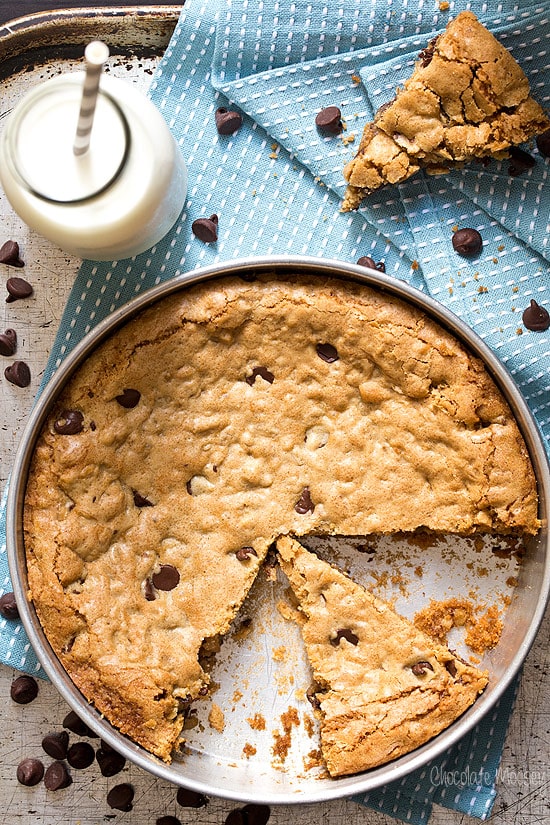 Oatmeal cookies and I have a love/hate relationship. I've never been a fan of oatmeal raisin cookies, so when I spy them on a cookie plate, I have to inspect them. Are they oatmeal raisin or oatmeal chocolate chip? Nothing is sadder than biting into a cookie you think is chocolate chip and finding out it's raisin. I do love chocolate covered raisins though, so if they made oatmeal raisin cookies like that, I'd be all set. However, today's post is raisin free because it's all about the chocolate chips. I feel like a broken record sometimes because this isn't the first time I'm saying this, but chocolate chip cookies are my favorite cookie. That means I had to give these Oatmeal Chocolate Chip Cookie Wedges away immediately because I pretty much scarfed down two cookies after my photo shoot. What can I say – I love chocolate chip cookies in any shape and form. You were probably expecting regular round cookies instead of wedges, but wedges are easier to make and serve to a crowd because you make the dough, spread it into a pan, then let it bake while you work on other things (or do the dishes). No need to scoop out the cookies or chill the dough in the fridge for a few hours before baking. I also made them into wedges because this recipe is from my friend Miriam of
Overtime Cook
's cookbook Something Sweet (more on the book in a bit). These cookies are soft and chewy with a bit of nuttiness from the oats and of course warm, melted chocolate chips in every bite. Plus before you cut them, it's like a cookie cake (or a single giant cookie if you believe hard enough).
These cookies are extra special because the recipe is from Miriam's cookbook
Something Sweet
. Even though Miriam and I knew each other online for awhile, we finally met for one day at a conference. In addition to being her friend, I feel particularly connected to this book because Miriam asked me for feedback throughout the process (I even helped with the cover photo). I remember sitting at a red light one day when I looked over and saw a sign for her cookbook in the window. Now if only she would travel to Pittsburgh for a book signing.
Something Sweet focuses on desserts for every occasion, ranging from casual with cookies and brownies to a little more fancier with cakes and pies. If you follow a kosher lifestyle, Miriam's recipes are kosher friendly. If you don't follow a kosher lifestyle, don't worry; her recipes are still made with everyday ingredients. These oatmeal chocolate chip cookies use vegetable oil instead of butter because kosher rules state you can't have dairy and meat together (in this case, you can't have dairy for dessert after eating meat for dinner). Although there is 1 tablespoon milk in the recipe, you can easily use soy milk to keep the cookies dairy free. I used dairy milk because that's what I drink. I recommend Something Sweet for those who are beginner bakers (especially kosher) because Miriam's recipes are simple with a mix of basic and slightly advanced recipes.
To buy your copy of the book, click the link below (affiliate link):
Oatmeal Chocolate Chip Cookie Wedges
Ingredients
1/2 cup vegetable oil
1/2 cup granulated sugar
1/2 cup packed brown sugar
1 egg
1/2 teaspoon baking soda
1/2 teaspoon ground cinnamon
1/2 teaspoon salt
1/2 teaspoon vanilla extract
1 tablespoon milk*
1 cup all-purpose flour
3/4 cup old-fashioned oats
1/2 cup semisweet chocolate chips*
Instructions
Preheat oven to 350F. Lightly grease an 8-inch round pan.
In a large mixing bowl on medium speed, beat together the oil, sugar, and brown sugar until smooth. Beat in the egg then beat in the baking soda, cinnamon, salt, vanilla, and milk. Reduce the mixer speed to low then gradually beat in the flour then add in the oats and chocolate chips (do not overmix).
Spread the dough into the pan then bake for 25-30 minutes or until the center has just set (do not overbake). Cool completely before serving. Store leftovers in an airtight container for up to 4 days.
Notes
*To make these cookies dairy free, use soy milk and dairy-free chocolate chips.
Source: Recipe slightly adapted from
Something Sweet
More Cookie Recipes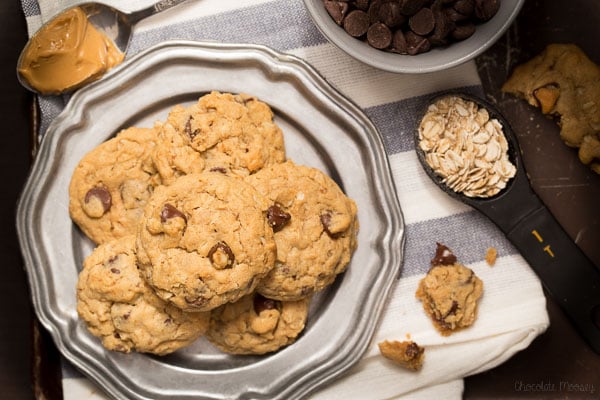 Peanut Butter Oatmeal Chocolate Chip Cookies