No need to buy a box of brownie mix when you need an effortless and simple dessert recipe! Brownies meet pie with this fudgy peanut butter brownie pie with peanut butter cups and can be served straight from the pan.

When I'm in charge of making dessert for birthdays, holidays, and regular friend get togethers, I tend to get a little ambitious. Mainly because I don't have to worry about being stuck with leftovers from a layer cake and gives me a chance to bake directly from my cookbooks. Sometimes I will bake recipes from my blog because I know they work (and because I'm selfish and want to eat them again). As much as I love planning ahead and going all out, even I fall victim to being too tired from the day's activities (usually on Saturdays where I just want to sit on the couch all night) or simply don't have time to make something that takes all day to assemble. That's when it helps to have a simple dessert recipe everyone will enjoy regardless of how much time you spent on it. This Peanut Butter Cup Brownie Pie is perfect for those occasions – make the batter, pour it into the pan, then once it's done baking, serve it directly from the pan. The best part is this recipe is made from scratch, so you don't need to reach for a box of brownie mix. In fact, I bet you have all of these ingredients in your pantry right now.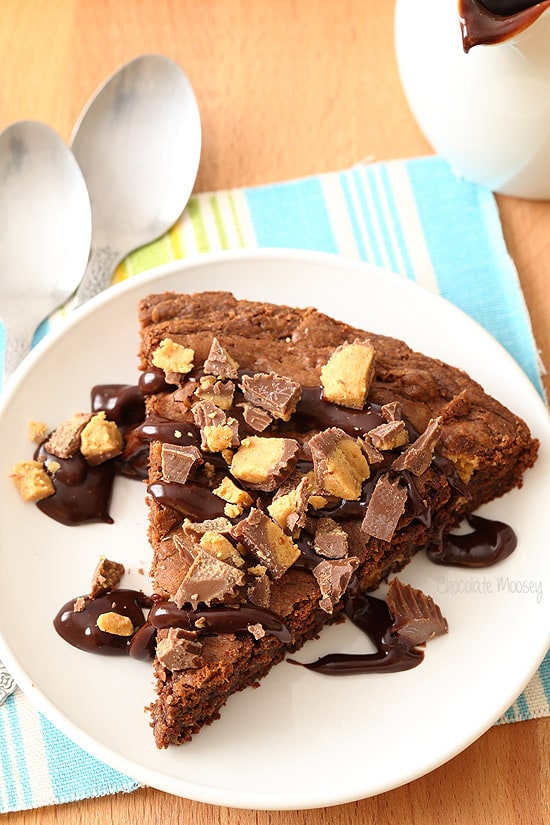 The first time I made this brownie pie, it was for someone's birthday. It was 2-3 years ago at my previous job so I can't remember who or when, but I can remember that first bite I took; the harmony of chocolate and peanut butter in a still-warm bite of brownie (ok fine – rewarmed in the microwave) definitely meant I was remaking this brownie pie and posting it for you to make at home as well. It would be a disservice if I didn't share, right?
I went with peanut butter cup because it's chocolate and peanut butter, probably the best food duo on the planet. In order to keep the peanut butter cups from completely disappearing into the pie, I froze them to slow down the melting process. For a little bonus, I poured a homemade two-ingredient chocolate sauce on top. Although it's totally optional, it's also totally worth it.
Peanut Butter Cup Brownie Pie
Ingredients
2 ounces semisweet chocolate, chopped
1/2 cup creamy peanut butter
1/4 cup (2 ounces or 4 tablespoons) unsalted butter
3/4 cup granulated sugar
1/4 cup unsweetened cocoa powder
1 teaspoon espresso powder (optional)
2 eggs
1 teaspoon vanilla extract
1/2 cup all-purpose flour
1/4 teaspoon salt
1 cup chopped peanut butter cups, frozen for at least 30 minutes
1/2 cup semisweet chocolate chips
1/4 cup heavy whipping cream
Instructions
Preheat oven to 350F. Have a 9-inch pie plate ready.
In a large saucepan, melt the chocolate, peanut butter, and butter. Remove from the heat and whisk in the sugar, cocoa powder, and espresso powder if using. Beat in the eggs and vanilla. Gradually stir in the flour and salt then add the peanut butter cups.
Spread the batter into the pan and bake for 25-30 minutes or until a toothpick inserted in the center comes out almost clean (few crumbs are ok but there should be no batter). Cool completely.
Add the chocolate chips to a heatproof bowl. Heat the cream in a small saucepan until hot but not boiling. Pour over the chocolate chips and wait 1 minute before stirring together until smooth. Serve warm with pie.
Source: Adapted from
Ina Garden
More Brownie Recipes

Fluffernutter Swirl Brownies