This creamy stovetop Bacon and Pesto Macaroni and Cheese with grape tomatoes, homemade basil pesto, smoked gouda, and cheddar cheese is an ode to farmer's markets and can be ready for dinner in under an hour.

Tuesday night when I went for my evening walk at the park, it was so chilly, you'd think it was the end of September, not the end of August. I was wearing capris and didn't have a jacket, so it was quite a brisk walk. At the end, I wish I had a hot cup of cider or hot chocolate to warm me up! I even started craving a pumpkin spice latte. Is summer really over now? Is it time to start wearing jeans again and keeping a jacket in the car? I'm both ready and not ready for fall. I don't think I can bring myself to eat pumpkin yet, so I'm going to continue on with another farmer's market inspired dinner – Bacon and Pesto Macaroni and Cheese. Apparently it's the summer of mac and cheese because this is my third recipe in two months, but I can't help. It's creamy. It's comforting. It's fresh with herbs and tomatoes. Although you can make basil pesto any day of the year, summer is usually when fresh herbs are in abundance at farmer's markets. Then of course there are the fresh grape tomatoes. I've even seen baby heirloom tomatoes at the market you can use. This recipe is everything you want in a good mac and cheese and can be ready for dinner in under an hour.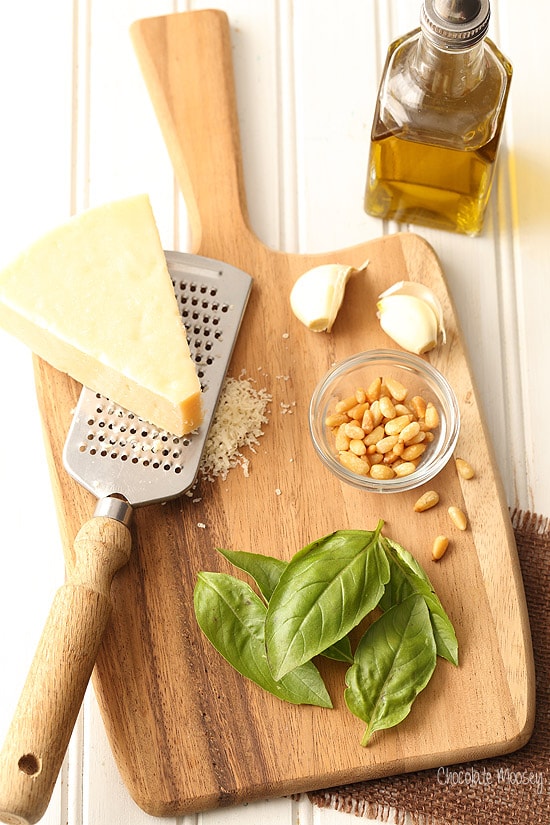 Basil is my favorite herb to use in pesto, but really you can use any herb you have on hand. I highly recommend buying fresh herbs from a farmer than the grocery store. Not only is it usually cheaper, it's much fresher too. If you can't buy any from a farmer and you have the room for it, buy a basil plant from your local greenhouse. It ends up being cheaper (and fresher) in the long run.
I used a combination of cheddar and smoked gouda for the cheese sauce. This was my first time trying smoked gouda and certainly won't be my last. The smokiness really adds a nice depth of flavor to the pasta, so I highly recommend trying it at least once in this recipe.
Bacon and Pesto Macaroni and Cheese
Yield: 4

Prep Time: 30 minutes

Cook Time: 20 minutes

Total Time: 50 minutes
Ingredients
Basil Pesto
1 cup fresh basil leaves
2 tablespoons pine nuts, toasted
1/4 cup grated Parmesan cheese
1/4 cup olive oil
1 large garlic clove, peeled
1/8 teaspoon sea salt
Macaroni and Cheese
1/2 pound (8 ounces) uncooked elbow macaroni
2 slices uncooked bacon
1/4 cup chopped onion
2 tablespoons all-purpose flour
1 cup whole milk, room temperature
1/2 cup grated smoked gouda
1/2 cup shredded cheddar cheese
1/4 teaspoon salt
1 cup halved grape tomatoes
Instructions
For the pesto: In a small food processor, add the basil, pine nuts, Parmesan cheese, olive oil, garlic, and salt. Process until smooth.
Bring a large pot of salted water to a boil. Cook macaroni as directed on the package until al dente, roughly 10 minutes. Drain into a colander.
While the pasta is cooking, make the sauce. Add the bacon to a large skillet and turn the heat on to medium. Once the bacon starts cooking, cook on one side for a few minutes until crispy then flip and finish cooking the other side. Remove the bacon and place on a plate lined with a paper towel; pat off as much grease as you can. When cool enough to handle, crumble bacon. Leave the bacon drippings in the skillet.
Add the onion to the skillet and cook for 5 minutes or until soften (if there isn't enough bacon grease, add 1 tablespoon butter). Stir in the flour to coat and cook 1 minute. Slowly whisk in the milk. Bring to a boil and cook until thickened, about 3-5 minutes. Whisk in the gouda, cheddar, and salt until melted. Whisk in the basil pesto.
To serve, in a large bowl mix together the cooked pasta, sauce, and tomatoes. Serve immediately.
More Macaroni and Cheese Recipes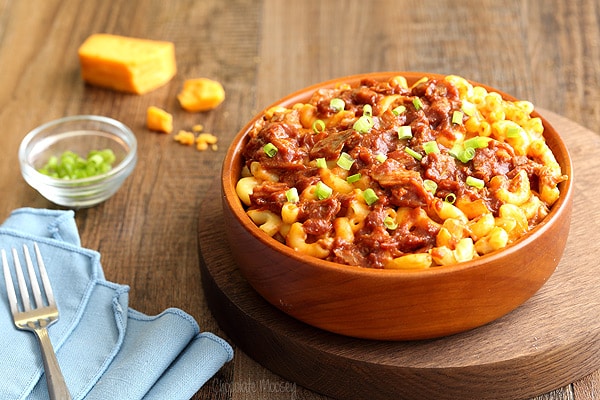 Pulled Pork Macaroni and Cheese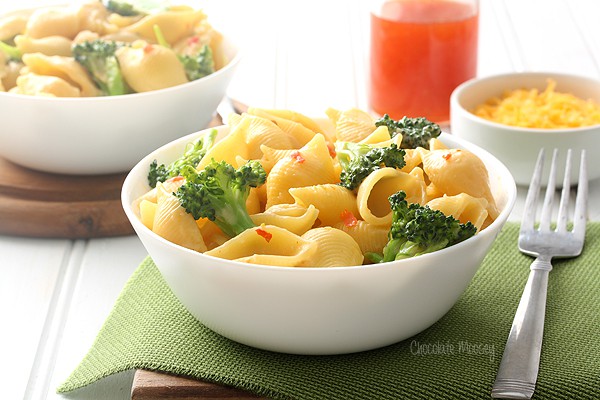 Sweet Chili Mac and Cheese Shells

Buffalo Chicken Macaroni and Cheese