Your favorite Hawaiian pizza is turned into a quick and easy weeknight dinner with this Hawaiian Pizza Pasta with a homemade tomato sauce, chopped ham, pineapple, and mozzarella cheese.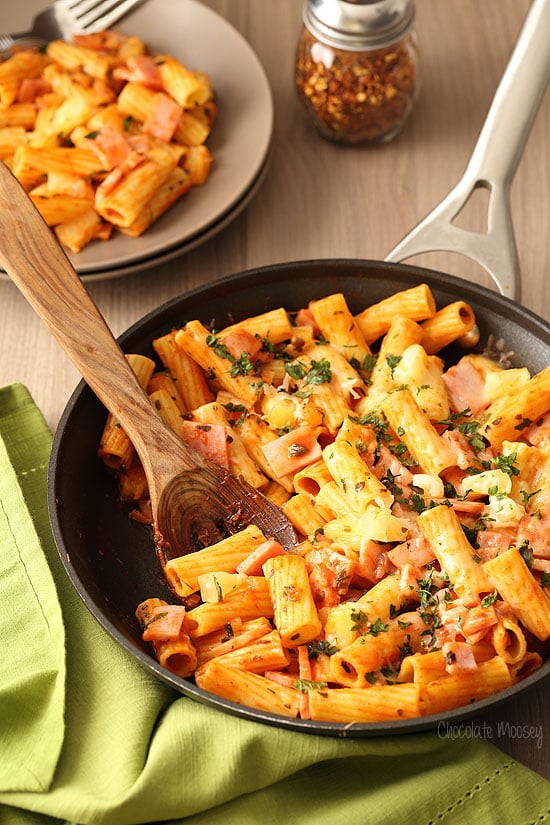 This post is sponsored by Smithfield.
As someone who cooks from scratch, I have a confession – I like to keep a frozen pizza or two on hand. When I worked as a full time videographer, it was mainly because I would come home from a long day of work and not feel inspired to cook. Now that switched to being full time recipe developer and photographer, it's mainly because after a long day of developing recipes, shooting them, and doing more dishes in one day than the average person does in one week, soon my work day ends and dinner time begins with no break in between. You'd think someone who works from home and cooks for a living would have a better handle on this, but I don't. My kitchen is small, so I only have one tiny counter space to prep. If it's full of dirty dishes, I need to wash them before I can make anything else. Sometimes I don't wrap up my work day until 4:30-5:00 PM. To put this into perspective, imagine baking a cake and ice cream in the same day then having to wash all of those dishes at once – mixing bowls, beaters, saucepans, spoons, baking pans, more spoons (it's almost ridiculous how many spoons I end up washing). The funny part is I do have a dishwasher, but most of these items either get used too often or I want to wash by hand (never run your knives in the dishwasher if you want them to last). When you're done, you're starving, you've been on your feet all day, and you have to dirty the dishes you just washed to make dinner. Now I'm not complaining one bit as I love my job and would rather do ten mountains of dishes than work my old job; I wanted to explain my typical day as most people don't understand what I do for a living. Even the days where I spend most of my time on the computer writing and behind-the-scenes work, I somehow manage to rack up a bunch of dishes to wash. If you ever want to do something nice for me, forget the flowers – wash my dishes for the day.
Because of this, I aim for quick weeknight dinner recipes – ones that can be prepped and cooked under 60 minutes. I'm guessing you can also relate to this as you either worked a long day yourself or you're a parent getting into your back to school routine. Most of the time I'm pretty good at quick meals with pasta and tacos, but other times I cheat probably about twice a month with a frozen pizza. One of my favorite pizzas is Hawaiian Pizza with ham and pineapple on top. However, frozen pizza can get quite expensive. How can I still get my Hawaiian pizza fix without buying pizzas all the time? By taking those favorite flavors and turning it into stovetop Hawaiian Pizza Pasta.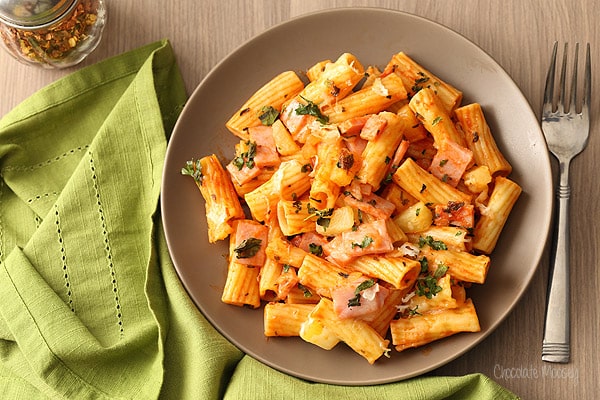 The idea behind this pizza pasta is to still make it taste like Hawaiian Pizza without the pizza crust. The homemade tomato sauce tastes like traditional pizza sauce. Then of course you add thinly sliced ham, pineapple, and mozzarella cheese. I made it all on the stovetop so there's no need to turn on the oven. Another win for pizza pasta when it's hot outside.
For the ham, I used
Smithfield Anytime Favorites Hickory Smoked Quarter Boneless Sliced Ham
. The ham is thinly sliced, just like the thin ham you get on Hawaiian pizza. All you have to do is quickly chop it into bite-sized pieces and stir it in after making the homemade pasta sauce. Smithfield Anytime Favorites includes 20 different cuts of ham including sliced, diced, cubed, chops and steaks which help you prep for quick and easy meals when you need some help in the kitchen, such as staying late after work, getting ready for back-to-school season, or having three mountains of dishes to wash before you can start dinner (just me?).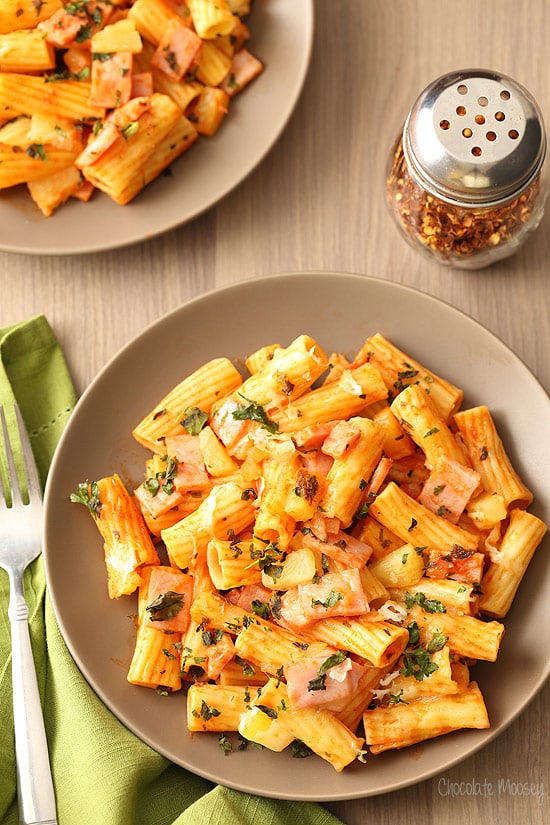 Make sure when you're buying the pineapple, you buy the smaller tidbits and not chunks because you probably need to cut up the chunks into smaller pieces. Lesson learned the first time I made this. If you're feeling really ambitious, you can also buy fresh pineapple to chop up.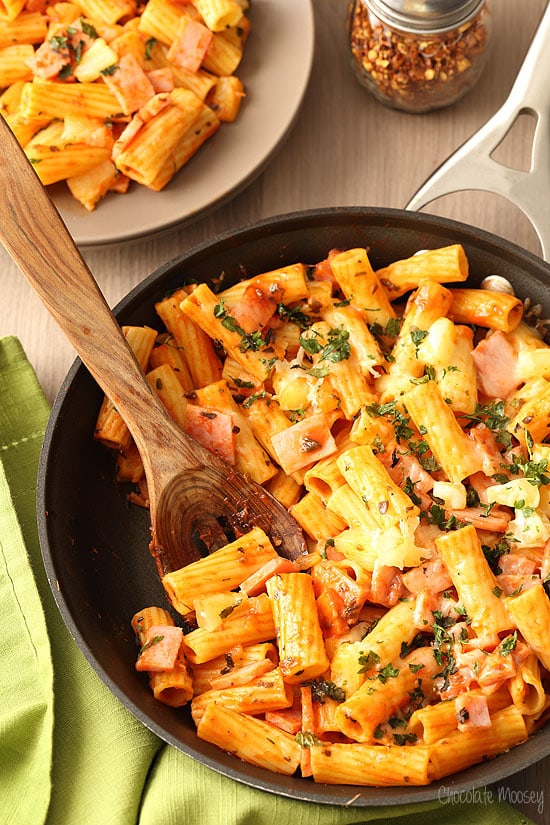 For more information, please visit Smithfield's
website
and say hello on
Facebook
and
Twitter
.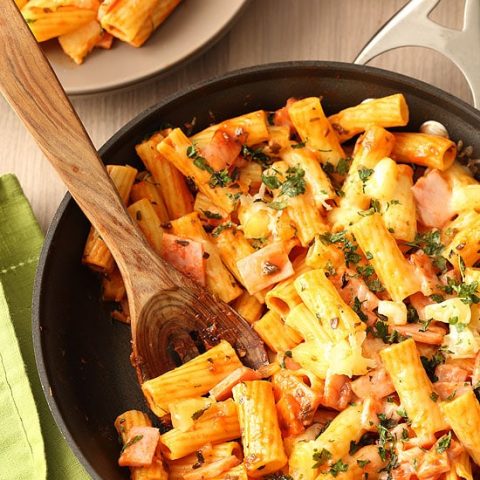 Hawaiian Pizza Pasta
To help save time, bring your pot of water to a boil while you prep the ingredients.
Ingredients
1/2 pound (8 ounces or 1/2 box) uncooked rigatoni pasta
1 tablespoon olive oil
1/2 cup chopped onion
1 large garlic clove, minced
1/4 cup tomato paste
1 cup chicken broth
1 teaspoon dried basil
1 teaspoon dried oregano
1 teaspoon dried parsley
1 teaspoon granulated sugar
1/4 teaspoon salt
Crushed red pepper flakes, to taste (optional)
1 cup chopped Smithfield Anytime Favorites Quarter Boneless Sliced Ham (roughly 4 slices)
1 cup canned pineapple tidbits
1/2 cup shredded mozzarella cheese
Instructions
Bring a large pot of salted water to a boil. Cook rigatoni as directed on the package until al dente, about 10-12 minutes. Drain into a colander.
Meanwhile, make the sauce. In a large skillet, heat the olive oil until hot. Add the onion and cook until they start to soften, about 5 minutes. Add the garlic and cook 30 seconds.
Add the tomato paste, broth, basil, oregano, parsley, sugar, salt, and red pepper flakes (if using). Stir until the tomato paste is smooth with the broth then bring to a boil.
Once the pasta is done cooking, add the rigatoni, ham, and pineapple to the sauce. Stir until incorporated. Top with cheese and cover with lid. Cook until the cheese melts, about 3-5 minutes. Serve immediately.
More Quick Pasta Recipes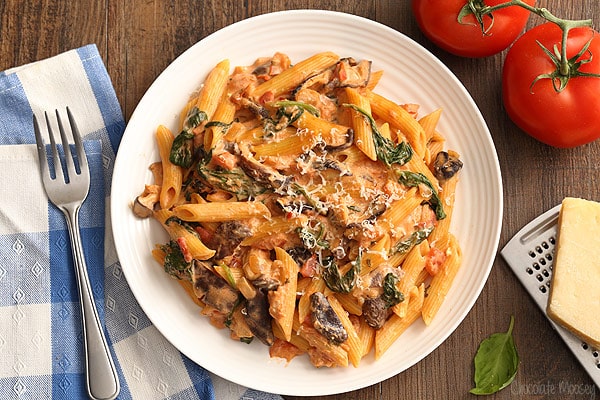 Creamy Tomato and Mushroom Pasta
Disclosure: This post is sponsored by Smithfield. Thank you for supporting me and the companies I work with as sponsored posts help pay for the costs of running Chocolate Moosey, including website hosting and groceries for recipe development.