When life gives you tomatoes, you make homemade tomato sauce. This meatless Creamy Tomato and Mushroom Pasta with spinach is a filling weeknight dinner for two you can make without needing to buy a jar of sauce.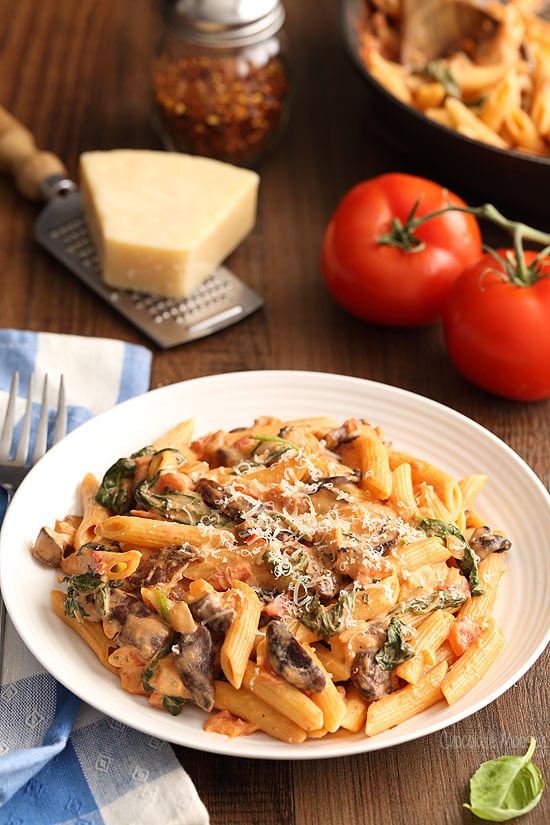 Last month I talked about how I barely made it to any farmer's markets this summer.
That post really got me thinking – why not? Why haven't I taken the time to enjoy what makes me happy? Why was I not feeling motivated?
As I made more of an effort to go to the markets, I realized it was the timing.
There is supposedly a great farmer's market in the city on Thursday afternoons, but the problem is it's downtown during a weekday. Parking will either be nonexistent or cost me $10.
Then I have to time it just right so I don't get caught in lunch or late afternoon rush hours. Not exactly motivating.
Saturdays are also popular for farmer's markets, but Saturdays are also my busy days for errands usually not near these markets.
What about Sunday? Sundays are my slow days, days where I can take my time. My errands are done, so I can have more time to relax.
Turns out there is a Sunday farmer's market about 15 minutes from me with free parking on the side streets.
This isn't a tiny market either. When you first walk in, there's a handful of tents. As you walk towards the end, you realize that isn't the end and there are even more tents in the back. Tents full of produce fresh from farms!
Yes, there are a few people selling bread, jams, fresh coffee (cold brew!), and pizza for lunch, but the farmers outnumber the other tents.
There's also a wide variety of produce available, more than just your zucchini and corn – tomatillos, heirloom tomatoes, bean sprouts, chard, a variety of peppers, fresh cut herbs, the list goes on.
I even went back the very next weekend with a friend because I wanted to share this market with someone.
Just walking around that market made me feel inspired again. I love cooking with fresh garden tomatoes.
When it's summer, I try my best to buy tomatoes from farms and not the store because I can taste a difference.
Most of the time I end up making a quick pasta sauce with tomatoes, onion, garlic, and basil – very simple to highlight the freshness.
Even though my go-to recipe is similar to a marinara, I was in the mood for a creamier sauce; however, I didn't want a super heavy sauce for summer.
That's when I came up with this Creamy Tomato and Mushroom Pasta Dinner For Two with fresh spinach leaves.
It's the tomato sauce you will want to make when you don't have any jars in your pantry. It won't take you hours to make either, making this dinner ideal for those busy weeknights.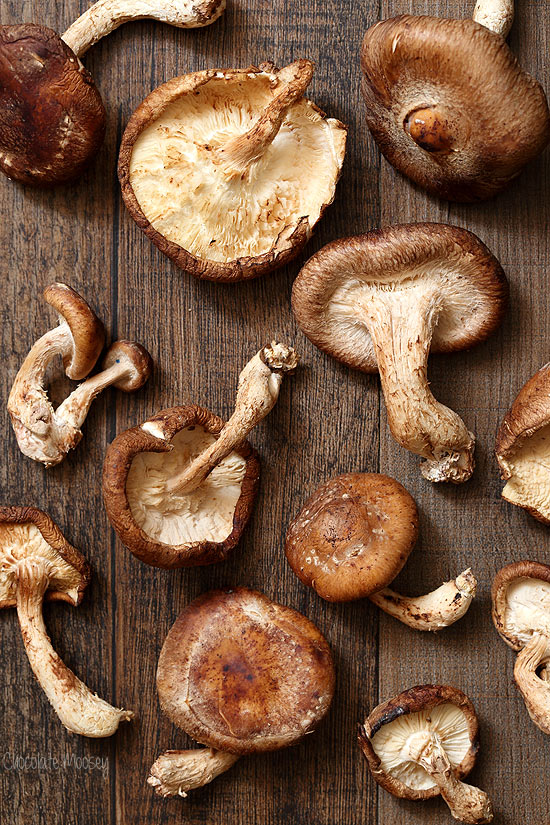 Lately I've been crushing on shiitake mushrooms, which have a meaty, earthy taste to them.
You often see them in Asian cuisine, but I bent the rules a little and went Italian because I love them so much.
I've seen them once at a farmer's market because a mushroom farmer was there, but you can also find them in grocery stores.
Asian grocery stores sell them a bit cheaper than regular stores if you have any nearby.
If you don't want to use shiitake, you can use any type of mushroom you want; most people love using button or baby portobello mushrooms (aka cremini mushrooms) in pasta.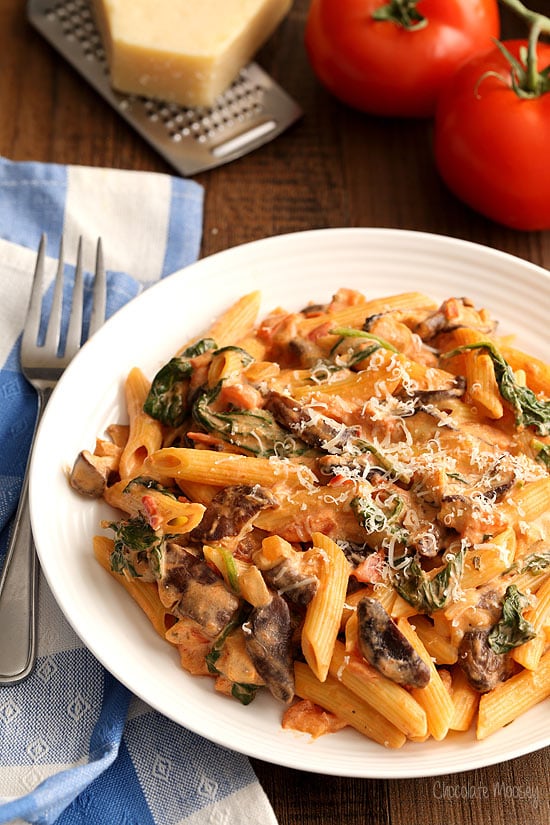 Speaking of pasta, there are certain shapes I like to eat over others, mainly because some shapes pair better than others with tomato sauce. I knew I wanted to use a tube-like pasta to help hold the creamy tomato sauce, so I used penne.
Pasta sometimes gets a bad rap for being unhealthy, but pasta can certainly be healthy when portioned correctly with a fresh sauce, like with my fresh tomato sauce, superfood spinach, and nutrient-filled mushrooms.
Pasta also supplies steady energy to get you through the rest of your day, especially if you have evening activities planned.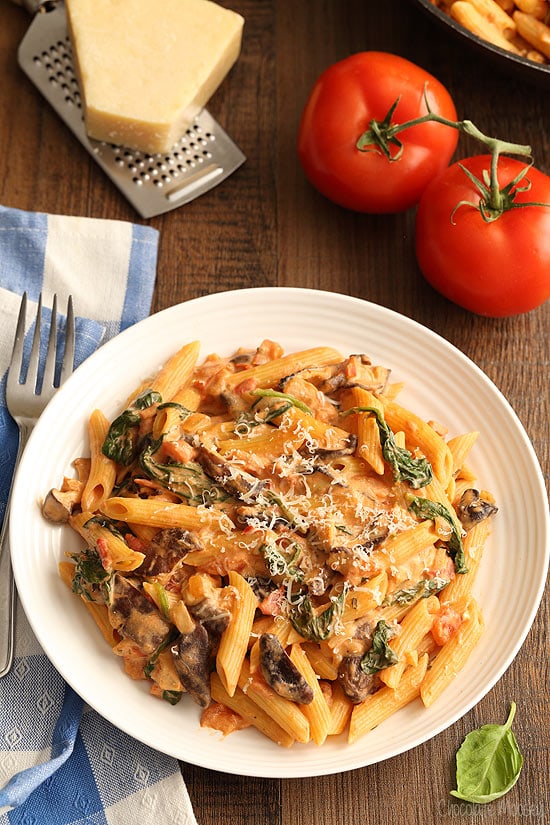 Although I'm all about fresh tomatoes for this sauce, I have no problem using canned tomatoes when it's not tomato season.
I do prefer using fresh spinach leaves, but in a pinch you can also use frozen spinach. When the pasta is 1 minute from being done, add the frozen spinach to the boiling water and cook for 1-2 more minutes. That way you don't need to dirty another pot.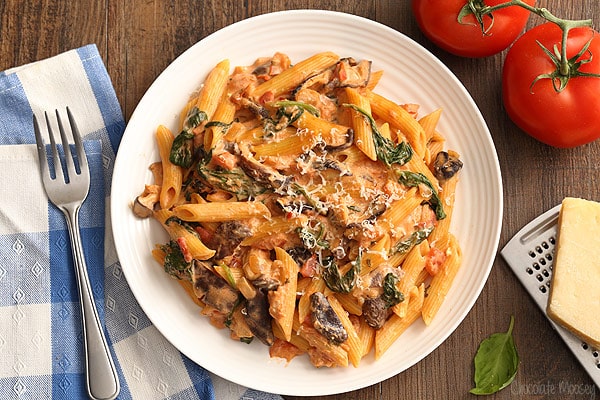 Creamy Tomato and Mushroom Pasta (Dinner For Two)
This meatless Creamy Tomato and Mushroom Pasta with spinach is a filling weeknight dinner for two you can make without needing to buy a jar of sauce.
Ingredients
1/2 pound (8 ounces) uncooked penne pasta
1 tablespoon olive oil
1/2 cup chopped onion
1 large garlic clove, minced
1/3 pound shiitake mushrooms, stems removed and caps sliced or4 large cremini mushrooms, sliced
2 tablespoons tomato paste
1/2 cup vegetable or chicken broth
2 medium tomatoes, seeded and chopped or one (14.5 ounce) canned diced tomatoes, drained
1 teaspoon dried basil (or 1 tablespoon chopped fresh)
1 teaspoon dried oregano (or 1 tablespoon chopped fresh)
1/4 teaspoon salt plus more to taste, preferably kosher
Crushed red pepper flakes, to taste (optional)
2 ounces cream cheese, softened and cut into 8 pieces
1/4 cup grated Parmesan cheese
3 cups fresh spinach leaves
Instructions
Bring a large pot of water to a boil. Once boiling, add a big handful of salt then add penne. Cook as directed on the package until al dente, about 11-12 minutes. Drain into colander.
Meanwhile, make the sauce: In a large skillet over medium heat, heat the olive oil until hot. Add the onion, mushrooms, and a big pinch of salt. Cook until softened, about 5 minutes. Add the garlic and cook 1 minute.
Add the tomato paste and cook 30 seconds. Stir in the broth, tomatoes, basil, oregano, 1/4 teaspoon salt, and red pepper flakes (if using). Bring to a boil.
Once boiling, turn the heat down to low then stir in the cream cheese and Parmesan cheese until melted.
Add the spinach leaves and wait 30 seconds before stirring (as the spinach cooks, it'll shrink and be easier to stir). Cook for another 2-3 minutes or until wilted and bright green. Taste and adjust for salt.
Add the cooked penne to the sauce and stir until coated.
More Pasta Recipes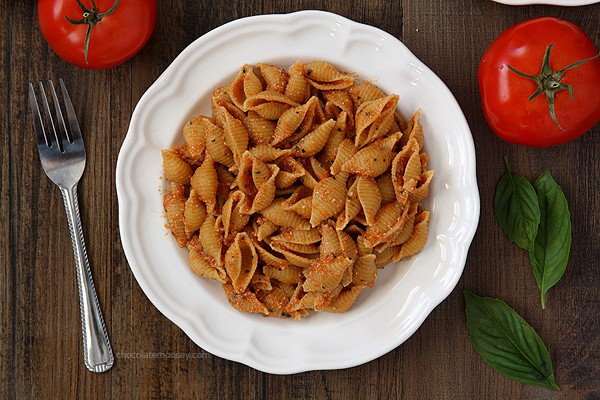 Caprese Pesto (Tomatoes, Basil, and Mozzarella)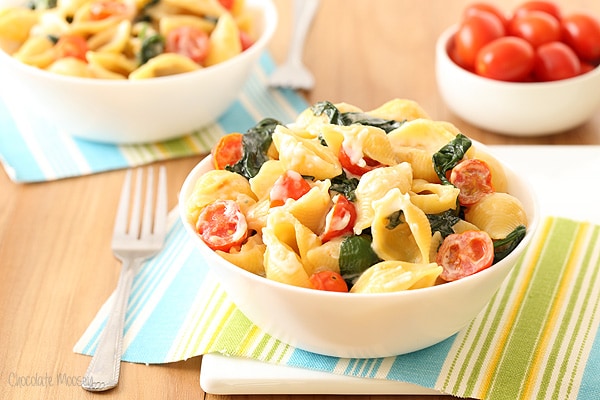 Tomato, Spinach, and Goat Cheese Pasta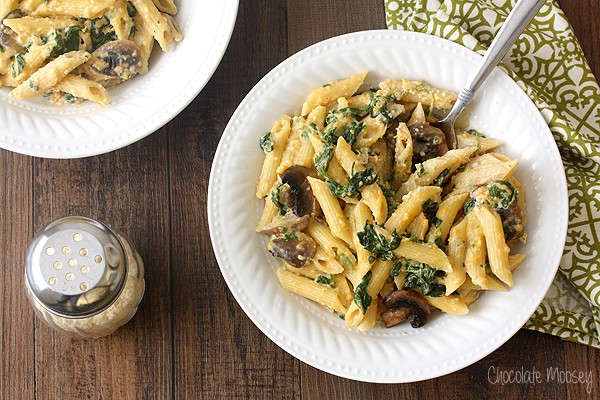 Butternut Squash, Spinach, and Mushroom Penne Alfredo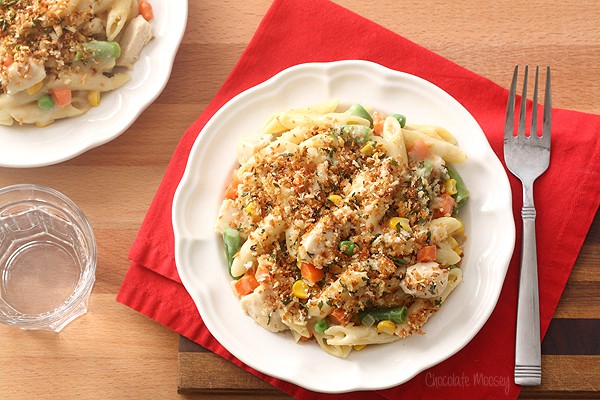 Chicken Pot Pie Pasta