This decadent no bake chocolate tart combined with caramel and bananas may look dressed up with its caramel swirl, but you don't need a special occasion to make it. Great way to use up those overripe bananas sitting on your kitchen counter.

I may not look like the athletic type, but I tend to live an active lifestyle. When I was in high school, I was in a competitive marching band, and although many will argue it's not a sport, it sure was tremendous exercise. I also played softball for a community team. Fast forward to now, I don't play sports anymore, but I do Zumba twice a week. When it's warm out on a non Zumba day, I go to the park and walk. Recently I discovered a new
walking trail
that's only 5 minutes from me. I've been living here a year now and I didn't know it existed?! It goes along one of the three rivers in Pittsburgh, and although I will never walk the entire length, it's still a good workout. Plus if it's super hot out like it was last week, the trail is in the shade and by the river, making it more tolerable to walk outside. I do find myself a bit of an outcast on the trail because almost everyone is riding bikes while I'm here walking and trying not to get run over. I haven't ridden my bike in at least 10 years if not more.
Living an active lifestyle, even if it's just walking a mile in the evening, is important to me because of my job. It gets to the point where I get antsy if I don't get my daily walk or Zumba in. When I was without my car for two weeks because it was getting fixed (they originally told me 4 days!), it was torture so I had to walk up and down my street a few times so I wasn't all cooped up (I didn't want to walk up the GIANT hill or walk along the super busy, sidewalk-less main road). Although I give most of my desserts away, I still eat everything I make because that's my job when developing recipes; I'm not going to blog a recipe that I haven't personally tasted. Since most of my desserts are not considered healthy, it's important for me to stay active so I can make room for my extra decadent desserts, like this No Bake Chocolate Banana Caramel Tart made with an Oreo cookie crust then filled with sliced bananas, caramel sauce, and chocolate ganache with more caramel swirled on top.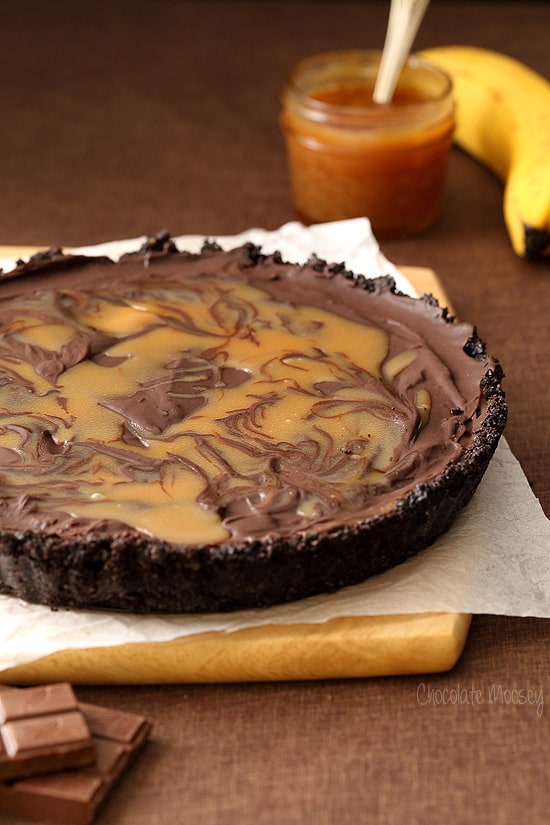 I've been on a no bake kick this summer, mainly with no bake pies because it's hot outside. I decided I wanted to make a tart this time. I actually attempted this tart years ago but it was a hot mess. This time around, I made a few adjustments with great success.
Little word of advice – see how I drizzled caramel sauce all over the top? Yea, don't serve it like that. I did it for the styling to emphasize the caramel, but when I took a bite, whoa was it a sugar overload. So uh don't do that.
Items you may need (affiliate links):
No Bake Chocolate Banana Caramel Tart
Prep time does not include chill time.
Ingredients
2 1/4 cups chocolate sandwich cookie crumbs, such as Oreo
1/4 cup (2 ounces or 4 tablespoons) unsalted butter, melted
8 ounces semisweet chocolate, chopped
1/2 cup heavy whipping cream, room temperature
1 large overripe banana, sliced
3/4 cup caramel sauce (homemade or store bought), room temperature
Instructions
In a large bowl, mix together the cookie crumbs and melted butter. Press into the bottom and sides of a 9-inch fluted tart pan with a removable bottom (make sure there are no holes in the crust or the filling may stick to the pan). Refrigerate for at least 30 minutes or until cold.
In a large heatproof bowl, add the chopped chocolate. Heat the cream in a small saucepan until hot but not boiling. Pour over the chocolate and let sit 1 minute. Stir until the chocolate has melted and mixture is fully smooth.
Add 1/2 cup caramel sauce to the bottom of the cold crust and evenly smooth out. Arrange the banana slices on top of the caramel. Pour the chocolate mixture over top and smooth everything out, making sure all of the banana slices are covered.
Drop spoonfuls of the remaining 1/4 cup caramel sauce on top of the chocolate then use a knife to swirl around. Refrigerate until firm before serving.
Source: Adapted from my
Strawberry S'mores Tart
More Tart Recipes

No Bake Chocolate Cherry Tartlets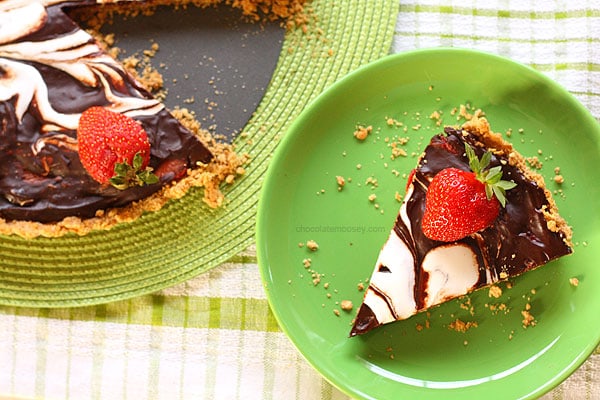 Strawberry S'mores Tart

Raspberry Swirl Cheesecake Tart