Do not let summer pass you by without baking fresh cherry pie! I scaled it down with this double crusted Cherry Pie For Two recipe with homemade pie crust and homemade cherry pie filling.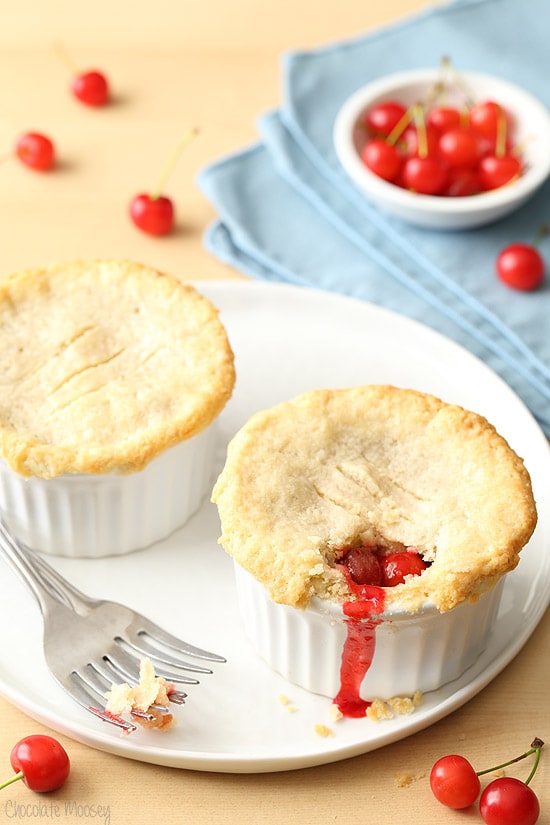 Every summer I say I'm going to go cherry picking. Every summer I miss it because the window is so small, if you're busy the week they are ripe, you miss it. Last summer I was moving back to Pittsburgh so I missed it. The year before that I was in
Erie and Cleveland
and missed it. The year before that, I picked cherries but my dad couldn't be there. This year cherry picking season was earlier than usual, and if it wasn't for my dad checking out the farm's Facebook page, I probably would've missed it again. Of course it was raining all day when we went but knowing it was probably our only chance, we put on our jackets and picked in the rain. The farm was new to us and was a totally different experience than picking strawberries or apples. They
placed ladders next to each cherry tree
so you can reach the top. Then they provided buckets for you to use then return (as most places either give you cardboard boxes to keep or ask to bring your own container). We ended up with about
4 pounds of tart cherries
, ready to be turned into pie.
Tart cherries, sometimes referred to as sour cherries, taste exactly what their name says – they are sour and not ideal for snacking. However, they are absolutely perfect for pie. When you think of bright red cherry pie filling (like in the cans), they are usually made with tart cherries. Once combined with a little bit of sugar and enclosed in a buttery, flakey pie crust, they turn into the best pie you have ever eaten. And as much as I want to eat a whole pie, it's probably best that I didn't. That's why I scaled down my pie recipe into Cherry Pie For Two so you can still have your cherry pie with some portion control. Eat one now, give the other to a loved one or friend. Or eat one now, eat one later.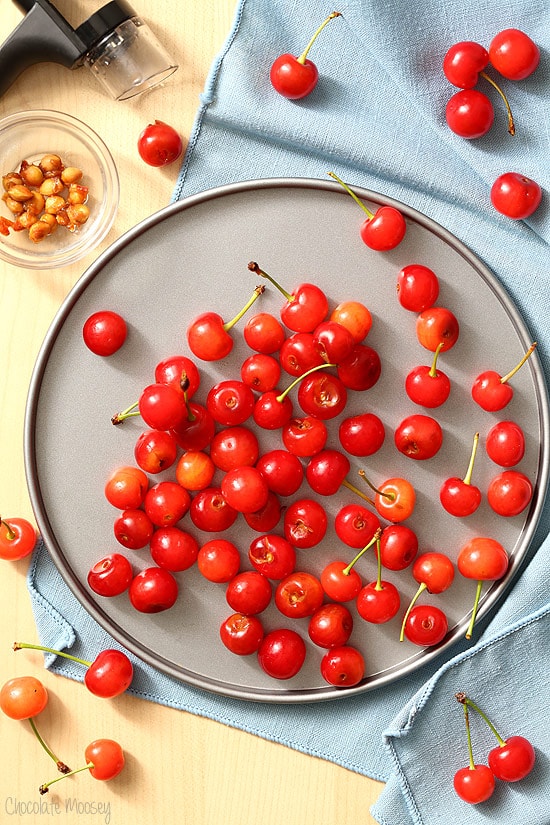 If you're new to baking with cherries, tart cherries have pits that you need to remove first. I'm not too keen on buying kitchen tools that only serve one purpose, but I do have to recommend buying a cherry pitter (which doubles as an olive pitter too) if you're going to pit more than 1 cup of cherries. I bought my
OXO cherry pitter
5 years ago when I still worked at Target (one of the perks – or downfalls? – of working there). If you still don't want to buy a pitter, you can also pit the cherries
using a pastry tip
.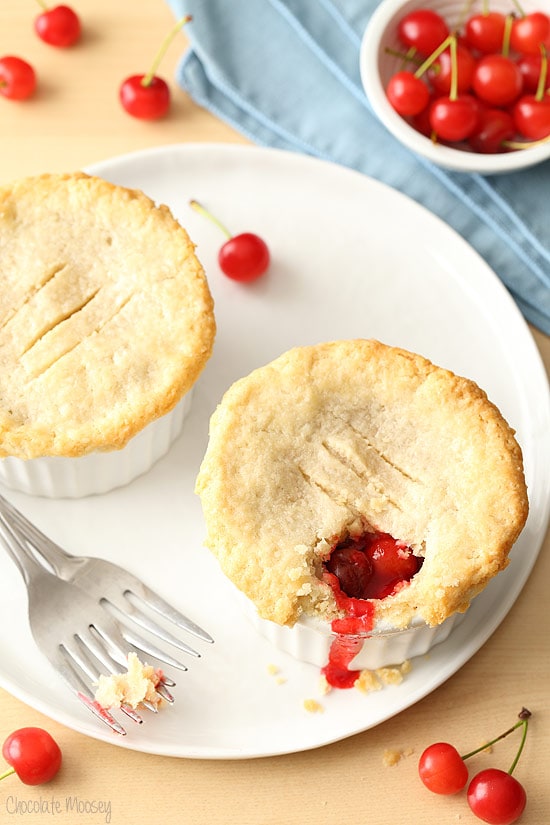 Whoever thinks making a homemade pie crust is hard has never owned a food processor. I'm all about being hands on with homemade dough, but nothing is more glorious than throwing everything in a food processor and having pie crust ready in minutes. The key is using really cold butter and shortening. I even recommend freezing them before using if you have the time. If you don't own a food processor, no worries – use a
pastry blender
to cut in the butter and shortening.
Cherry Pie For Two
Total Time:
2 hours
10 minutes
Do not let summer pass you by without baking fresh cherry pie! I scaled it down with this double crusted Cherry Pie For Two recipe with homemade pie crust and homemade cherry pie filling.
Ingredients
1 cup all-purpose flour
1 tablespoon granulated sugar
1/2 teaspoon salt
3 tablespoons unsalted butter, cold and cut into 3 pieces (frozen is best)
3 tablespoons vegetable shortening, cold and cut into 3 pieces (frozen is best)
2 tablespoons water, cold
Cherry Pie Filling
1/4 cup water
1/4 cup granulated sugar
1 tablespoon cornstarch
1/8 teaspoon almond extract
Few drops red food coloring
1 1/2 cups pitted tart cherries
Instructions
In the bowl of a food processor, add the flour, sugar, and salt. Add the cold butter and shortening and pulse until butter and shortening are cut into the flour, looking like large pebbles. Add the water and pulse until a dough forms.
Divide the dough into four even pieces and flatten each piece into an evenly round disk. Wrap in plastic wrap and refrigerate at least 1 hour or until cold.
For the filling: In a large saucepan, combine the water, sugar, and cornstarch. Bring to a boil then cook 1-3 minutes or until thickened, stirring often. Remove from the heat and stir in almond extract and food coloring then stir in the cherries. Cool to room temperature.
Preheat oven to 350F. Have two six-ounce ramekins and a cookie sheet ready.
Take one pie crust piece out of the refrigerator. On a lightly floured surface, roll it into a circle slightly bigger than your ramekin. Line the bottom and sides of the ramekin with the crust, patching it together if necessary. Fill the crust with half of the pie filling.
Take another pie crust piece and roll into a circle just big enough to cover the top. Place it on top and seal the edges. Cut a few slits in the top to let steam escape.
Repeat with the remaining pie crust and filling.
Place each ramekin on the cookie sheet and bake 35-40 minutes or until the top is golden brown. Cool for 15 minutes. Serve warm with ice cream or cool to room temperature.
Source: Adapted from
Baking: From My Home to Yours
More Baking Recipes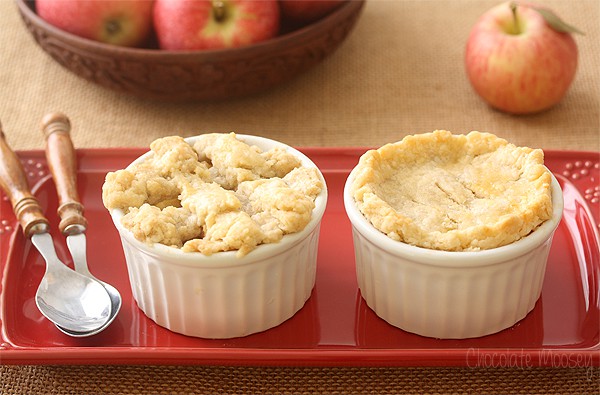 Apple Pie For Two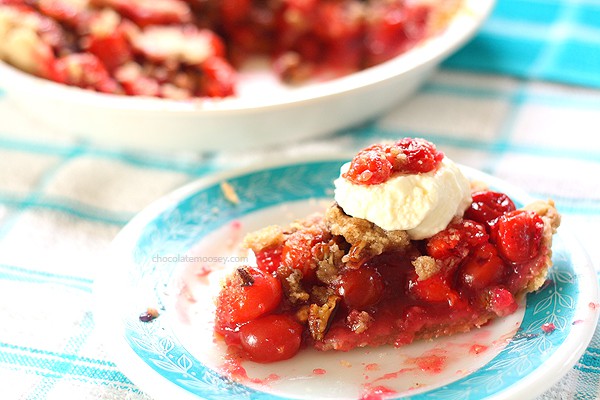 Cinnamon Pecan Cherry Pie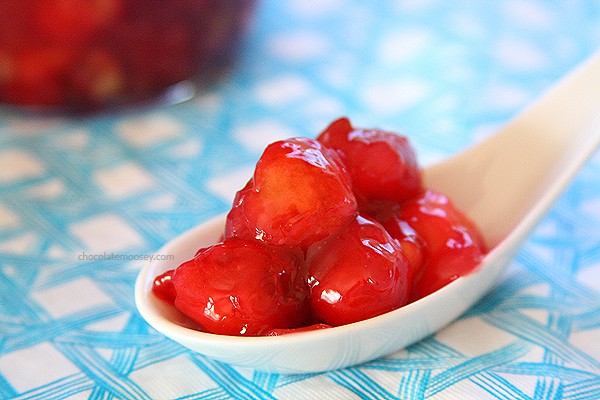 Homemade Cherry Pie Filling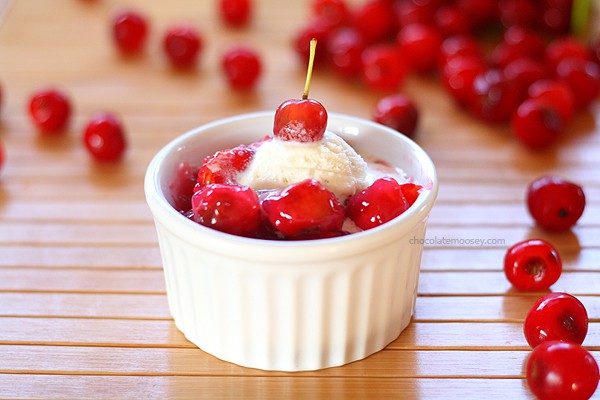 One Serving Cherry Pie Ice Cream Sundae

Chocolate Cherry Cheesecake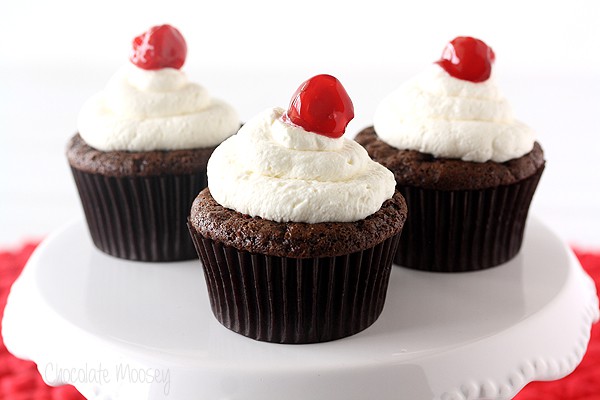 Cherry Cheesecake Stuffed Cupcakes