Looking for an easy side dish to serve with your Mexican food? This Homemade Spanish Rice from scratch is cooked in one pot and is ready in under 30 minutes.

If there's one area of cooking I slack in, it's
side dishes
. It's not that I hate eating side dishes; usually I focus so much on making the main dish that I'm too tired/lazy to make another dish. Of course I can get away with that when I'm only feeding myself, but usually once a month my parents and brother come over for dinner, and I have to make sure there's enough food to feed everyone. Mexican food seems to be the easiest to feed everyone (minus the whining about how spicy it is) as I often make tacos or
salsa chicken enchiladas
. When I do go the Mexican route for dinner, I almost always make Homemade Spanish Rice for the side. Growing up, my parents would make those rice and pasta packets a lot for an easy side dish, especially Spanish rice when we had tacos. During my first year or two of cooking for myself in college, I also used those packets and often added peas and other vegetables to bulk them up for my main dish. Although the packets played a big part in my childhood, I have since then learned how to make homemade Spanish rice from scratch, which is much easier to make than you think, especially since it's all made in one pot. Fry up some onions, add the rest of the ingredients, then kick back and relax while the rice finishes cooking.
I'm not sure if this is considered traditional Spanish rice as there is no saffron in it (according to my research), but that doesn't stop it from being a flavorful, fulfilling side dish to go with your Mexican inspired dinner, especially with Cinco de Mayo coming up soon. Because it doesn't take too long to make, you can start it while the enchiladas are baking or while you are prepping tacos for taco night.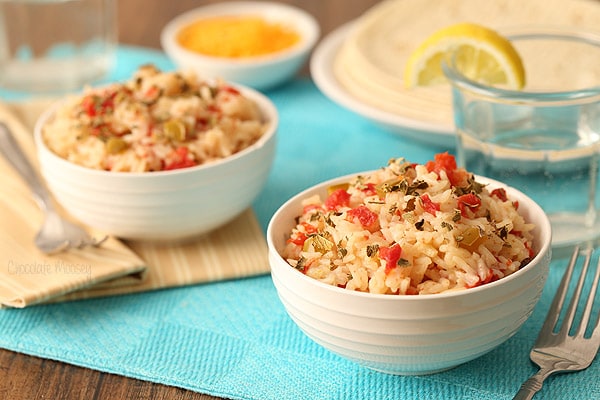 Homemade Spanish Rice
Ingredients
1 tablespoon olive oil
1/4 cup chopped onion
1 garlic clove, minced
1 cup uncooked white long grain rice
2 cups chicken or vegetable broth, room temperature
10 ounces canned diced tomatoes with green chilies, drained
1/2 teaspoon salt
1/4 teaspoon dried oregano
Instructions
In a large saucepan over medium, heat the olive oil. Once hot, add the onion and cook until softened, about 3-5 minutes. Add the garlic and rice then cook for another 1-2 minutes or until the rice starts to brown. Slowly stir in the broth. Add the tomatoes, salt, and oregano then bring everything to a boil.
Once boiling, lower the heat to simmer and cover with a lid. Cook undisturbed 15 minutes or until the liquid has been absorbed and the rice is soft.