Sweeten up your morning with this Apple Butter Crumb Cake recipe. With that melt-in-your-mouth crunchy crumb topping, it makes the perfect snack for your cup of coffee.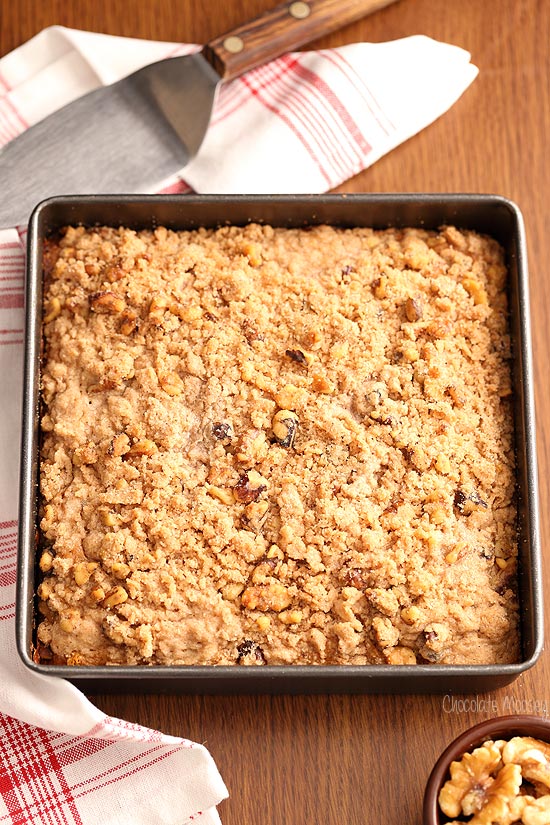 I'm definitely a cake for breakfast kind of girl. I know I should start the day off healthier with some fruit, yogurt, or even oatmeal, but I can't help it if there's leftover birthday cake or a slice of cheesecake just begging to be eaten with my morning coffee. I think that's why someone invented coffee cake, just so we can say it's totally appropriate to eat cake for breakfast because it has the word coffee in it. Wouldn't you agree? And when that coffee cake has a crumb topping like this Apple Butter Crumb Cake, you bet I'm not going to pass up a slice (you can also argue that there's fruit in it. Apple butter = apples = fruit = breakfast). Crumb cake is also a great way to end your evening if you have friends over for some evening coffee (or tea if you're like me and don't drink coffee in the evenings. How do people drink caffeine that late?). Whether it's for a special occasion or just because you're in the mood for cake, you can easily bake up this Apple Butter Crumb Cake and have it ready to serve the same day.
Apple butter isn't just for fall baking. Are you familiar with applesauce cakes and how you can easily substitute applesauce for some common baking ingredients? Because apple butter is a highly concentrated form of applesauce, I swapped out one of the eggs from the base recipe I used and added apple butter (plus more for flavor). I used my favorite
Musselman's Apple Butter
, which you can easily find in stores any day of the year.
The best part about any crumb cake is of course the crumb topping with that melt-in-your-mouth crunchy texture with every bite. I used chopped walnuts as I love apple butter and walnuts together, but feel free to use pecans or even a mixture of both.
For more apple butter recipes, check out Musselman's
website
,
Facebook
,
Twitter
, and
Pinterest
.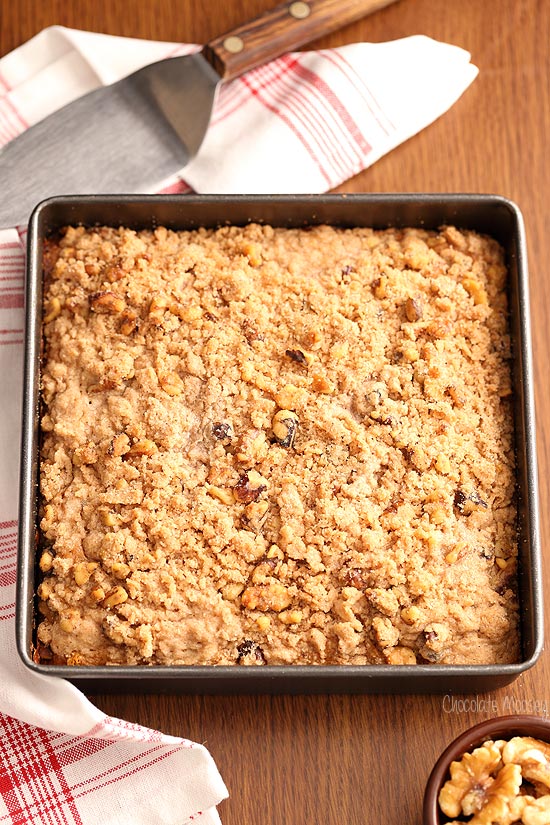 Ingredients
Crumb Topping

1/3 cup all-purpose flour
3/4 cup chopped walnuts
1/3 cup granulated sugar
1 teaspoon ground cinnamon
1/2 teaspoon ground nutmeg
1/2 teaspoon ground clove
4 tablespoons unsalted butter, cut into 8 pieces

Cake

2 cups all-purpose flour
2 teaspoons baking powder
1/4 teaspoon salt
1 teaspoon ground cinnamon
1/2 teaspoon ground nutmeg
1/2 teaspoon ground clove
2/3 cup granulated sugar
1/2 (4 ounces or 8 tablespoons) unsalted butter, melted
1 egg, room temperature
1 cup apple butter
1/2 cup buttermilk, room temperature
1 teaspoon vanilla extract
Instructions
Preheat oven to 400F. Lightly grease an 8x8 pan with cooking spray.
Make the crumb topping: In a medium bowl, combine the flour, walnuts, sugar, cinnamon, nutmeg, and clove. Using a pastry cutter or your fingers, cut in the butter and mix everything together until you have crumbs of different sizes. Set aside.
Make the cake: In a large mixing bowl, whisk together the flour, baking powder, salt, cinnamon, nutmeg, clove, and sugar.
In a second mixing bowl, whisk together the melted butter, egg, apple butter, buttermilk, and vanilla until smooth.
Pour the wet ingredients over the dry ingredients. Stir together by hand with a rubber spatula or wooden spoon until the batter is evenly moistened (do not overbeat and do not use a mixer).
Spread the batter into the pan. Top with the crumb mixture and gently push down to stick to the batter. Bake 30-35 minutes or until the cake has risen (it may puff up in the middle) and a toothpick inserted in the center comes out clean. Cool at least 15 minutes before serving warm or at room temperature. Best eaten the day it's made but can be covered and stored directly in the pan for up to 3 days.
7.8.1.1
3394
https://www.chocolatemoosey.com/2015/04/13/apple-butter-crumb-cake/
Source: Adapted from
Baking: From My Home to Yours
More Apple Butter Recipes

Apple Butter Baked Doughnut Holes
Disclosure: This post is part of an ongoing sponsored partnership with Musselman's Apple Butter. As always, thank you for reading and supporting brands I work with, which helps keep Chocolate Moosey running.