These Triple Chocolate Baked Doughnuts are very easy to bake, stay fresh for a few days, and are dressed up with rainbow sprinkles. If these don't make you smile, I don't know what will!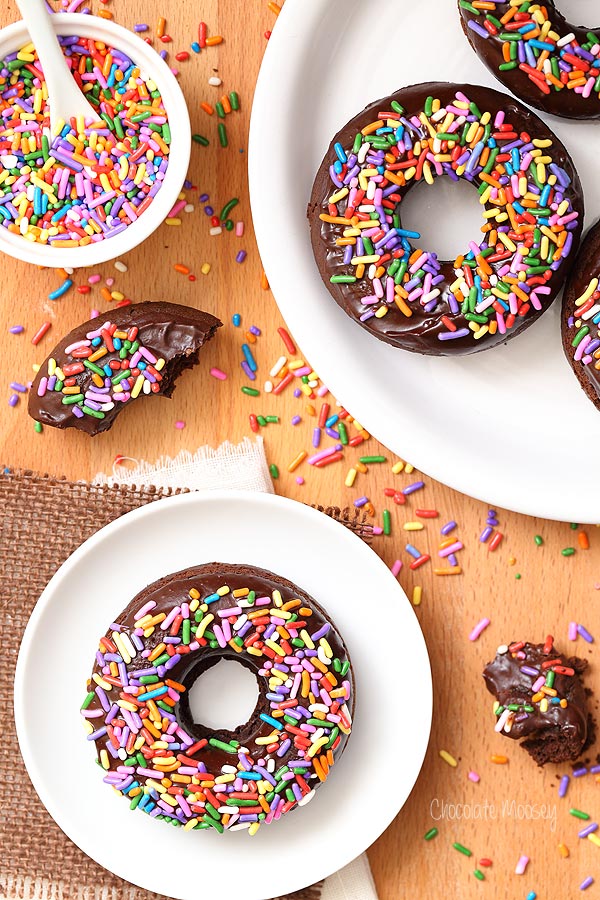 A few weeks ago, I accidentally made the best baked chocolate doughnuts. I was testing my
chocolate stout baked doughnuts recipe
and added some melted chocolate to the batter. Although it was hard to taste the beer, what I did taste was the most amazing chocolate doughnuts. So amazing that I filed the recipe away on my "must post asap" list and looked at my calendar to see how soon I could bring you this recipe. If you ever made doughnuts at home, whether they were baked or fried, you probably noticed they don't taste fresh the next day. Not this recipe. Thanks to the buttermilk and coffee, these Triple Chocolate Baked Doughnuts stayed super moist for a few days. And I'm not kidding around – when I say chocolate doughnuts, I really do mean in-your-face chocolate because I used chocolate three times – cocoa powder in the batter, melted chocolate in the batter, and of course that thick chocolate glaze. I'm not talking about those super thin glazes that almost immediately get absorbed into the doughnut. I'm talking about a super thick glaze, almost like a frosting but thin enough to dip. Then you dunk them into rainbow sprinkles because sprinkles naturally make doughnut eating more fun. Are you hungry for doughnuts yet? Good because they take less than an hour to make too.
I never thought I would start ranting about rainbow sprinkles until I had trouble finding rainbow sprinkles. The first mix I found wasn't very colorful and even had brown sprinkles. Who puts brown sprinkles in a rainbow mix?! The second mix I found was very colorful but also very expensive. Finally I found a decent mix of colors at the dollar store (of all places!). Do you have a favorite place to buy sprinkles? I need to buy some pastel confetti sprinkles for an upcoming cake recipe.
I used coffee in the batter because coffee acts like a flavor enhancer and makes the chocolate stand out more than it would on its own (just like when you add salt to a cream sauce – it tastes better but you can't taste the salt unless you add too much salt). If you're not a coffee lover, don't worry – you can't taste the coffee at all. Of course if you don't own any coffee, you can use regular water, but please note it does taste better with the coffee.
Items You May Need (Amazon affiliate links):
Triple Chocolate Baked Doughnuts
Ingredients
1/4 cup (2 ounces) unsalted butter, cut into 4 tablespoons
2 ounces semisweet chocolate, chopped
1 3/4 cups all-purpose flour
1/2 cup unsweetened cocoa powder
1 teaspoon baking soda
1/4 teaspoon salt
1/2 cup packed brown sugar
1/4 cup granulated sugar
1 egg, room temperature
1/2 cup coffee, room temperature
1 teaspoon vanilla extract
1/2 cup buttermilk, room temperature
For the glaze
2 ounces semisweet chocolate, chopped
1 tablespoon unsalted butter
2 tablespoons powdered sugar
1 tablespoon milk
Sprinkles, for decorating
Instructions
Preheat oven to 325F. Lightly grease 2 doughnut pans*.
In a heatproof bowl over a saucepan of simmering water (do not let the bowl touch the water), melt together the butter and chocolate. Set aside to cool while you make the batter.
In a large mixing bowl, whisk together the flour, cocoa, baking soda, salt, brown sugar, and sugar. On low speed, beat in the egg, coffee, and vanilla. Beat in the melted chocolate mixture then beat in the buttermilk. Do not overmix the batter.
Transfer the batter to a pastry bag fitted with a round tip then fill each doughnut cavity almost full (they will rise when baking, but you don't want thin doughnuts either). Alternatively, use a spoon to fill the cavities.
Bake 11-13 minutes or until a toothpick comes out clean (a few crumbs are ok). Cool 5 minutes in the pan then remove and transfer the doughnuts to a cooling rack. Cool completely.
For the glaze
In a heatproof bowl over a saucepan of simmering water (do not let the bowl touch the water), melt together the chocolate and butter. Remove the bowl from the heat and whisk in milk and powdered sugar.
Dip one side of each doughnut into the glaze, letting the excess drip off then dip into sprinkles. Let the glaze dry a bit before eating. Best served the day they are made, but they stay moist in an airtight container for up to 2 days.
Notes
*Only have 1 doughnut pan? No problem! Let the doughnuts cool for 5 minutes in the pan before removing and reusing the pan.
More Baked Doughnut Recipes

Chocolate Stout Baked Doughnuts