Bring a little luck of the Irish to your kitchen with these Chocolate Stout Baked Doughnuts covered in a chocolate beer glaze made with Guinness.
When it comes to alcohol, I'm definitely a beer girl. Sure, I love drinking cocktails and wine as much as the next girl, but when I go out, I usually order a beer. Good beer. I'm talking microbrews, not cheap college beer (although I do drink that too if that's all there is). When I'm traveling and looking for places to eat, I turn to local breweries. I actually enjoy drinking beer for fun. I also enjoy cooking and baking with beer as well. Last week I brought you
Chocolate Stout Brownies
which are oh so amazing (they are dangerously close to being my new favorite brownie, right behind my
crispy peanut butter marshmallow brownies
). Today's baking with beer adventure brings you Chocolate Stout Baked Doughnuts with a soft, cakey texture covered in a chocolate beer glaze. I love making baked doughnuts because they are so much easier to whip together than fried doughnuts. Not that fried doughnuts are hard or anything, but baked takes less time and less fat to make. If you are focused in the kitchen without outside distractions, you can easily make and eat doughnuts in an hour. Doughnuts in a hour – I'm not sure if that's genius or dangerous.
Of course being March with
St. Patrick's Day
right around the corner, I used Guinness for my
stout beer
. The first time I had a pint of Guinness was in a real Irish pub. It was my first night in Limerick, Ireland where I was getting ready to study a semester abroad. I had a few days of orientation where I met the rest of the study abroad students, including my housemates. Because the drinking age in Ireland is 18, it was normal for the university to have a pub on campus – food during the day, drinks at night (although I suppose you could drink during lunch too). As a way to get to know everyone, we all headed to the pub, socialized, and drank Guinness. I'll admit Guinness isn't the first beer I'd order to sit and drink, but I absolutely love baking it with chocolate.
The beer in these doughnuts is subtle and not in your face; it's more about bringing out the richness and depth of the chocolate rather than feel like you're drinking a pint. The alcohol bakes off in the doughnuts, making them ok to serve to both kids and adults alike. However, the glaze is not kid friendly, but you can easily substitute milk for the beer. Or you can just tell them that these doughnuts are for adults only, allowing you to hoard even more for yourself.
Items You May Need (Amazon affiliate links):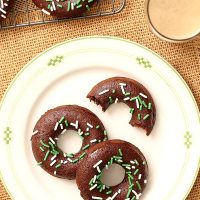 Chocolate Stout Baked Doughnuts
Ingredients
2 cups all-purpose flour
1/2 cup unsweetened cocoa powder
1 teaspoon baking soda
1/4 teaspoon salt
1/2 cup packed brown sugar
1/4 cup granulated sugar
1 egg, room temperature
1 cup stout beer, such as Guinness
1 teaspoon vanilla extract
1/4 cup (2 ounces or 4 tablespoons) unsalted butter, melted
1/2 cup buttermilk, room temperature
For the glaze
2 ounces semisweet chocolate, chopped
1 tablespoon unsalted butter
2 tablespoons powdered sugar
1 tablespoon stout beer, such as Guinness
Sprinkles, for decorating
Instructions
Preheat oven to 325F. Lightly grease 2 doughnut pans*.
In a large mixing bowl, whisk together the flour, cocoa, baking soda, salt, brown sugar, and sugar. On low speed, beat in the egg, beer, and vanilla. Beat in the melted butter then beat in the buttermilk. Do not overmix the batter.
Transfer the batter to a pastry bag fitted with a round tip then fill each doughnut cavity almost full (they will rise when baking, but you don't want thin doughnuts either). Alternatively, use a spoon to fill the cavities.
Bake 11-13 minutes or until a toothpick comes out clean (a few crumbs are ok). Cool 5 minutes in the pan then remove and transfer the doughnuts to a cooling rack. Cool completely.
For the glaze: In a heatproof bowl over a saucepan of simmering water (do not let the bowl touch the water), melt together the chocolate and butter. Remove the bowl from the heat and whisk in beer and powdered sugar. Dip one side of each doughnut into the glaze, letting the excess drip off then top with sprinkles. Let the glaze dry a bit before eating. Best served the day they are made. Store in airtight container for up to 2 days.
Notes
*Only have 1 doughnut pan? No problem! Let the doughnuts cool for 5 minutes in the pan before removing and reusing the pan.
Source: Adapted from
The Sweet Chick