Whether you need a quick green dessert recipe for St. Patrick's Day or you love mint chocolate chip as much as I do, this no bake Mint Chocolate Chip Cheesecake Dip is everything you want in a cheesecake without having to bake one.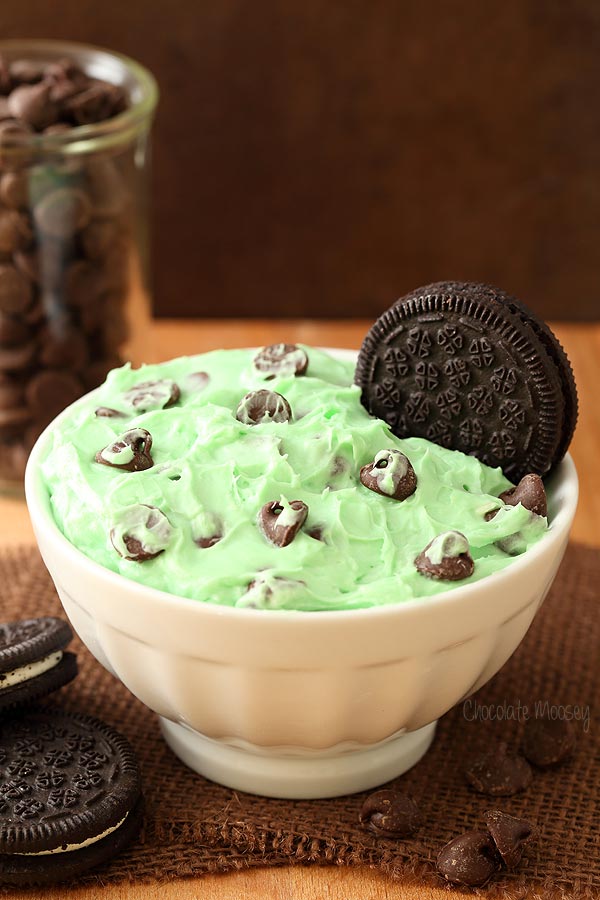 I have this semi-bad habit that when I like something, I tend to go overboard. I will listen to the same exact song over and over for weeks. I will eat the same flavors and even the same items every day until I can't eat them anymore. One time, I ate Greek yogurt with fruit on the bottom every day for lunch for almost a year until I finally said no more (it took me about 3 years until I could finally eat Greek yogurt again). I had a reader tell me I posted too many strawberry recipes in a row last year (in my defense, I had about 8 pounds of freshly-picked strawberries to use up). Currently I bought a 5 pound bag of grapefruit and have been eating grapefruit for breakfast every day for almost a week now. I don't know why I do this; I guess when I find a good thing, I don't want to let it go. Same thing happens when I plan my recipes for the month; March's theme is apparently mint chocolate chip. Recently I posted mint chocolate chip cupcakes and mint chocolate chip fudge. Today I'm posting Mint Chocolate Chip Cheesecake Dip. It's everything you want in a cheesecake without the effort of actually making one.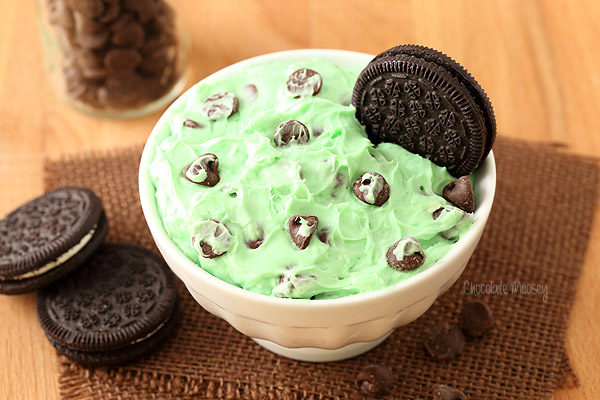 Of course I thought about making a whole cheesecake, but my schedule quickly filled up and time wasn't on my side. No worries – I can still have my no bake cheesecake in a bowl and serve it with chocolate sandwich cookies for the "crust." Plus now I only have to wait an hour instead of overnight like most baked cheesecakes.
This mint cheesecake dip would be perfect for a last-minute St. Patrick's Day recipe as it's a quick green dessert that everyone will enjoy. Serve it with graham crackers and/or cookies. I, on the other hand, will be enjoying this dip all year round as I love mint chocolate chip for any occasion.
Mint Chocolate Chip Cheesecake Dip
Prep time does not include 1 hour chill time.
Ingredients
1/4 cup heavy whipping cream
4 ounces cream cheese, softened
1/2 cup powdered sugar
1/2 teaspoon peppermint extract
2 teaspoons milk
4-6 drops green food coloring
1/2 cup semisweet chocolate chips
Chocolate sandwich cookies, for serving
Instructions
In a cold medium bowl, beat the cream until it thickens and stiff peaks form (when you pull the beaters straight up, peaks form and don't fall over), roughly 3-4 minutes.
In a large bowl, beat the cream cheese and powdered sugar until light and smooth, about 2-3 minute. Beat in the peppermint extract, milk, and food coloring.
Fold the whipped cream into the cheesecake mixture then fold in the chocolate chips. Chill for at least 1 hour before serving with cookies. Store in an airtight container in the refrigerator for up to 1 week.
More Dessert Recipes For You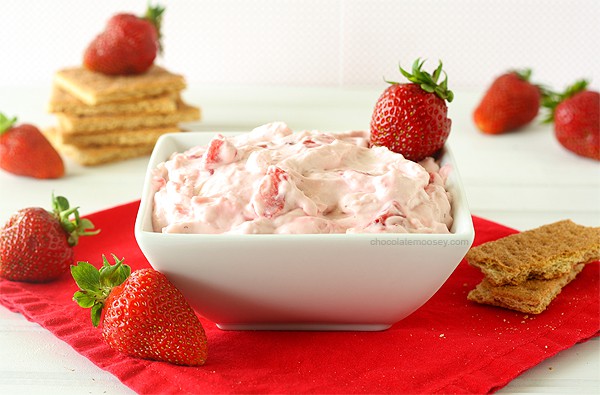 Strawberry Cheesecake Dip