Transport yourself to Italy with these Italian Nachos topped with hot Italian sausage, mozzarella nacho cheese sauce, fresh tomatoes, and basil. Serve it as an appetizer or as a dinner for two.

This post is sponsored by Pasta Chips. Thank you, as always, for supporting the brands I work with, keeping Chocolate Moosey up and running.
One benefit about cooking for myself is I can eat what I want, when I want. Friends have told me if they were in my shoes, they'd eat pancakes or even cold cereal for dinner. I have no idea why anyone would want cereal from a box for dinner; I rarely eat it for breakfast (is it me or does it just not fill you up?). Now I'm pretty good at making real food for dinner. I have my menu planned out for the week with pasta, fajitas, soup, chicken, and sometimes the occasional frozen pizza. However, once in awhile I look at what I have planned and think, you know what? I don't want this today. Unfortunately, that happens about 5 minutes before I start to prep dinner, so I'm stuck with a dilemma – either make what I planned and convince myself that yes I do still want it or completely change gears. Sometimes changing gears means switching around my menu for the week. Other times I go with what I really want that day.
It's no secret that I love snacks (see Salt and Vinegar Popcorn and Chili Cheese Popcorn). Sometimes I wish they were more acceptable for dinner. There are times where I go out to eat and would much rather order a few appetizers than eat another sandwich. Although I'm not advocating eating snacks every day for dinner, I do think you should have a few fun meals planned. Lately I've had nachos on the brain as I just love nacho cheese sauce and haven't had any in a long time. When I was asked to make a recipe featuring Pasta Chips, the Italian cousin to potato chips, my first reaction was snacks! Then my second reaction was they'd make a great vessel for nachos. Sticking with the Italian theme, I went with Italian Nachos, topping them with hot Italian sausage, mozzarella cheese sauce, fresh tomatoes, and fresh basil. Almost like caprese and Italian sausage had an Italian nacho baby. Too much of an analogy? Probably, but I can tell you one thing – one bite and you'll instantly feel like you're Italy, enjoying the sights and sounds of the hills in Tuscany.
These Italian nachos are a twist on traditional Mexican nachos. Instead of ground beef, I used hot Italian sausage. Instead of cheddar nacho cheese sauce, I made mozzarella nacho cheese sauce. Instead of jalapenos, I used fresh tomatoes and basil. And instead of nachos, I used
Pasta Chips
. Despite the name, Pasta Chips are not made from pasta; rather, they are made from semolina flour and Italian herbs to mimic the taste of pasta with flavors such as Alfredo, Garlic and Olive Oil, Marinara, and Sea Salt. They are thin and crispy chips that are all natural and non-GMO with only 120 calories per serving. I used the Garlic and Olive Oil chips for my Italian nachos, but feel free to use your favorite flavor. You can even mix and match. And as an extra incentive to try Pasta Chips,
here's a $1.00 off coupon for you to use
.
The key to a smooth nacho cheese sauce is evaporated milk. When you make a cheese sauce with regular milk, it stays nice and smooth until it cools down and congeals. As you reheat it, it starts to separate and now you're whisking in more milk like a crazy woman to make it smooth again. Not fun. With evaporated milk, when the sauce cools, it stays smooth. Instead of a thick gloppy mess, it thickens into a queso dip. If you have leftover Pasta Chips and nacho cheese sauce, now you have a bonus snack for later.
Even though I'm trying to convince you these Italian Nachos are dinner, let's face it – nachos will always be an appetizer or snack to most people. If it's just two of you (or just you!), you can serve them along with a side salad or some roasted vegetables to make it a more rounded meal.
Don't forget to print your $1.00 off coupon!
Italian Nachos
Yield: 2-4

Prep Time: 30 minutes

Cook Time: 5 minutes

Total Time: 35 minutes
Ingredients
Nachos
1/2 pound raw hot Italian sausage, casing removed
1/4 cup chopped onion
2 cloves minced garlic
1 bag Garlic and Olive Oil Pasta Chips
1 small tomato, seeded and chopped (roughly 3/4 cup)
2 tablespoons chopped fresh basil
Cheese Sauce
1/2 cup evaporated milk
1/2 cup shredded mozzarella cheese
1/2 teaspoon cornstarch
1/2 teaspoon salt
Instructions
Heat a large skillet over medium heat. When hot, add the sausage, onion, and garlic, breaking the sausage into smaller pieces with a spatula or wooden spoon. Cook until the sausage is no longer pink, roughly 5 minutes.
While the sausage is cooking, make the cheese sauce. In a medium saucepan, heat the evaporated milk until hot (but not boiling). Whisk in the cheese, cornstarch, and salt until smooth and cheese is completely melted (if it's too thick, whisk in a little more milk). Keep warm.
When sausage and cheese sauce are done, arrange enough Pasta Chips to cover a big plate. Top with half of the sausage mixture, warm cheese sauce, tomatoes, and basil. Top with more Pasta Chips and repeat (you may not use all of the Pasta Chips or cheese sauce). Serve immediately.
More Italian Recipes For You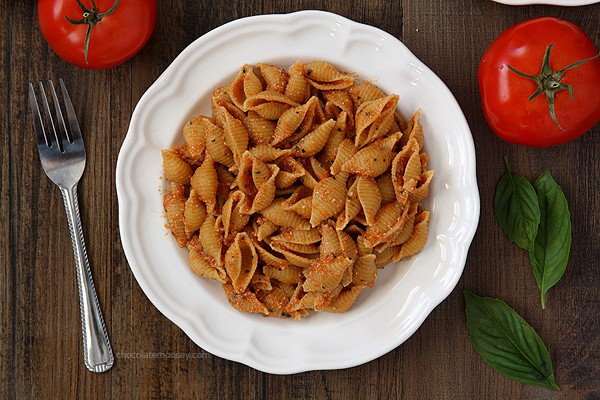 Caprese Pesto for Pasta
Disclosure: This post is sponsored by Pasta Chips. All opinions, text, and photographs are my own. Thank you for your support!