These triple peanut butter blondies topped with eggless peanut butter cookie dough and melted peanut butter chips are a peanut butter lover's best friend. Grab a glass of milk and dig in!
I love peanut butter. I love it so much that I currently have three jars in my pantry – two for recipe development and one for personal consumption. This does not include the flavored peanut butters I have, such as dark chocolate and maple. Almost every morning, I make a bowl of peanut butter oatmeal with a little bit of brown sugar. I also have a huge stash of peanut butter cups in my pantry for more recipe development (big project coming later this year!) I love peanut butter so much,
Miriam
and I declared March 25 as
Chocolate Peanut Butter Day
(and we are doing it again this year). Saying I love peanut butter is probably an understatement. Back in November, I posted a recipe for
Peanut Butter Cookie Dough Sandwich Cookies
. I loved that recipe so much, I decided to bring it back as Triple Peanut Butter Cookie Dough Blondies. They are the cousin to my
caramel cookie dough brownies
as they have the same layering. Peanut butter blondies for the base, eggless cookie dough for the middle, and melted peanut butter chips for the top. If you find yourself eating spoonfuls of peanut butter straight from the jar, if you find yourself fighting over that last peanut butter cup, if you find yourself head over heels for peanut butter, then this blondie recipe is for you.
A blondie is pretty much a brownie without the chocolate and brown sugar instead of granulated sugar. I swapped out some of the butter with peanut butter. If you want to make these blondies completely chocolate free (as I know a few people who would), you can switch the semisweet chocolate chips out for white chocolate or peanut butter chips. And just when you thought eggless cookie dough couldn't get any better, I added peanut butter to it. After all, there's no such thing as too much peanut butter. Try not to eat it all from the bowl before spreading it on top of your blondies.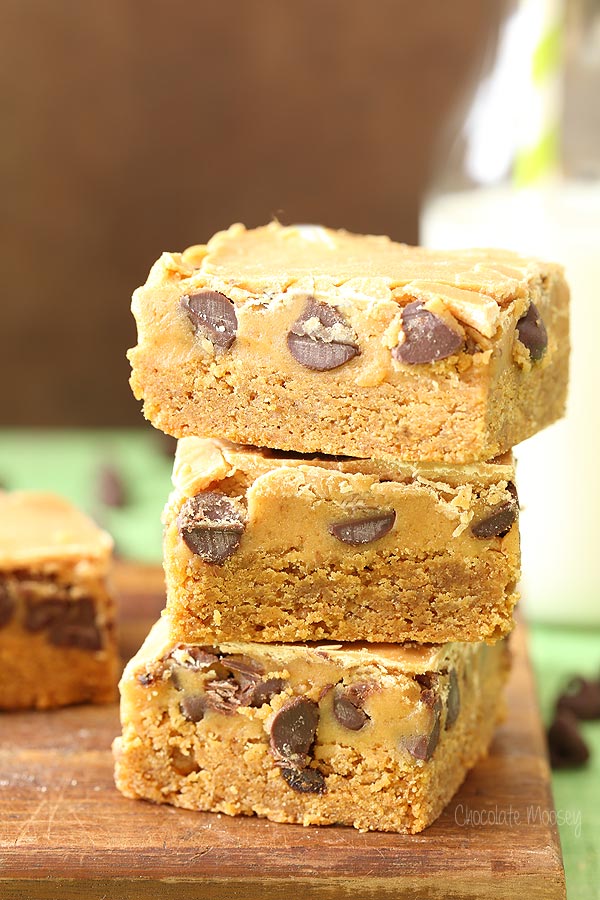 Triple Peanut Butter Cookie Dough Blondies
Total Time:
1 hour
10 minutes
Ingredients
Blondies
1/4 cup (2 ounces) unsalted butter, cut into 4 tablespoons
1/2 cup creamy peanut butter
3/4 cup packed brown sugar
1 egg, room temperature
1 teaspoon vanilla extract
1 cup all-purpose flour
1/2 teaspoon baking powder
1/8 teaspoon salt
Cookie Dough
1/4 cup (2 ounces or 4 tablespoons) unsalted butter, softened
1/4 cup creamy peanut butter
1/4 cup packed brown sugar
1/4 cup powdered sugar
3/4 cup all-purpose flour
1/8 teaspoon salt
2 tablespoons milk
1/2 teaspoon vanilla
3/4 cup semisweet chocolate chips
For the topping
1 cup peanut butter chips
Instructions
For the blondies
Preheat oven to 350F. Line an 8x8 pan with parchment paper (or lightly grease the pan with cooking spray).
In a large saucepan over medium heat, melt together the butter and peanut butter until smooth. Remove from the heat and whisk in the brown sugar (it will be grainy). Beat in the egg and vanilla until smooth. Add the flour, baking powder, and salt and beat until all the dry ingredients are incorporated.
Spread into the pan and bake 20-25 minutes or until a toothpick inserted in the center comes out clean (it's ok if it has a few crumbs - just no wet batter). Cool completely.
For the cookie dough
In a large mixing bowl, beat together the butter, peanut butter, brown sugar, powdered sugar, flour, and salt until light and creamy, 2-3 minutes. Beat in the milk and vanilla. Stir in the chocolate chips.
Once the blondies are cooled completely, spread the dough on top. Refrigerate 15 minutes to firm up the layer.
For the topping
Once the cookie dough layer is firm, in a large heatproof bowl over a pan of simmering water (do not let the bowl touch the water), melt the peanut butter chips until smooth. Spread on top of the cookie dough layer and let harden (you can use the refrigerator to speed this up. Allow the blondies to sit at room temperature for at least 15 minutes before cutting into squares). The blondies do get soft at room temperature, so I like to store mine in an airtight container in the refrigerator for up to 1 week.
Source: Adapted from my
cookie dough brownies
Want more cookie dough recipes?

Caramel Chocolate Chip Cookie Dough Brownies