If you're looking for a Christmas cheesecake to serve for the holidays, make this Gingerbread Cheesecake, complete with a gingersnap crust and a spiced molasses cheesecake filling.
This year I've been more obsessed with gingerbread than with peppermint. Usually when I walk into coffeehouses around Christmas, I almost always order peppermint mochas. Lately, it's been all about gingerbread lattes. Last week I was craving gingerbread chocolate chip cookies, so I made
this recipe from Baked By Rachel
(and gave a dozen to a friend since I don't have any self control). Then of course there are my
gingerbread s'mores cookie bars
and
gingerbread popcorn
I gobbled down. Next on my list was Gingerbread Cheesecake (because duh – cheesecake is always on my list). Usually I make my cheesecakes a little over the top, but this recipe is plain and simple; nothing fancy about it. Just a gingerbread cheesecake filling with a gingersnap cookie crust topped with whipped cream. Don't confuse that with boring though as this cheesecake is packed full of flavor and is the perfect dessert to end your Christmas dinner or to bring to holiday office parties.
Speaking of Christmas, funny story about Christmas decorations. Target has mini ornament sets that come in a variety of colors, including red, silver, light blue, and gold. Perfect for photography because of the size and not-so-reflective coating. The first Target did have gold, but it was opened so some of the bulbs were missing. No problem – there were two more Targets in the area as I was out shopping all day. Except everybody else in the world wanted gold, so gold was sold out. No problem – I can go online and order to pick up in store. Except the three stores I picked were sold out. FINALLY the Target by my parents' house had gold in stock. Lesson learned – do not wait until December to buy gold ornaments. Also, I owe my dad some cheesecake for picking them up. (Side note – they are not the ones in these photos as my dad still has the gold ornaments).
Just like
all my other cheesecake recipes
, this gingerbread cheesecake is very creamy (as it should be) and does not require a water bath when baking. Make sure your cream cheese and eggs are at room temperature as using cold or even slightly chilled ingredients may result in a lumpy batter (although lumpy batter still tastes just as delicious if that happens to you). I topped my cheesecake with plain whipped cream, but lemon pairs wonderfully with gingerbread if you want to add some lemon zest to it.
Equipment you may need (Amazon affiliate links):
Gingerbread Cheesecake
Total Time:
1 hour
10 minutes
Prep time does not include 4+ hour chill time.
Ingredients
2 1/2 cups gingersnap cookie crumbs
1/3 cup (5 1/3 tablespoons) unsalted butter, melted
24 ounces cream cheese, room temperature
1 cup granulated sugar
3 eggs, room temperature
1 teaspoon vanilla extract
1/4 cup full-flavor molasses (not black strap)
1 teaspoon ground cinnamon
1 teaspoon ground ginger
1/2 teaspoon ground nutmeg
1/4 teaspoon ground clove
Whipped cream* and extra gingersnap crumbs, for serving
Instructions
Preheat oven to 350F. Have an 8 1/2-inch or 9-inch springform pan ready.
In a medium bowl, mix together the gingersnap crumbs and melted butter. Press into the bottom and up the side of the pan. Place on a cookie sheet and set aside.
In a large mixing bowl, beat together the cream cheese and sugar until smooth, about 2-3 minutes. Scrape down the bowl if necessary then add in the eggs one at a time, beating after each addition. Beat in vanilla, molasses, cinnamon, ginger, nutmeg, and clove.
Pour the batter into the pan. Bake for 35-40 minutes or until the center is almost set (it will still jiggle but the top should be solid when you touch it. If your oven is older, you may need to bake another 5 minutes; however, don't bake it too long or it'll crack on top). Cool for 15 minutes then take a knife and run it around the edge of the pan to loosen it. Let cool on wire rack for an hour then refrigerate at least 4 hours or overnight. Right before serving, decorate with whipped cream and extra gingersnap crumbs, if using. Store in the refrigerator in an airtight container for up to 1 week.
Notes
*To make homemade whipped cream, beat 1/4 cup heavy whipping cream until it starts to thicken. Gradually beat in 1 tablespoon powdered sugar and continue beating until stiff peaks form (when you pull the beater straight up, peaks will form and not fall over).
Source: Adapted from Taste Of Home
Other Gingerbread Recipes You May Like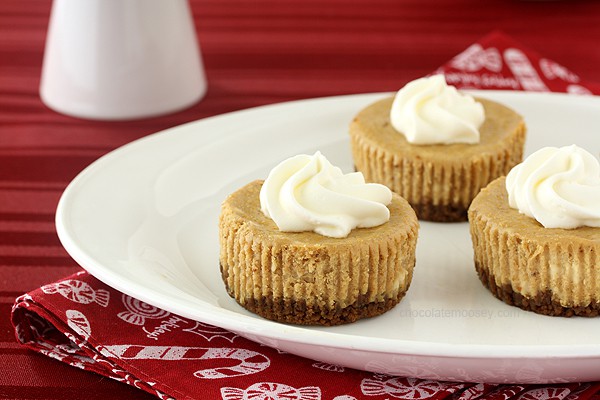 Gingerbread Cheesecake Cupcakes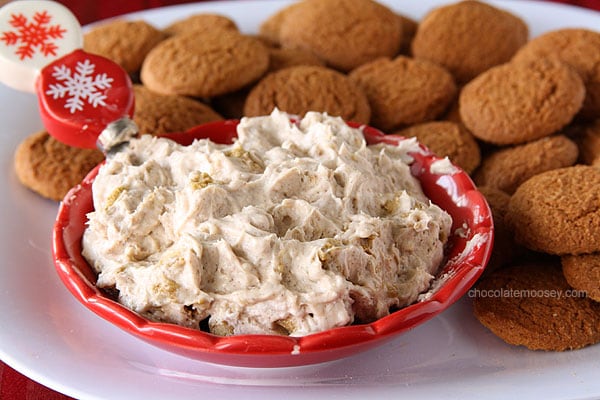 Gingerbread Marshmallow Cheesecake Dip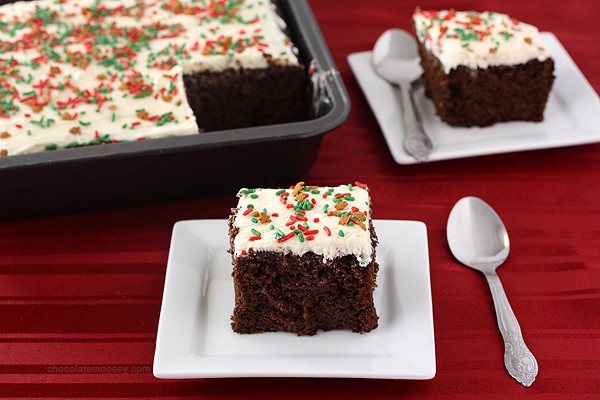 Gingerbread Sheet Cake with Lemon Frosting

Chocolate Gingerbread Baked Doughnuts

Gingerbread S'mores Cookie Bars

Gingerbread Blondies