This melt-in-your-mouth easy vanilla fudge recipe made with vanilla beans will quickly become your new favorite fudge flavor. Who knew that vanilla could taste this good?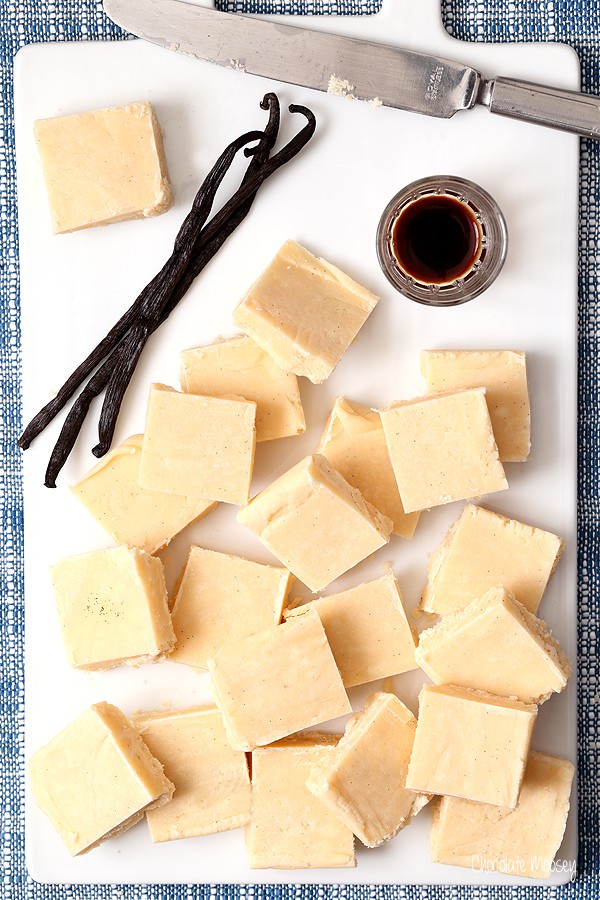 I think vanilla is becoming my new favorite flavor. I'm not talking about those bright white soft serve ice cream cones you got from the ice cream stand growing up where almost nobody on your softball team ordered vanilla. I'm talking about REAL vanilla made from vanilla beans. I still remember the first time I made
vanilla bean ice cream
– I couldn't believe that's how good vanilla tasted! Why are companies making vanilla seem so tasteless? Now I want to "vanilla bean all the things." I started with my
Baked Vanilla Bean Doughnuts
, which were a huge hit (both online and in person). Then I got the idea to make this Vanilla Bean Fudge, especially since yesterday I talked about making
homemade vanilla extract
. Not only does homemade extract make a great Christmas gift, so does a box of this fudge. I know this recipe can be made all year round, but I always think of fudge the most around Christmas. Maybe because that's what my mom usually wanted when she didn't have anything on her wish list. If you have anybody on your shopping list with a big sweet tooth, give them a box of Vanilla Bean Fudge.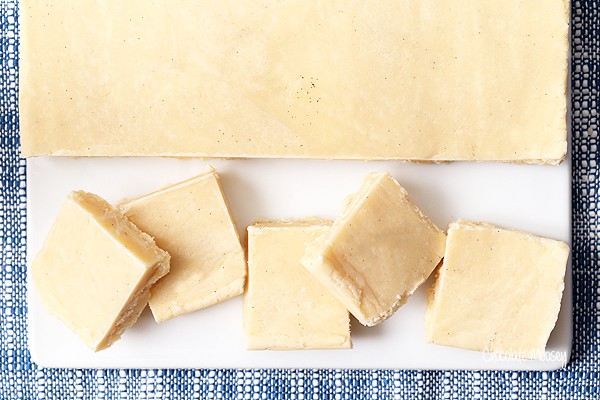 The first thing you'll notice after taking a bite is how it's very creamy with a melt-in-your-mouth texture. It's almost like the snow is melting (because right now I'm watching the snow fall outside). Its slightly tinted brown hue lets you know that it's made with real vanilla and vanilla beans. Nothing imitation here. The best part about making this fudge is you don't need a candy thermometer. You do need to make sure you boil the sugar mixture for the full 5 minutes to ensure it'll set up properly as it cools. For best results, let the fudge sit at least 4 hours or overnight before cutting.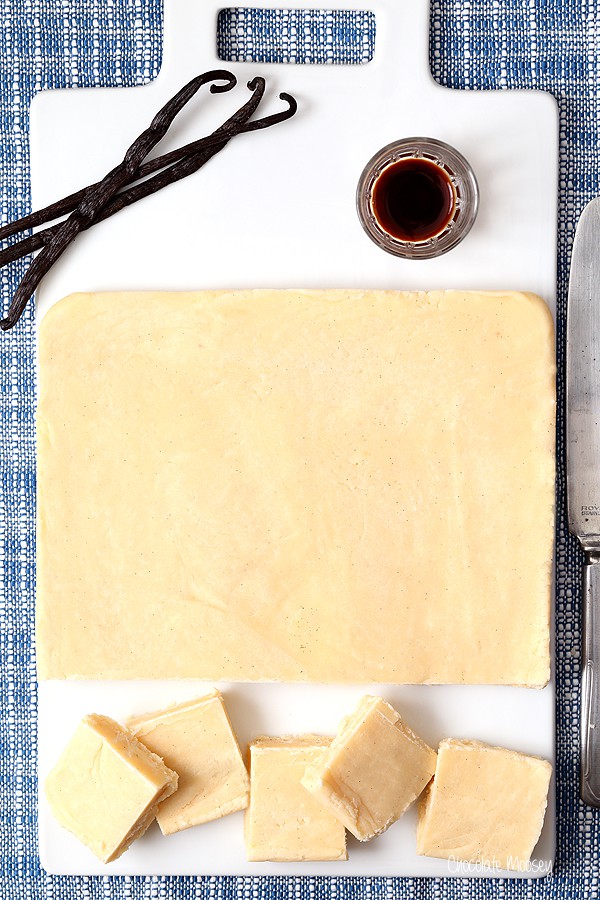 Since buying vanilla beans in stores is expensive (and sometimes not very fresh), I buy them online at Beanilla. I usually go for the
Madagascar Bourbon
, but you can choose any bean you want based on the descriptions. You can also use
vanilla bean paste
if you don't want to scrape vanilla beans (because when you have long fingernails like me, it's a little tricky sometimes).
Vanilla Bean Fudge
Prep time does not include cooling time.
Ingredients
1 1/2 cups granulated sugar
6 tablespoons unsalted butter, cut into 6 tablespoons
1/3 cup evaporated milk
1 cup white chocolate chips
1 cup marshmallow fluff (roughly half of a 7 ounce jar)
1 teaspoon vanilla extract
1 vanilla bean, cut lengthwise and seeds scraped*
Instructions
Line an 8x8 pan with parchment paper.
In a large heavy-bottom saucepan, combine the sugar, butter, and milk. Bring to a rolling boil, stirring until everything is smooth. Boil for 5 minutes, stirring often (do not cut this time short or the fudge may not firm up when cool).
Remove from the heat and stir in the chocolate chips, marshmallow fluff, vanilla extract, and vanilla bean seeds until melted and smooth (it will be really thick - use your muscles). Spread into the pan**. Let cool until firm, at least 4 hours or overnight before cutting.
Notes
Don't throw away that bean! You can still use it to make homemade vanilla extract.

*If the fudge thickens too much, put back over the heat until easy to stir again.
Source: Adapted from
my Oreo fudge
Other Fudge Recipes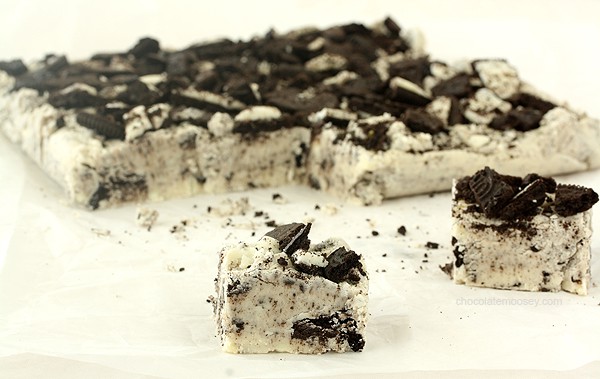 Oreo Fudge