Sinful little Fudge Filled Chocolate Chip Cookie Cups made from scratch are just what you need for any occasion. Whether you need several dozen for Christmas or just need a snack with your milk, these mini cookies will make everyone happy.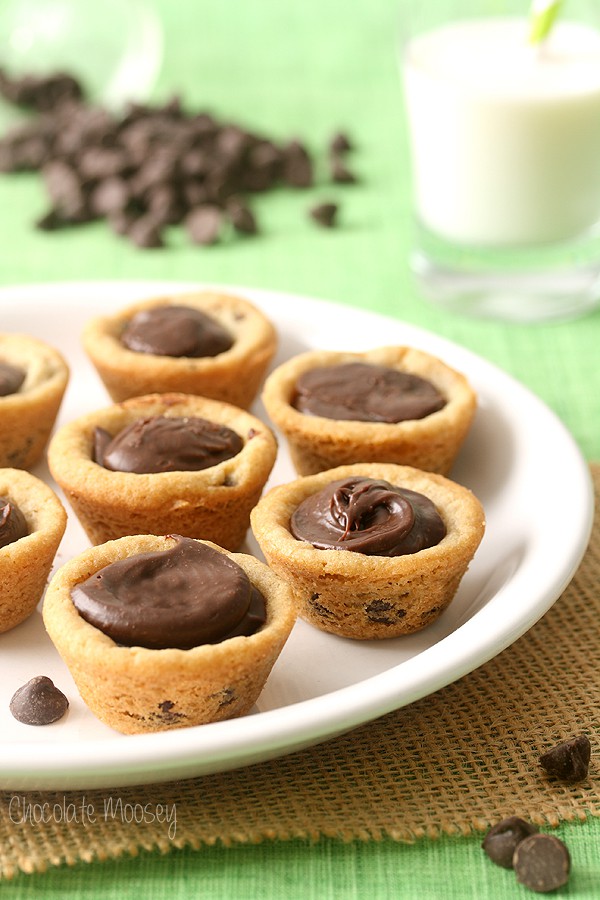 It's Day Two of Cookie Week! Yesterday I made
Peanut Butter Cookie Dough Sandwich Cookies
. Today I wanted to make a cookie that you can add to your cookie tray, a recipe that can make several dozen cookies with just one batch – Fudge Filled Chocolate Chip Cookie Cups. I'm sure by now you know my feelings about how much I love chocolate chip cookies (and if you're new, they are my favorite cookie in the world). As much as I love the classic recipe, I'm always looking for new ways to make chocolate chip cookies fun –
s'mores bars
,
s'mores cups
,
caramel stuffed
,
brownie bites
,
ice cream pie
,
apple crumble
,
cookie cake
, the list goes on. Even though these chocolate chip cookie cups are good on their own, I wanted to take them one step further and fill them with fudge. No reason other than it's fudge. If you're feeling really festive, you can even put sprinkles on top.
(Psst if you haven't entered the Cookie Week giveaway, make sure you enter on yesterday's post).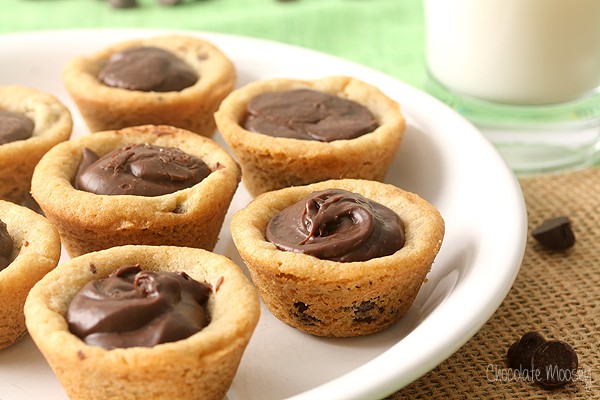 What I love most about this recipe (besides eating the cookies) is that any time a mini muffin pan is involved, you know there are going to be lots of cookies with minimal effort. 1 egg, almost 3 dozen cookies. Cookie cups aren't limited to holiday cookie trays either. You can package them up as a gift all year round and even mail them (assuming it's not summer as they may not make it in the hot weather).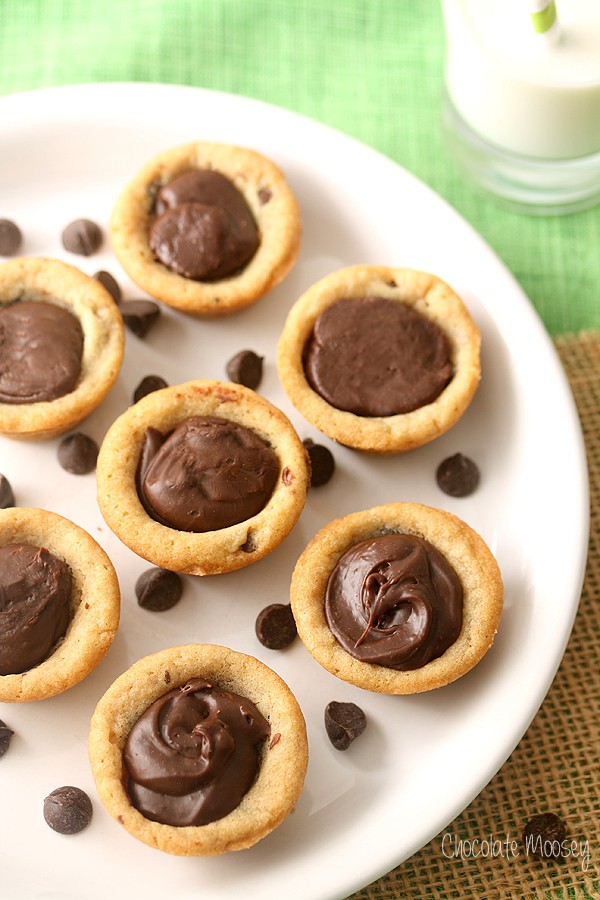 The fudge filling is supposed to be all smooth on top after piping. Instead it looks like a 3-year-old filled them. I don't even know what happened except that the fudge hardens very, very quickly. Then as I was melting the chocolate chips in my makeshift double boiler, the bowl got stuck inside the pan. It's still sitting on my counter, waiting for someone to pull it apart. I even tried dunking the pan in hot water while filling the bowl with ice cubes, thinking science would help. Nope. Luckily Dad came over and after what felt like forever, he finally got the bowl out. I think he deserves extra cookies for that.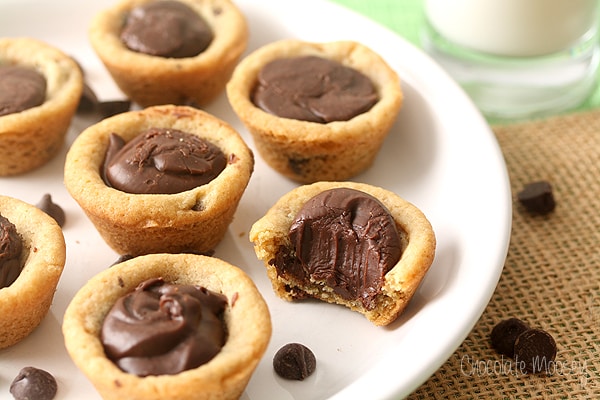 Fudge Filled Chocolate Chip Cookie Cups
Ingredients
Chocolate Chip Cookie Cups
1 1/2 cups all-purpose flour
1/2 teaspoon salt
1/2 teaspoon baking soda
1/2 cup (4 ounces) unsalted butter, softened
3/4 cup packed brown sugar
1 egg, room temperature
1 teaspoon vanilla extract
1 cup semisweet chocolate chips
Fudge Filling
1 cup semisweet chocolate chips
3/4 cup sweetened condensed milk
1/2 teaspoon vanilla extract
Instructions
For the chocolate chip cookie cups
Preheat the oven to 350F. Have two mini muffin pans ready.
In a medium bowl, whisk together the flour, salt, and baking soda.
In a large mixing bowl, beat the butter and brown sugar until light and creamy, about 2-3 minutes. Beat in the egg and vanilla. Gradually beat in the flour mixture. Stir in the chocolate chips.
Roll the dough into 1-inch balls (roughly 1 tablespoon each) and add to each tin in the muffin pan (you won't fill up the whole second pan). Bake 10-12 minutes or until cookies fill the cup, done in the middle, and are golden brown. Immediately using a round teaspoon (or something similar), press down into the center of each cookie cup, making an indentation deep enough to fill later. Cool completely before removing from the pans.
For the fudge filling
In a large heatproof bowl over a pan of simmering water (do not let the bowl touch the water), melt together the chocolate chips and sweetened condensed milk. Remove from the heat and stir in the vanilla.
Immediately fill a piping bag, a sandwich bag with the tip cut off, or a cup with a spout and fill each cookie cup. The fudge will harden quickly - if needed, reheat the mixture. Let the chocolate harden before serving. Store in an airtight container for up to 1 week.
Source: Adapted from my
s'mores cookie cups
Want more cookie recipes?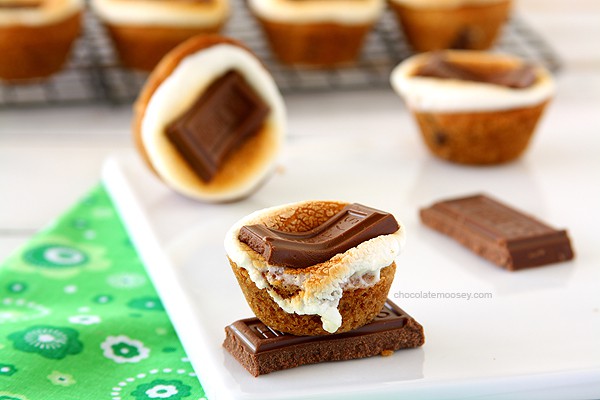 S'mores Chocolate Chip Cookie Cups
From Other Cookie Week Bloggers
Cookie Week Giveaway
Huge thank you to Imperial Sugar, Circulon, Peanut Butter & Co. and Page Street Publishing for being sponsors for Cookie Week! To learn more about entering the giveaway, please check out Day 1 of Cookie Week.