Soft and spiced Pumpkin Chocolate Chip Cookies remind me of childhood and are the ideal way to end (or start) your day as fall takes over.

I've been blogging for a really long time, almost 7 1/2 years! It's funny seeing people's reaction when they ask how long I've been blogging. Usually the average is 1-2 years with a handful at 5 years. During my first two years of blogging or so, I've posted some of my all-time favorite recipes. Except back then, I had no clue about food photography. I could kinda style, but lighting was certainly out of the question. One of my all-time favorite cookies I wanted to revisit are my Pumpkin Chocolate Chip Cookies that I posted
back in 2008
. Six years ago! I even still have that jack o' lantern mug. Since I'm a much better photographer now, I wanted to put these pumpkin cookies back in the spotlight. Plus I adjusted the recipe a bit to make them even better. Soft and spiced, these Pumpkin Chocolate Chip Cookies are what you need while the leaves are changing colors and the mornings are getting cooler.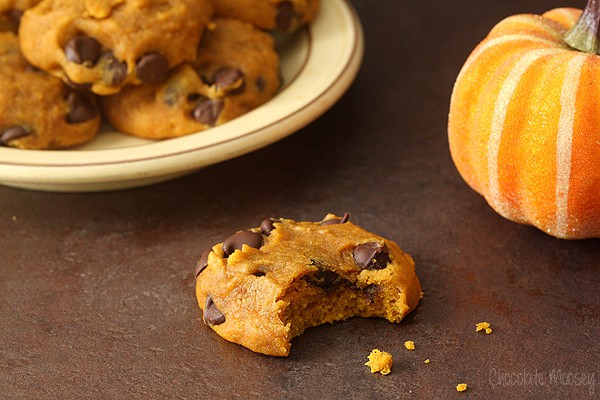 My love for these cookies go way back to childhood. As soon as September hit, grocery stores baked up their soft pumpkin raisin cookies topped with bright orange icing. Since they were usually expensive, Dad would wait until they went on reduced-sale and bought a dozen. They were probably the only cookies where raisins were acceptable. Now that I'm grown up, I totally swapped out the raisins for chocolate chips. Because adults are allowed to do that.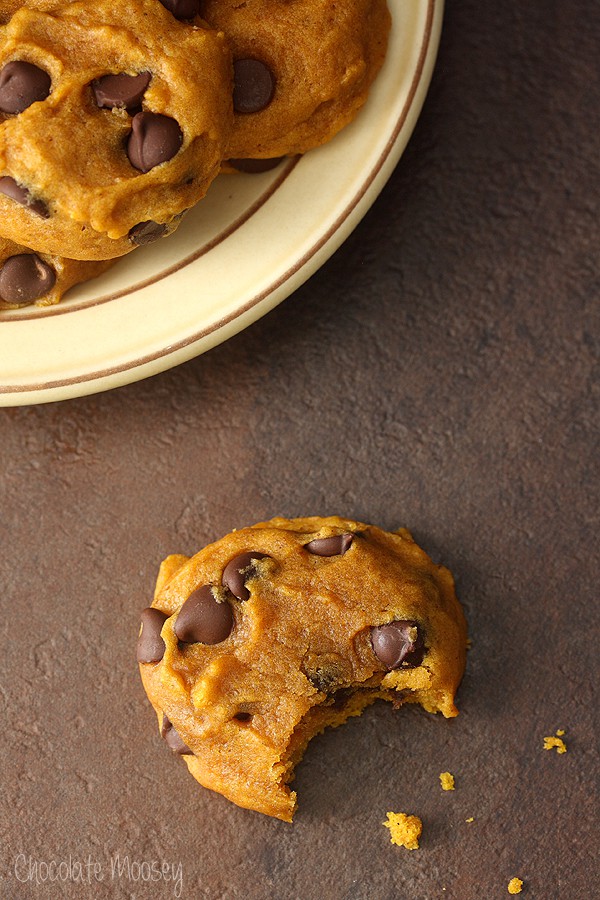 It's funny. This year I haven't been into as much pumpkin as I usually am. Of course I've been drinking my beloved pumpkin spice lattes, but I haven't posted as many pumpkin recipes this year. Just my
french toast roll ups
,
cannoli
,
single serving cookie
, and
mini cheesecakes
. I actually had more pumpkin ideas to bring you but wasn't feeling any of them. Just these chocolate chip cookies (which I can argue that this may be all you need).
Pumpkin Chocolate Chip Cookies
Ingredients
2 cups all-purpose flour
1 teaspoon baking powder
1/2 teaspoon baking soda
1/2 teaspoon salt
2 teaspoons ground cinnamon
1 teaspoon ground nutmeg
1/2 teaspoon ground clove
1/2 teaspoon ground allspice
1/2 cup melted unsalted butter
3/4 cup granulated sugar
1 cup canned pumpkin puree
1 egg, room temperature
1 teaspoon vanilla extract
1 1/2 cups semisweet chocolate chips
Instructions
Preheat oven to 375F. Line two cookie sheets with parchment paper.
In a large bowl, whisk together the flour, baking powder, baking soda, salt, cinnamon, nutmeg, clove, and allspice.
In another large bowl, beat together the melted butter, sugar, and pumpkin until well combined. Beat in the egg and vanilla. Gradually beat in the flour mixture then add the chocolate chips.
Using a #40 cookie scoop, scoop the dough onto the cookie sheets* (dough will be wet). Flatten them down slightly and keep them as round as possible as the cookies won't spread much. Bake 12-15 minutes or until the edges are firm. Cool for 5 minutes then transfer to a cooling rack.
Notes
*If you don't have a #40 cookie scoop, each cookie is about 1 1/2 tablespoons.
Source: Adapted from
Dishing Up Delights
More Pumpkin Recipes For You To Bake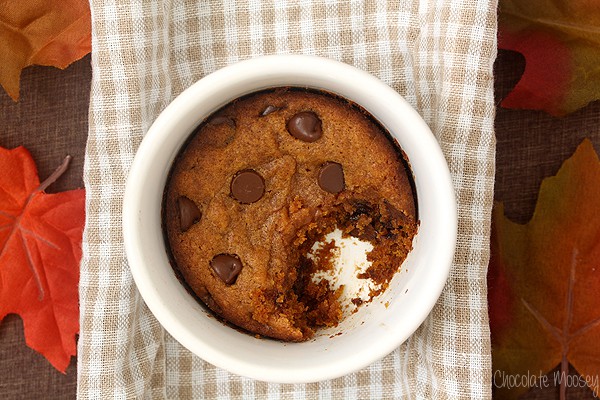 Single Serving Pumpkin Chocolate Chip Cookie

Soft Pumpkin Sugar Cookies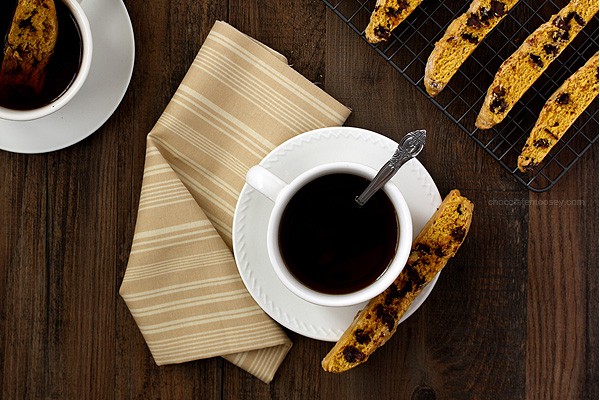 Pumpkin Chocolate Chip Biscotti