Ready to party? This Cheesy Bacon Ranch Dip is a sour cream dip amped up with lots of cheese and bacon, perfect for both potato chips and vegetables.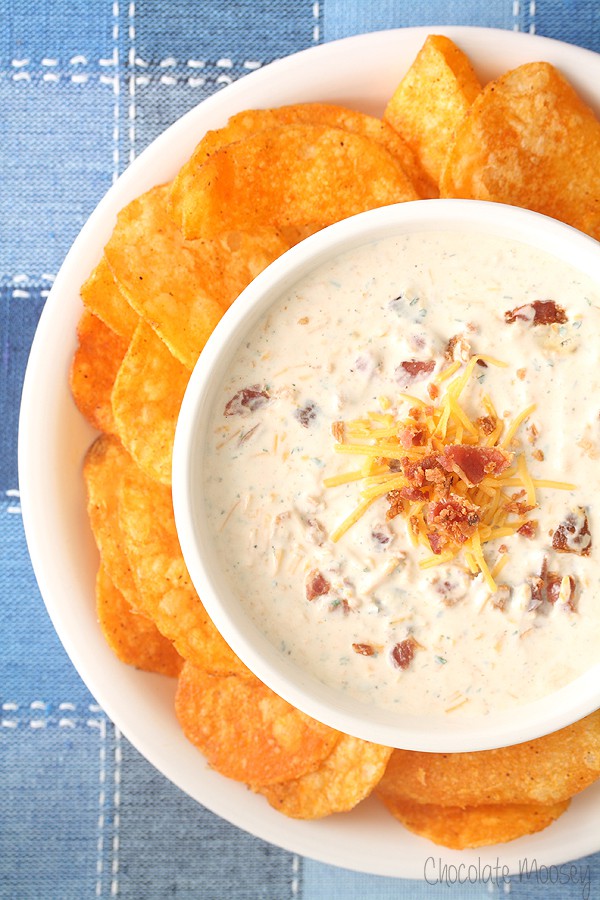 I love dips. Sometimes I wish they could make an acceptable dinner, but I would have to eat a ton in order to feel full.
In fact, I have turned dips into dinner with quesadillas and mac and cheese, but sometimes you just want to sit on the couch with a bowl and just snack away.
My parents love eating dips too. Every time I visit, they have at least one dip in the fridge for either potato chips or broccoli and carrots.
My latest dip adventure is with this Cheesy Bacon Ranch Dip. I know there are a ton of cheesy bacon ranch dip recipes out there, but I didn't want that to stop me from sharing one of my favorites.
I did change mine up a tad bit and added some hot sauce (which is optional if you don't like spicy things, right Dad?).
I also cut the recipe in half BUT amped up the ingredients.
That means less sour cream, more cheese and bacon (and we all know there's a happy ending when more cheese and bacon are involved).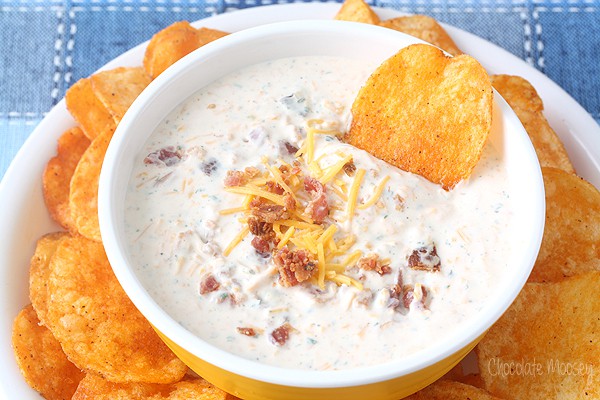 This sour cream dip uses a packet of ranch seasoning. I know that isn't a common ingredient to everyone, so I'll explain it.
It's a powdered mix of dried buttermilk powder, parsley, dill, onion powder, garlic powder, salt, and pepper.
You can buy a packet in the salad dressing aisle or you can make your own. My friend Lisa at Snappy Gourmet has a recipe (and several variations) of making your own.
The grocery store right by my place (which I swear never has anything on my list) didn't have buttermilk powder, but they did have the ranch seasoning.
If you don't want to use the seasoning mix, reduce the sour cream to 3/4 cup and add 1/4 cup already-prepared ranch dressing.
What I love most about my Cheesy Bacon Ranch Dip is you can dip either potato chips or vegetables.
I love pairing the smokiness and spice of BBQ chips with the ranch drip, but (almost) any flavor will do.
I also love those ridged cheddar and sour cream chips. Oh and broccoli too.
Cheesy Bacon Ranch Dip
Prep Time:
1 hour
15 minutes
Total Time:
1 hour
15 minutes
Ingredients
1 cup sour cream
1 cup shredded cheddar cheese
1/4 cup crumbled bacon
2 tablespoons ranch seasoning (roughly half of a 1-ounce packet)*
2-4 tablespoons hot sauce
Instructions
In a large bowl, whisk together the sour cream, cheese, bacon, ranch seasoning, and 2 tablespoons hot sauce. Taste and add the remaining hot sauce, if desired. Chill in the refrigerator at least an hour before serving.
Notes
*If you don't have ranch seasoning, reduce to sour cream to 3/4 cup and add 1/4 cup already-prepared ranch dressing.
Source: Adapted from
Hidden Valley
Looking for more party recipes?

Buffalo Chicken Dip