S'mores Peanut Butter Cup Crunch Bars turns traditional s'mores up a notch with this irresistible treat. Graham cracker cookie. Thick marshmallow middle. Crunchy chocolate peanut butter top. Pretty sure you can bribe any chocolate peanut butter lovers with these bars.
Once upon a time, I made these
marshmallow brownies
. Fudgy brownies. Thick, gooey marshmallow layer. Crunchy, irresistible chocolate peanut butter topping. I can't stop craving them. I can't stop thinking about them. I can't stop wanting them. It's the marshmallow layer that really drives me. I'm such a sucker for marshmallows. Then I made these
S'mores Cookie Crumb Bars
. I couldn't get over how much the cookie layer tasted like graham crackers, but I was slightly disappointed in the marshmallow layer not being super thick. The concept to combine these two recipes has been on my mind since summer. What if they had a baby? Taking the best features of each recipe and combining into one. And that's how these S'mores Peanut Butter Cup Crunch were born. A graham cracker cookie layer topped with peanut butter cups, large marshmallows, and a chocolate peanut butter rice crispy layer. If you can't bribe somebody with these, then they must not be human (or allergic to peanut butter. I don't actually want to harm anybody here).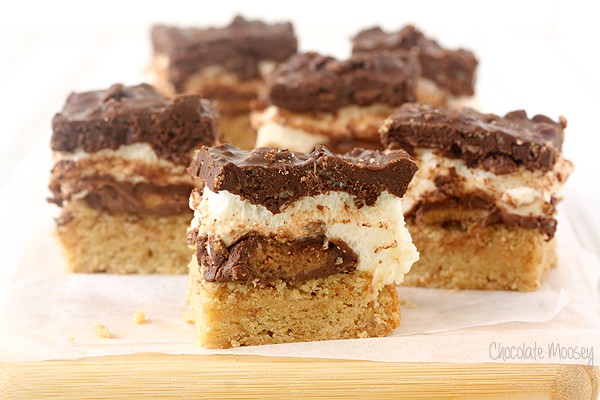 Chocolate and peanut butter. They go hand in hand like milk and cookies. Peanut butter and jelly. Cake and ice cream. Throw in s'mores and I will do (almost) whatever you want. I won't lie about these being messy, especially with the weather being hot for September.
I love making traditional s'mores with peanut butter cups instead of Hershey bars, and that's why I went with them here. Large marshmallows are a must as I wanted the layer to be as thick as possible, but if all you have in your pantry are mini marshmallows or marshmallow fluff, those work too.
S'mores Peanut Butter Cup Crunch Bars
Total Time:
1 hour
3 minutes
Ingredients
1 cup + 2 tablespoons all-purpose flour
1/2 cup graham cracker crumbs
1/2 teaspoon baking powder
1/8 teaspoon salt
1/3 cup (5 1/3 tablespoons) unsalted butter, softened
1/2 cup granulated sugar
1 egg
1/2 teaspoon vanilla extract
16 unwrapped peanut butter cups
25 large marshmallows
1 cup semisweet chocolate chips
1/2 cup creamy peanut butter
3/4 cup rice crispy cereal
Instructions
Preheat oven to 350F. Line an 8x8 pan with parchment paper.
In a large bowl, whisk together the flour, graham cracker crumbs, baking powder, and salt.
In another large bowl, beat together the butter and sugar until light and creamy, 2-3 minutes. Beat in the egg and vanilla. Gradually beat in the flour mixture.
Spread the dough into the bottom of the pan. Bake 25 minutes. Pull it out of the oven. Top with the peanut butter cups in a 4x4 row then the marshmallows in a 5x5 row. Bake another 8 minutes or until the marshmallows are puffed. Carefully press down the marshmallows to help spread them and that they are all touching. Cool completely.
In a large heatproof bowl over a pan of simmering water (do not let the bowl touch the water), melt together the chocolate chips and peanut butter. Stir in the cereal. Spread over the cooled marshmallow layer. Let the chocolate mixture harden before cutting into 16 squares.
Want more gooey deliciousness?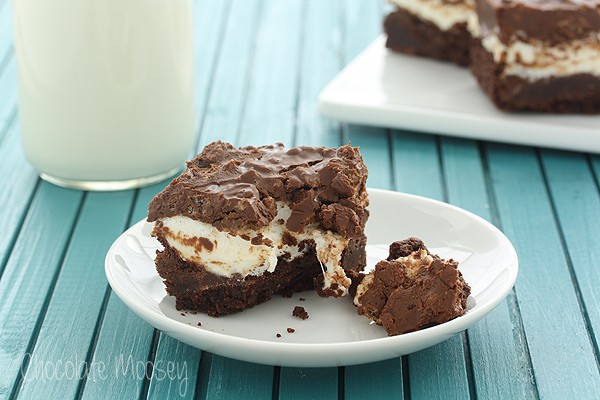 Crispy Peanut Butter Marshmallow Brownies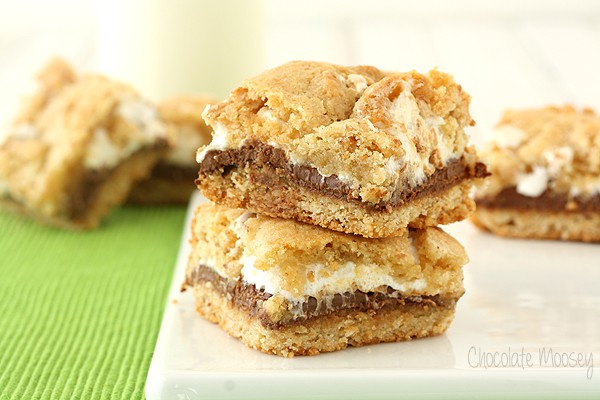 S'mores Cookie Crumb Bars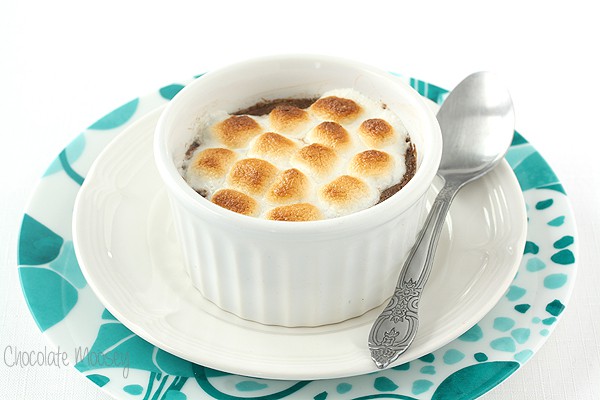 Single Serving S'mores Peanut Butter Cup Brownie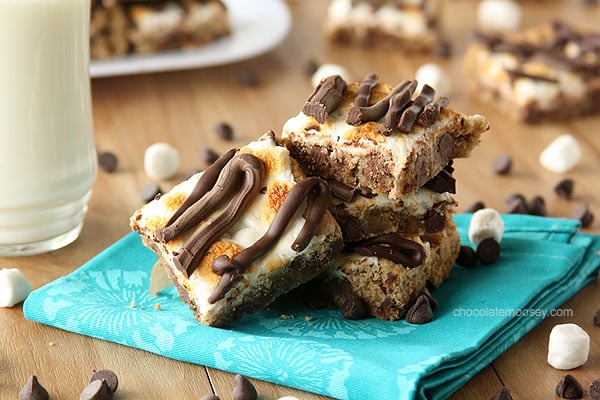 S'mores Chocolate Chip Cookie Bars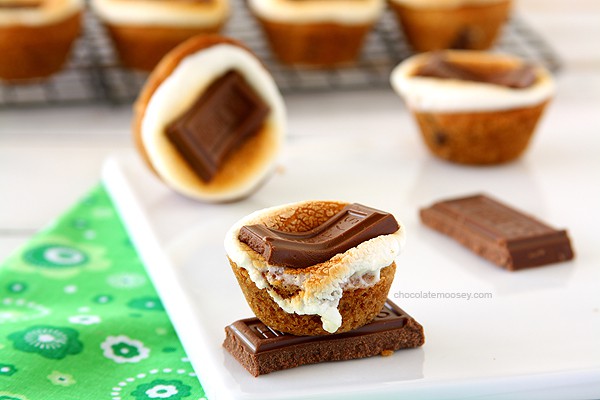 S'mores Chocolate Chip Cookie Cups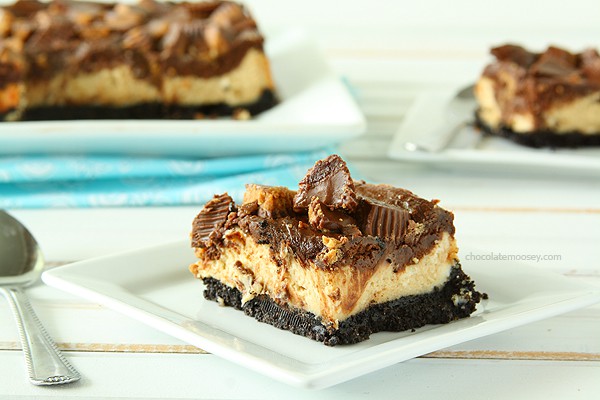 Chocolate Peanut Butter Cup Cheesecake Squares