Welcome fall with open arms as you make Pumpkin Cheesecake French Toast Roll Ups for breakfast, complete with a Pumpkin Spice Dipping Sauce.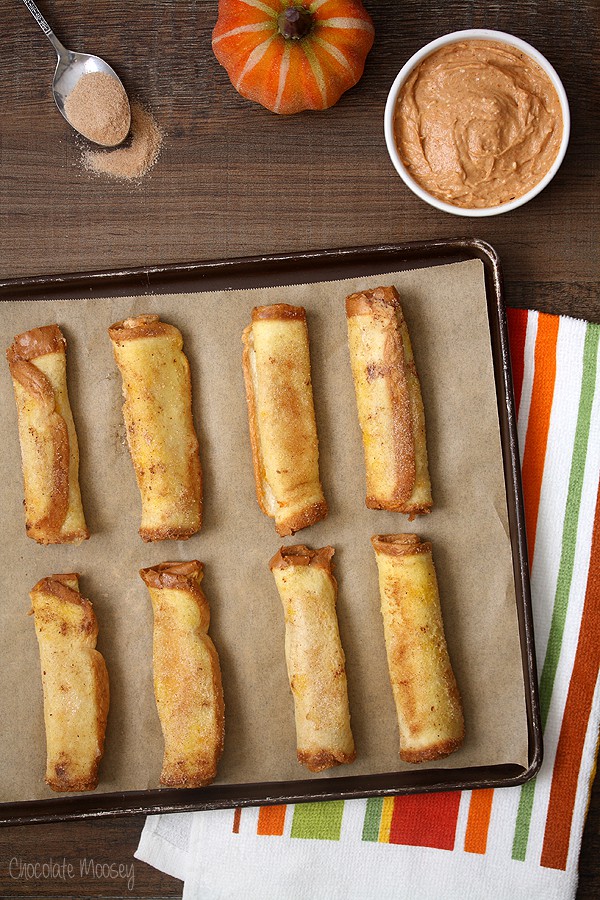 Tell me – which group are you in? Are you doing everything you can to hang onto summer with fresh corn, tomatoes, and zucchini as you fight off pumpkins and apples until the very first true day of fall? Or are you embracing fall with open arms, already drinking pumpkin spice lattes and picking apples from the farm? I think it's obvious which group I'm in with these Pumpkin Cheesecake French Toast Roll Ups, complete with a Pumpkin Spice Dipping Sauce. I can't help it though. Labor Day has always marked the first day of fall for me, always. I don't care what the calendar says; I go by how I feel, and I feel like eating pumpkin for breakfast. In fact, I've already gone through one can of pumpkin so I can bring you more pumpkin recipes later this month.
Normally I would wait until October to share pumpkin recipes, but I couldn't wait. I had to break out these Pumpkin Cheesecake French Toast Roll Ups. You can bake all of the roll ups at once so everyone can eat breakfast at the same time. No waiting for each French toast to cook as you have hungry eyes staring at you.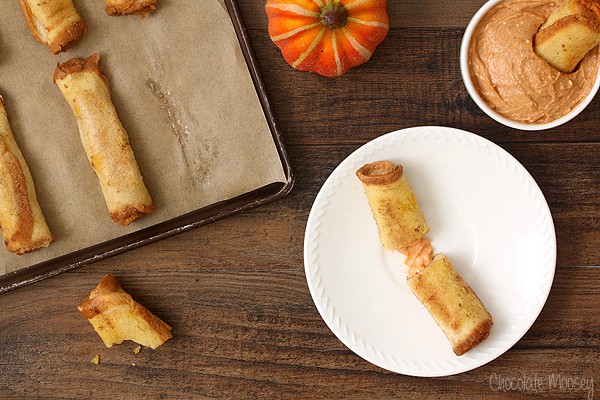 I've made French toast roll ups before
using apple butter
and knew it was only a matter of time until I started making other fillings. Of course I had to throw a cheesecake twist in there. I'll take any excuse to have cheesecake for breakfast.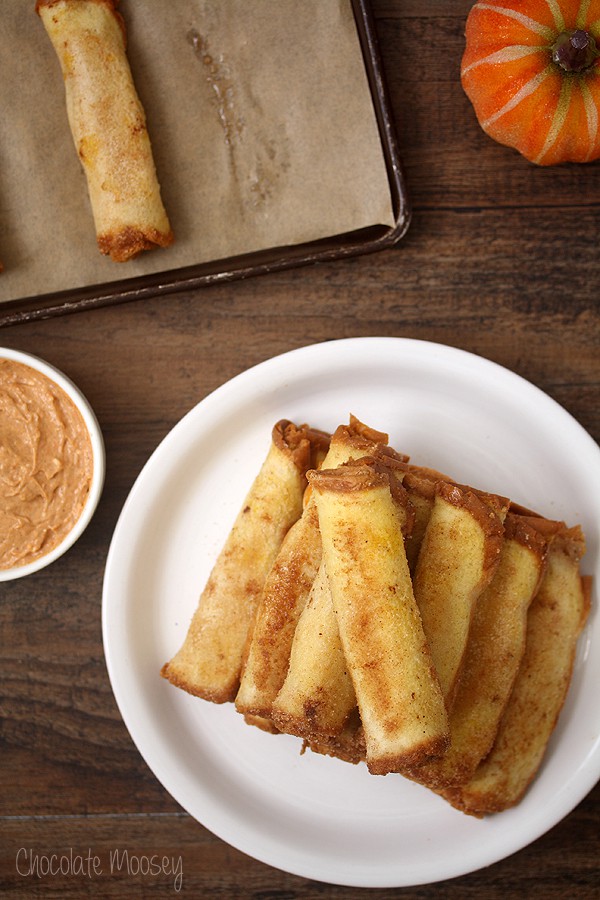 Normally when I cook breakfast for my parents and brother, I'm a made-to-order cook, so either not everyone eats at the same time or I have to reheat everything before serving. By baking these roll ups, you don't have to worry about timing.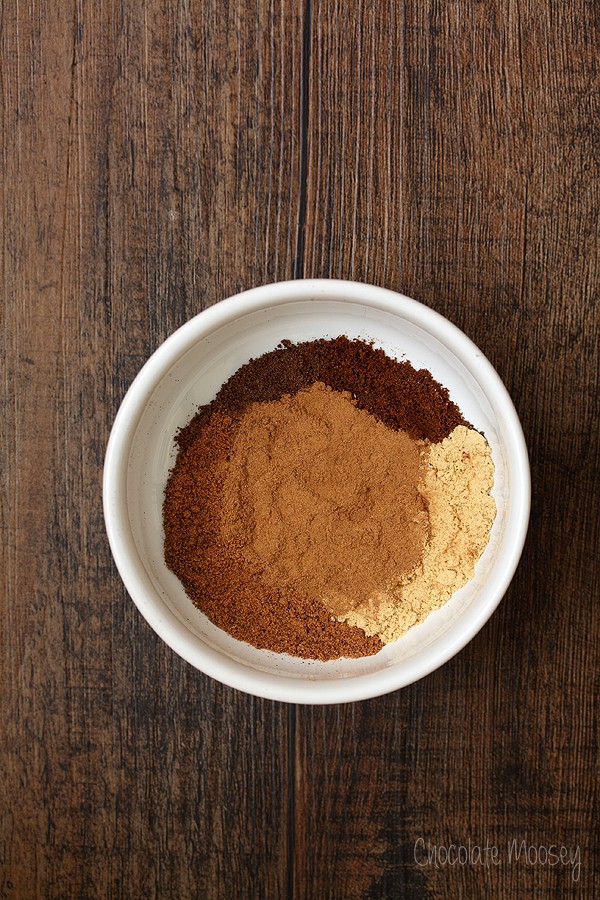 The pumpkin spice dipping sauce is the best part because you get to play with your food, but first what is pumpkin spice? It's nothing more than cinnamon, ginger, nutmeg, clove, and allspice mixed together. I'm not a big fan of syrup on top of breakfast, so I'd much rather dip.
I'm guessing if you're still reading this post, you are ready to embrace fall. Which is ironic because the weather has been nothing but hot lately. I really hope it cools down soon and become sweater weather; otherwise I may need to start drinking iced pumpkin lattes.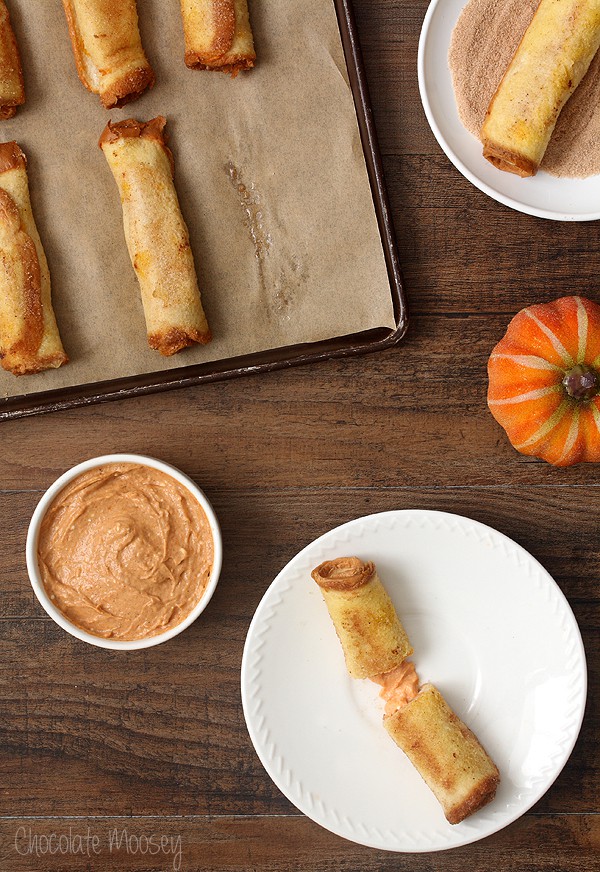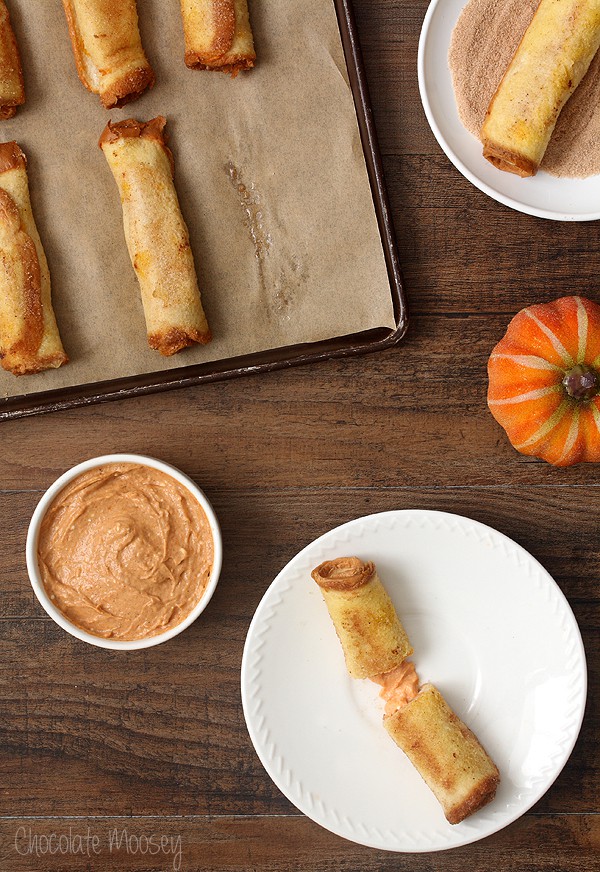 Ingredients
Pumpkin Cheesecake Filling

4 ounces cream cheese, softened
1/2 cup canned pumpkin puree
2 tablespoons granulated sugar
1/4 teaspoon vanilla extract
2 tablespoons plain Greek yogurt

French Toast Roll Ups

18 slices of white bread
2 eggs
1/4 cup milk
3/4 teaspoon ground cinnamon
1/8 teaspoon ground nutmeg
2 tablespoons melted butter
1 tablespoon granulated sugar

Pumpkin Spice Dipping Sauce

3 ounces cream cheese, softened
1/2 cup canned pumpkin puree
1/2 cup powdered sugar
1 teaspoon ground cinnamon
3/4 teaspoon ground ginger
1/2 teaspoon ground nutmeg
1/4 teaspoon ground clove
1/4 teaspoon ground allspice
2 tablespoons milk
Instructions
Preheat oven to 375F. Line a baking sheet with a silicone mat or grease really, really well (the roll ups will stick if you aren't prepared).
For the filling: In a large mixing bowl, beat together the cream cheese, pumpkin, sugar, and vanilla until smooth. Fold in the Greek yogurt.
Flatten one slice of bread to about half of its original thickness. Spread roughly 1 tablespoon of the pumpkin filling evenly on top. Roll up bread and set aside, seam side down. Repeat with the remaining bread.
In a bowl, beat together the eggs, milk, 1/4 teaspoon cinnamon, and nutmeg. Dip each roll up into the egg mixture, completely covering and shaking off the excess. Place on the baking sheet.
Bake 10 minutes. Pull out of the oven, brush the top side with melted butter, flip each roll then brush the bottoms with butter. If they stick, gently use a spatula to loosen them. Leave bottom side up and bake another 10 minutes.
In a small bowl, add the sugar and remaining 1/2 teaspoon cinnamon. As soon as the roll ups have finished baking, roll each one in the cinnamon sugar mixture. Serve warm with dipping sauce.

For the dipping sauce

While the roll ups are baking, in a large bowl beat together the cream cheese and pumpkin until smooth. Gradually beat in the powdered sugar, cinnamon, nutmeg, ginger, clove, and allspice then beat in the milk.
7.8.1.1
3314
https://www.chocolatemoosey.com/2014/09/07/pumpkin-cheesecake-french-toast-roll-ups-with-pumpkin-spice-dipping-sauce/
Want more fall recipes?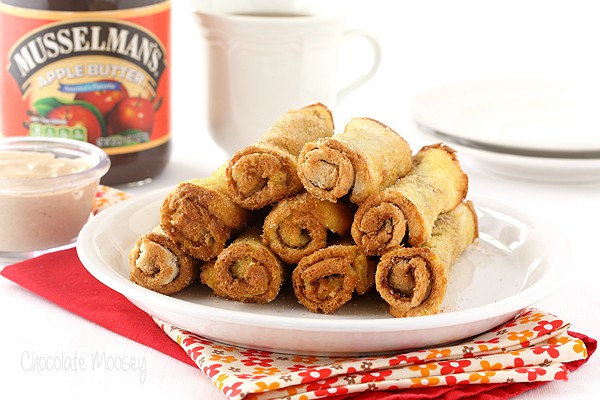 Apple Butter French Toast Roll Ups