Tired of boring hamburgers? Not anymore with these Sweet Chili and Pineapple Thai Burgers with a sweet chili aioli and pineapple salsa.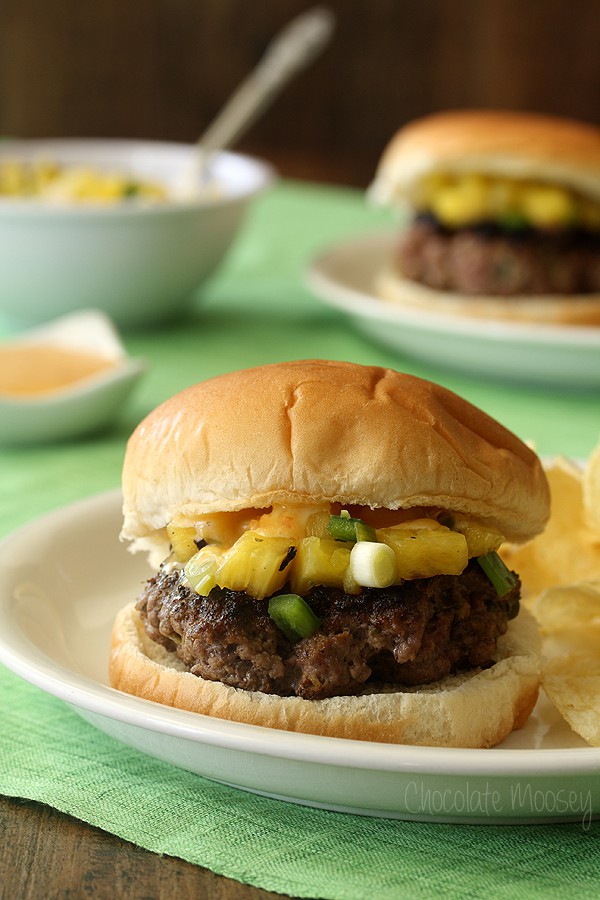 One of my favorite smells during the summer is fire. I know that probably sounds a little destructive, but I'm talking campfires and grilling where fire is your friend. I can recall hanging out around those flames then having that smokey smell linger on my clothes and hair. You almost want to bottle it forever (in fact, I believe there is a candle that smells like a campfire). When I smell the grill going off, I immediately think of hamburgers, which brings me to today's recipe of Sweet Chili and Pineapple Thai Burgers. I was invited to share a recipe during #BurgerWeek with
NoshOn.It
where I'm joining over 40 other bloggers to share burger recipes all week. You even have a chance to win some awesome grill prizes from Broil King. So if you're looking for more than just your average hamburger, keep reading for my favorite Thai burger recipe.

When I was invited to share a unique burger recipe, I didn't want to do a classic American burger. What flavors can I introduce to stand out? Pretty much my philosophy is when in doubt, add sweet chili sauce, so I thought about a Sweet Chili Aioli. Then soon I was going down the Thai route with lemongrass and a pineapple salsa.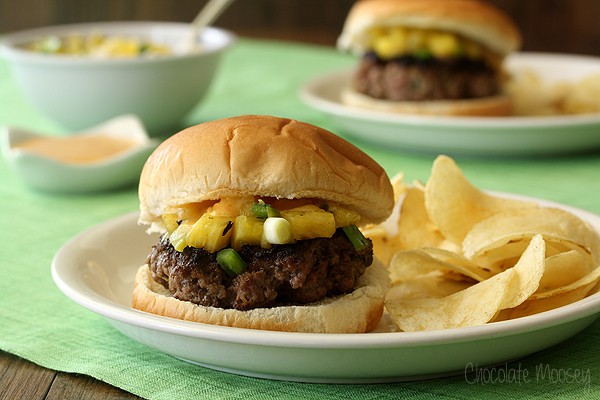 An aioli is a condiment that is very similar to homemade mayonnaise but with olive oil and garlic where as mayonnaise uses a neutral-tasting oil and no garlic. As you'll notice, there is a raw egg yolk in the recipe. Most people have healthy enough immune systems to be ok (how often have you gotten sick from raw cookie dough?), but I do caution to eat at your own risk. If you feel that the raw egg yolk will be an issue, you can easily whisk together sweet chili sauce and safe-to-eat mayonnaise. It won't be a true aioli, but the flavor will be very similar.
The pineapple salsa is a variation of my mango salsa. I thought about how often I eat coleslaw on my sandwiches – why not top my beef with some refreshing salsa? Since pineapple is sweet, I added a jalapeno to balance with some heat.

Sweet Chili and Pineapple Thai Burgers
Yield: 4

Prep Time: 1 hour

Cook Time: 20 minutes

Total Time: 1 hour 20 minutes
Ingredients
Pineapple Salsa
1 cup diced pineapple
1 whole green onion (roughly 1/4 cup chopped)
1 medium jalapeno pepper (roughly 1/4 cup chopped)
2 tablespoons lime juice (roughly 1 lime)
1 teaspoon basil paste or fresh chopped basil
Sweet Chili Aioli*
1 garlic clove
1/2 teaspoon salt
1 egg yolk, room temperature
1/2 cup olive oil
1/4 cup sweet chili sauce (homemade or store bought)
Burgers
1/2 pound ground beef, thawed
2 teaspoons lemongrass paste
1 tablespoon basil paste or fresh chopped basil
1 teaspoon soy sauce
1-2 tablespoons vegetable oil
4 hamburger buns
Instructions
Pineapple Salsa
In a large bowl, mix together the pineapple, green onion, jalapeno pepper, lime juice, and basil. Chill in the refrigerator while you finish making the burgers.
Sweet Chili Aioli
In a food processor with a blade attachment, add the garlic and salt. Process until the garlic is finely minced. Add the yolk and pulse a few times until combined (10-15 seconds).
With the motor running, slowly add the olive oil in a thin stream until completely combined (don't add too much at once or the mixture may break). Add the sweet chili sauce and process another 30 seconds. Chill in the refrigerator while you finish making the burgers.
To make the burgers
In a large bowl, mix together the ground beef, lemongrass, basil, and soy sauce. Form four patties, roughly 1/2-inch thick.
Heat 1 tablespoon oil in a medium skillet until hot**. Add two of the patties and cook 3 minutes. Flip and cook another 3-5 minutes until desired doneness. Remove from the pan. Add the remaining 1 tablespoon oil if needed and repeat with the remaining two patties. Serve each patty on a bun topped with the salsa and aioli.
Notes
Consuming raw eggs may increase your risk of foodborne illness. Eat at your own risk. Alternatively, you can combine some safe-to-eat mayo with sweet chili sauce for a mock aioli.[br][br]*Alternatively, you can grill the burgers over a gas or charcoal grill.
Want more? Try out these recipes:

Homemade Sloppy Joe Sandwiches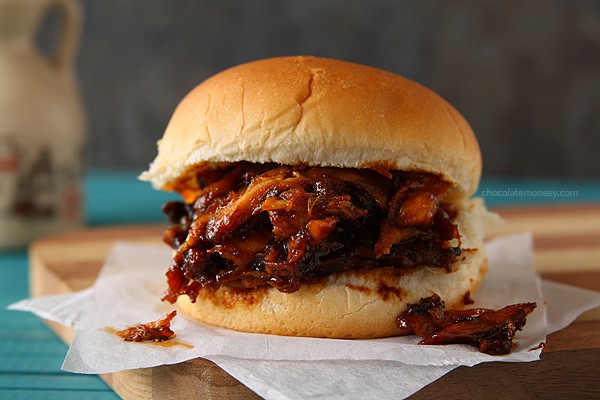 Maple BBQ Pulled Chicken Sandwiches

Guinness Pulled Pork Sandwiches

Herbed Cream Cheese Grilled Bell Pepper Boats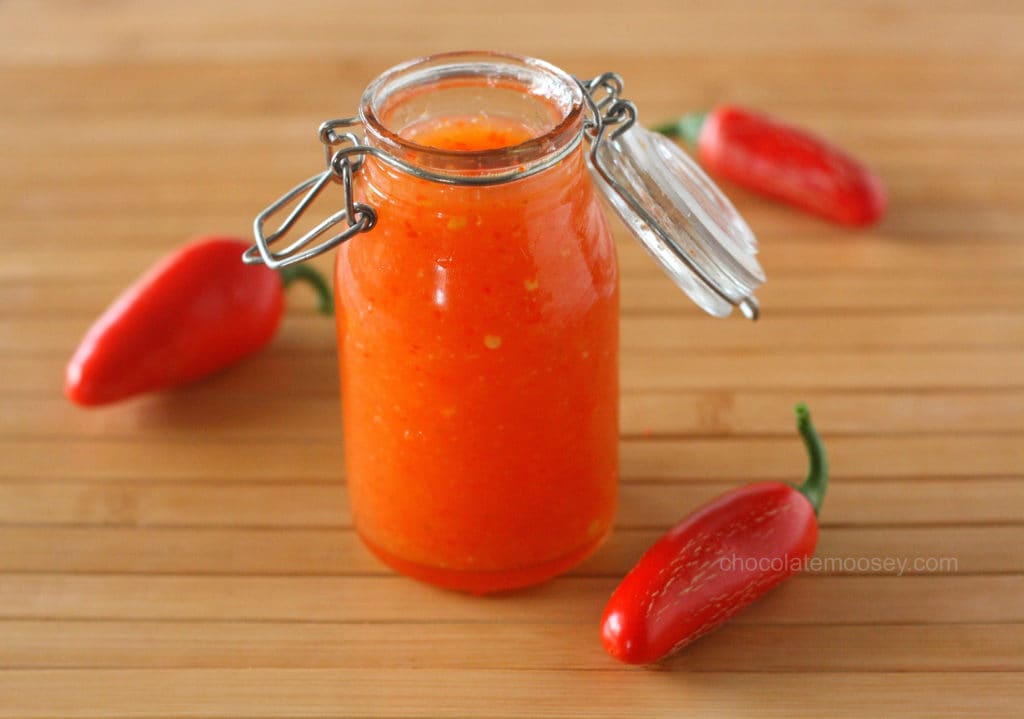 Sweet Chili Sauce

Homemade Ketchup and Mustard (with no corn syrup)
Looking for more burger recipes? Here are six more bloggers celebrating #BurgerWeek with me:
Do you want to become a grilling pro? Need a new grill? #BurgerWeek sponsor Broil King wants to give you the chance to win one of their high-performance gas grills (a $549+tax value) plus burger grilling accessories to use in your home!
Made entirely in North America, every one of Broil King's gas grills are made of the highest-quality materials and engineering that allows you the versatility to sear the perfect burger or steak, roast chicken or vegetables, or even bake a dessert right on the grill. Their grills are already in more Canadian backyards than any other brand and they're available in the U.S. at Lowe's and many other retailers! To enter to win your own Broil King grill, just click on the banner above to be taken to the entry page.