S'mores Cookie Crumb Bars turns the traditional s'mores into an irresistable dessert by replacing the graham crackers with two cookie layers while still sandwiching marshmallows and chocolate in the middle.

Do you ever get tired of me talking about the same things over and over again? Like my love for s'mores – it's always toasted marshmallow this and melted chocolate that. Well I'm back at it again with these S'mores Cookie Crumb Bars. I wish I had something new to say, like this is my favorite s'mores recipe (but so is
this
,
this
, and
this
). That this is my final s'mores recipe (but it's not because I have a million more ideas to share). Maybe I should start a S'mores Fan Club or something. Regardless of my obsession, I bring to you one of the best cookie bar recipes you'll ever need.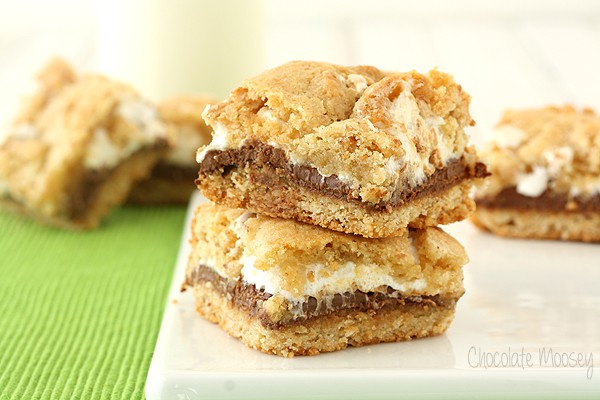 These cookie bars are like a traditional s'mores but in cookie form – the iconic Hershey's bar and marshmallow fluff sandwiched between two graham cracker cookie layers (rather than just the cracker itself). The cookie layers remind me of a chocolate chip cookie but with graham cracker crumbs instead of chocolate chips.
The first time I made these bars, I used large marshmallows for the middle layer. I wanted the layer to be thick just like my
Crispy Peanut Butter Marshmallow Brownies
. Um yea don't do that. The marshmallows puffed up so much, I had marshmallows and batter all over the bottom of my oven. Although the bars were still perfectly edible, it made quite the mess plus the top layer sunk into the gaps between the marshmallows. The second batch I used marshmallow fluff, which not only kept the top from sinking but also didn't puff up too much.
Confession – you don't actually toast the marshmallow fluff in this recipe, so I hope you forgive me for that small technicality. I hope you find it in your heart to forgive me (you know, after baking up a pan or two).
S'mores Cookie Crumb Bars
Ingredients
1 1/2 cups all purpose flour
3/4 cup graham cracker crumbs
1 teaspoon baking powder
1/4 teaspoon salt
1/2 cup (1 stick or 4 ounces) unsalted butter, softened
3/4 cup granulated sugar
1 egg
1 teaspoon vanilla extract
5 chocolate bars (1.55 ounces each)
2 cups marshmallow fluff (roughly 7 ounce jar)
Instructions
Preheat oven to 350F. Line an 8x8 pan with parchment paper or lightly grease the pan.
In a large bowl, whisk together the flour, graham cracker crumbs, baking powder, and salt.
In another large bowl, beat together the butter and sugar until light and creamy, roughly 2-3 minutes. Beat in the egg and vanilla until smooth, roughly 1 minute. Gradually add the flour mixture and beat just until incorporated and a dough forms.
Reserve 1 1/4 cup of the dough. With the remaining dough, pat into the bottom of the pan. Top with the chocolate bars, laying down four whole bars and breaking up the last bar to fill in the gaps. Spread the marshmallow fluff on top of the chocolate. Top with the reserved dough, pressing the dough together to cover as much as you can.
Bake for 30-35 minutes or until lightly browned and a toothpick inserted in the top cookie layer comes out clean. Cool completely before removing and cutting.
Source: Adapted from
Hershey's Chocolate Lover's Cookbook
—-
Want more? Here are s'mores recipes you will also want to make: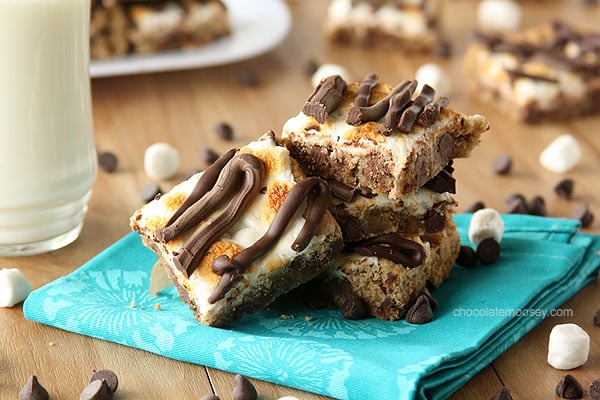 S'mores Chocolate Chip Cookie Bars