Delicate Baked Carrot Cake Doughnuts topped with cream cheese frosting and chopped walnuts will bring smiles to your brunch table as you sit down with your cup of coffee.
Welcome back to Brunch Week, hosted by
Susan of The Girl In The Little Red Kitchen
and
Terri of Love And Confections
. If you missed day one, you will definitely want to go check out my
Banana Coconut Milk Pancakes
and enter to win some awesome prizes.
I don't know about you, but when I hear brunch, I immediately think about pastries, especially doughnuts. I knew I wanted to develop a baked doughnut recipe, but what kind? Soon my mind went to these Baked Carrot Cake Doughnuts. Dipped in cream cheese frosting then sprinkled with chopped walnuts, these beauties belong on your brunch table next to your coffee. The best part? You only need 60 minutes from start to finish.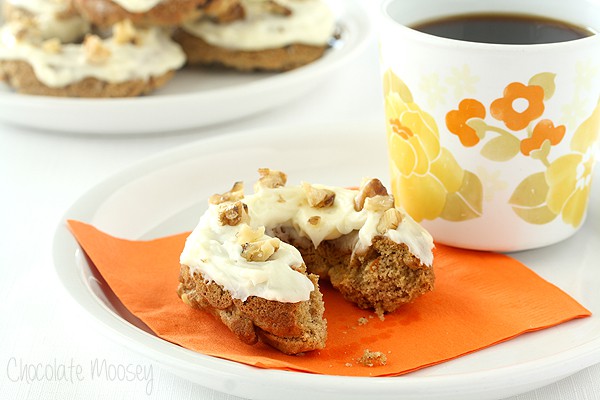 My mind has been carrot cake obsessed for the past month –
carrot cake cinnamon rolls
,
carrot cake drop cookies
, even my
carrot cake cheesecake
from last year. Really though – what else do you immediately think of when you have a bag of shredded carrots, begging to be used? If you do use pre-shredded carrots, you may want to chop them into smaller pieces for this recipe so they are more evenly distributed in the batter. If you're using whole carrots, shred them finely with either a grater or your food processor. Make sure you press out any excess liquid that may occur from shredding.
Normally with baked doughnut batter, you'd pipe it into the pan. However, I knew the raisins and walnuts would get stuck in the pastry bag, so I just carefully spooned in the batter. I remember the first time I made doughnuts with chocolate chips in the batter. 10 seconds after attempting to fill the pan, a chocolate chip clogged the tip. So unless your piping tip is huge, save yourself the headache. Trust me.
If you're looking for a fried doughnut recipe, please don't use this recipe. Baked doughnut batter is meant to be "runny" like cake batter, not sturdy like bread dough that you roll out. That's why you use
a doughnut pan
because the batter needs a mold of some sort. That also means these doughnuts have a cake-like texture, not a fried dough texture that you'd expect from a fryer. Some people argue that these aren't true doughnuts. That's ok – more doughnuts for us to eat.
Items You May Need (Amazon affiliate links):
Carrot Cake Baked Doughnuts
Ingredients
Doughnuts
1 1/4 cups all purpose flour
1/2 teaspoon baking powder
1/2 teaspoon baking soda
1/4 teaspoon salt
1 teaspoon ground cinnamon
1/4 teaspoon ground nutmeg
1/4 teaspoon ground clove
4 tablespoons (2 ounces) unsalted butter, softened
1/3 cup brown sugar
1 egg
1/4 teaspoon vanilla extract
1/4 cup sour cream
1/2 cup finely shredded carrots
1/4 cup raisins
1/4 cup chopped walnuts
Cream Cheese Frosting
2 ounces cream cheese, softened
2 tablespoons unsalted butter, softened
Pinch of salt
1/4 cup powdered sugar
1 tablespoon milk
1/4 cup chopped walnuts
Instructions
For the doughnuts:
Preheat oven to 375F. Lightly grease two six-cavity doughnut pans*.
In a medium bowl, whisk together the flour, baking powder, baking soda, salt, cinnamon, nutmeg, and clove.
In a large bowl, beat together the butter and brown sugar until creamy and smooth. Beat in the egg and vanilla until fully incorporated then beat in the sour cream. Gradually add the flour mixture then stir in the carrots, raisins, and walnuts.
Fill each cavity in the pans about half full with the batter. Bake 10-12 minutes or until firm and a toothpick inserted comes out clean. Cool for 5 minutes in the pan then remove to a cooling rack. Cool completely.
For the frosting:
In a mixing bowl, beat together the cream cheese, butter, and salt until creamy and smooth. Gradually add the powdered sugar then add the milk. Beat until smooth.
Dip (or spread with a knife) each cooled doughnut into the frosting then top with chopped walnuts.
Notes
*If you only have one doughnut pan, bake the first six doughnuts, remove them from the pan as directed, then cool the pan in the refrigerator for 5 minutes before reusing.



Source: Adapted from Inside BruCrew Life

More Spring Dessert Recipes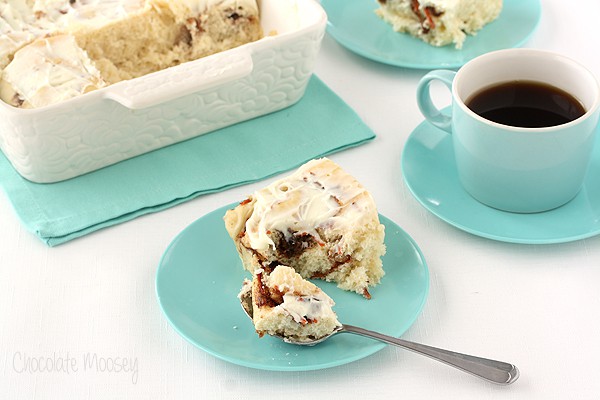 Carrot Cake Cinnamon Rolls
Brunch Week Recipes
Brunch Beverages:
Brunch Eggs:
Brunch Mains:
Brunch Sides:
Brunch Breads and Desserts: