These simple yet unforgettable Baked Vanilla Bean Doughnuts will make vanilla your new favorite flavor.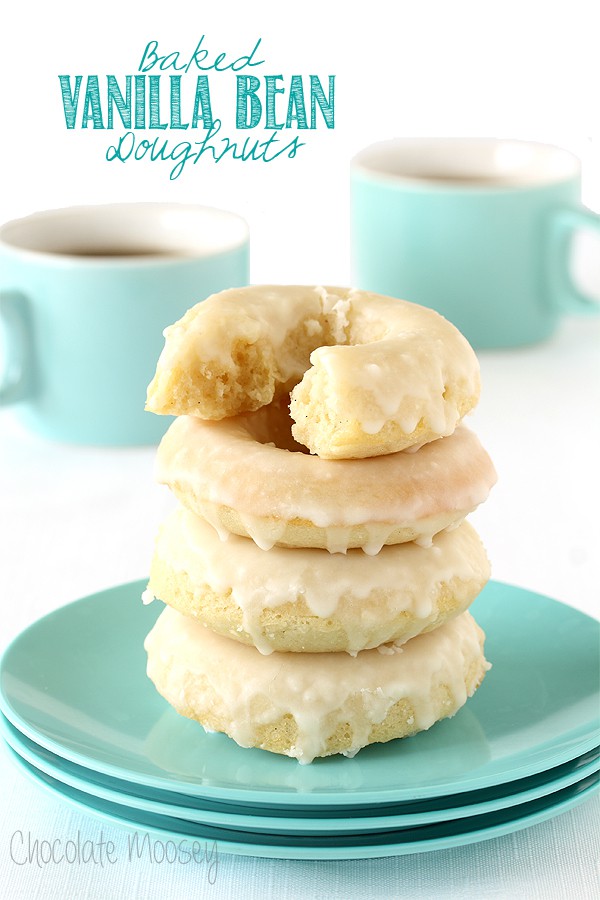 If you had to pick one dessert to describe your personality, what would it be?
Maybe you're traditional like chocolate chip cookies or a little bit sassy like a fruit tart.
Maybe you're intense like Chocolate Chili Cookies.
Or maybe you're simple like these Baked Vanilla Bean Doughnuts.
My challenge was to create a simple yet not boring recipe focusing on vanilla. Trust me when I say this – these doughnuts will change your mind about liking vanilla.
If you've been reading my blog for awhile, you probably know I'm not exactly simple when developing recipes, so this was a fun challenge for me.
What can I make with vanilla that is simple yet unforgettable? After all, simple does not equal boring.
I chose to make doughnuts (or is it donuts?) in my baking pan since they take little effort to make.
Make the batter, pipe into pan, bake 10 minutes, done.
If you wake up early enough, I bet you could have these ready in time for breakfast.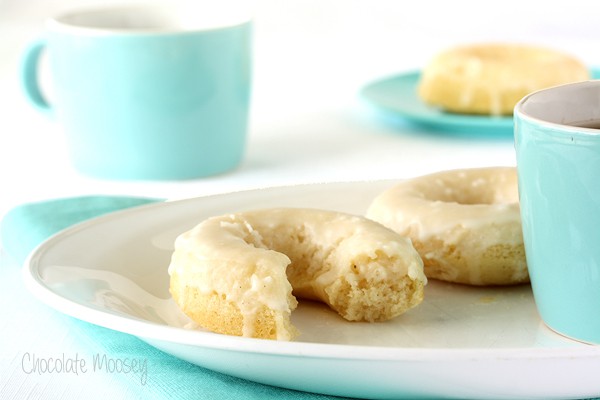 Vanilla is one of those ingredients where you need to buy high-quality vanilla. Look for the bottle that says pure vanilla extract and not imitation vanilla extract.
I promise it's worth those extra couple of bucks.
Next you'll need to buy vanilla beans.
Don't bother buying any from the store because they are expensive; it's much cheaper to buy online.
If you say you don't like vanilla, chances are you never had vanilla bean before.
Ice cream is the perfect example. There's boring vanilla ice cream from an ice cream stand, then there's homemade vanilla bean ice cream.
These tender baked doughnuts are speckled with vanilla bean, which kicks up the vanilla flavor a notch.
Maybe I should've called them Triple Vanilla Doughnuts because you have vanilla bean and extract in the batter then a vanilla glaze on top.
Baked Vanilla Bean Doughnuts
These simple yet unforgettable Baked Vanilla Bean Doughnuts will make vanilla your new favorite flavor.
Ingredients
1 1/3 cups all purpose flour
1/2 teaspoon baking powder
1/8 teaspoon baking soda
1/4 teaspoon salt
4 tablespoons unsalted butter, softened
1/2 cup sugar
1 vanilla bean, split in half down the middle longways and seeds scraped into a bowl (discard the pod)
1 egg
1 teaspoon vanilla extract
1/2 cup milk
Glaze
1 cup powdered sugar
Pinch of salt
3-4 teaspoons milk
1/4 teaspoon vanilla extract
Instructions
Preheat the oven to 375F. Lightly spray two baked doughnut pans.*
In a medium bowl, whisk together the flour, baking powder, baking soda, and salt.
In a large mixing bowl, beat together the butter and sugar until creamy, about 2-3 minutes.
Beat in the vanilla bean seeds, egg, and vanilla extract until incorporated then add the milk.
Gradually beat in the flour mixture until just incorporated.
Spoon the batter into a pastry bag** then pipe into each doughnut cavity, being careful not to fill it too full.
Bake 8-10 minutes or until a toothpick comes out clean. Cool 5 minutes then remove from the pan and finish cooling on a cooling rack.
For the glaze: In a medium bowl, whisk together the powdered sugar, salt, 3 teaspoons milk, and vanilla until smooth. If it's too thick for a glaze, add the extra teaspoon of milk.
Once the doughnuts are completely cool, dip the tops of each doughnut into the glaze and let the excess drip off. Let the glaze harden before serving. Store in an airtight container for up to 1 week.
Notes
-If you only have one doughnut pan, bake the first six doughnuts. Once you remove them from the pan, cool in the fridge for 5 minutes then finish baking the remaining doughnuts.
-It's easiest to pipe the batter into the pan using a pastry bag fitted with a large round tip, but you can also carefully spoon in the batter.
Recommended Products
As an Amazon Associate and member of other affiliate programs, I earn from qualifying purchases.