This easy Guinness Shepherd's Pie For Two recipe is a comforting meat and potatoes dish made with ground lamb or beef, mashed potatoes, and Guinness stout beer. Serve it as a dinner for two for St. Patrick's Day.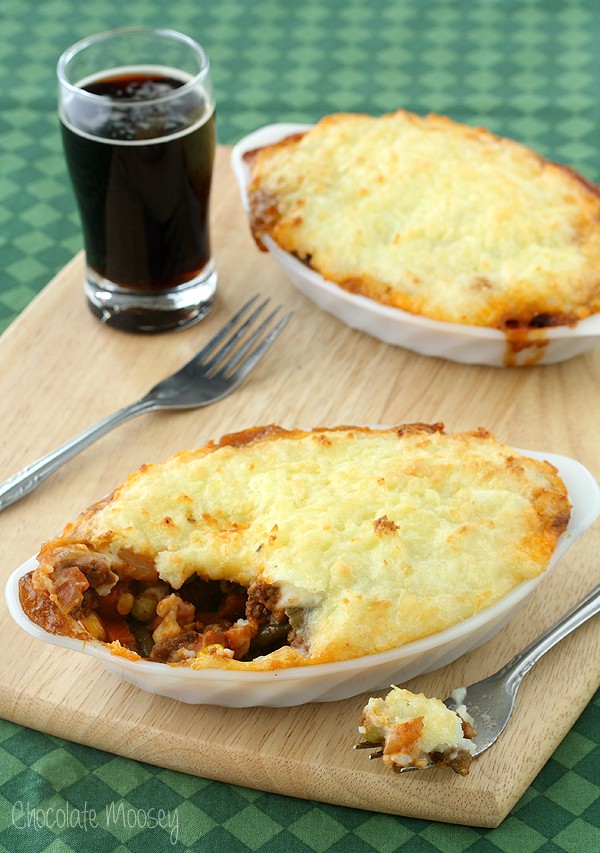 Do you have that one recipe where no matter how many times you make it, you know everybody will be happy? The one you rely on when you don't know what else to make?
That, for me, is Guinness Shepherd's Pie For Two. There's just something comforting about meat, creamy mashed potatoes, and beer.
I remember one time when my parents and brother were visiting and I was planning the menu.
First I asked Mom what she wanted. Shepherd's pie. Then I asked Dad. Shepherd's pie.
Looks like I was making shepherd's pie (again).
Even though I've been making this recipe for years, I've never actually shared it until now (mainly because it's a tough dish to photograph).
Usually if I'm cooking for my family, I make a large shepherd's pie. However, that's only when they visit.
When I'm cooking for myself, I make this scaled down Guinness Shepherd's Pie For Two recipe. You can make it in two mini casserole dishes, one 6×2 round cake pan, or a 1 quart casserole dish.
Serve it with Irish Soda Bread (Small Loaf) for a hearty St. Patrick's Day dinner for two.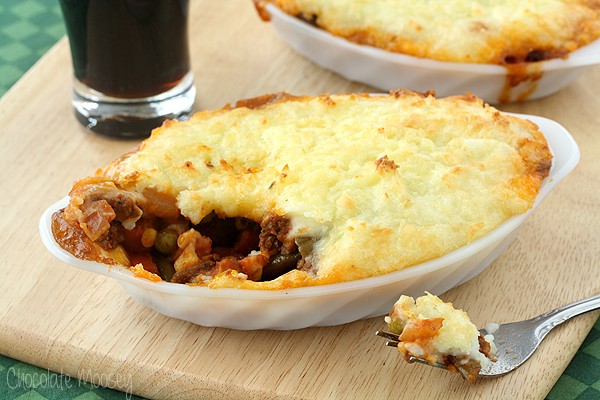 I remember when Dad and I traveled to Nashville in 2009. There was an Irish pub just up the hill from our hotel (which is now closed).
Now I've been looking for an Irish cider called Bulmers ever since I returned from Ireland in 2007 and was hoping they'd serve it.
For dinner Dad ordered shepherd's pie while I ordered fish and chips. Unfortunately no Bulmers.
Now when I think of shepherd's pie, I don't think of anything special. I don't even think I ate it in Ireland.
However, Dad fell in love with his dish and kept talking about it.
Do you know how to make this? Can you make this? When are you going to make this? What do you need to make this?
So, I went to my best friend Google and searched for a recipe. The squeaky wheel gets the shepherd's pie.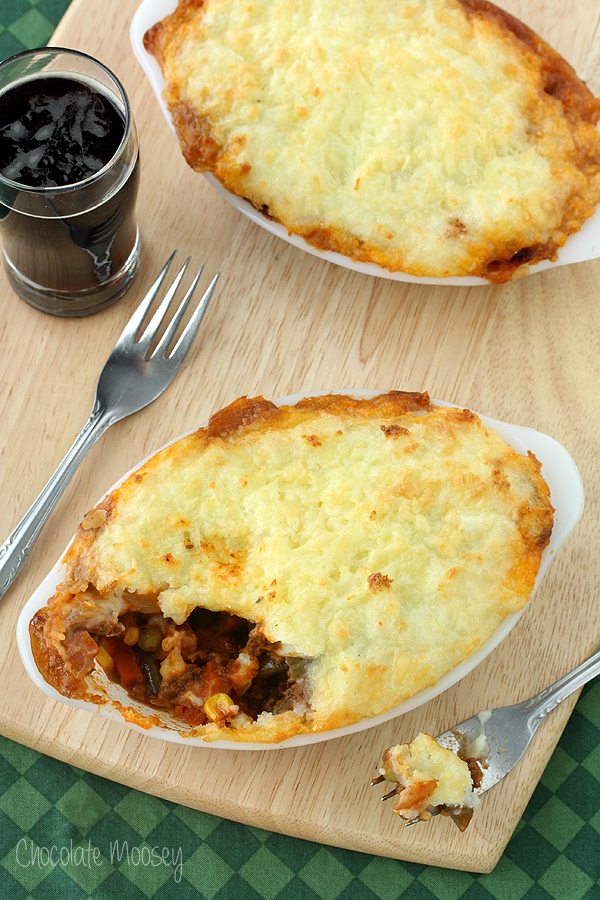 This isn't meant to be a copycat version from that pub. In fact I couldn't tell you anything about the pie Dad ate that night.
All I know is I found this version with Guinness and have adjusted it to make it my own over the past few years.
If my family had a list of top five dishes to eat for dinner, this easy shepherd's pie recipe is definitely up there.
What do you put in shepherd's pie?
The ingredients for easy Guinness shepherd's pie for two are ground meat, vegetables in a tomato sauce, and a mashed potato topping.
I'm not sure which exact vegetables are in traditional shepherd's pie, so I went with carrots, corn, peas, and green beans.
What is the difference between cottage pie and shepherd's pie?
As you can see by the comments below, my version is technically a cottage pie.
The difference between a shepherd's pie and a cottage pie is a shepherd's pie uses ground lamb while a cottage pie uses ground beef.
The best way to remember this is a shepherd looks after sheep, hence lamb in shepherd's pie.
I stuck with the name shepherd's pie even though I used beef because nobody in the US knows what a cottage pie is.
I don't think I've ever seen cottage pie on a menu; I've always seen shepherd's pie made with beef.
I hate the name isn't 100 percent accurate, but I'm going with the majority on this one.
If you are a purist, use ground lamb. If you don't care, use ground beef. Whichever meat you choose, it's still going to be delicious.
Is shepherd's pie gluten free?
Some recipes use flour to thicken the sauce. My shepherd's pie is made without flour, making it a gluten free shepherd's pie.
The sauce thickens by cooking it down until it reduces and thickens.
Make sure you double check your Worcestershire sauce. Some brands are gluten free while others are not.
How To Make Shepherd's Pie For Two
There are two parts to making this easy shepherd's pie for two recipe: the filling and the mashed potatoes.
First, put your cubed potatoes into a large pot of salted water then bring to a boil. This will cook while you make the filling.
Next, in a large skillet make your meat filling. Brown the meat until no longer pink then drain off the grease.
After the meat is cooked, make the tomato sauce. The sauce is thickened by reducing the liquid by half rather than adding flour. This allows the alcohol to cook off while leaving behind its delicious stout flavor.
Meanwhile, the potatoes should be done. Drain then make mashed potatoes.
When you're ready to assemble, add the filling to your dish then top with mashed potatoes.
Making Shepherd's Pie In Advance
Guinness shepherd's pie for two can take awhile to make and bake. Luckily you can cut down on prep time by preparing it in advance.
You can make and refrigerate the meat filling ahead of time then prepare the mashed potatoes right before baking.
Or you can assemble the dish fully but don't bake it. Instead, wrap it in plastic wrap then refrigerate up to a few days prior to eating. You may need to add some extra bake time to make up for the dish being cold.
How To Make Shepherd's Pie Without Guinness
One question I get often is: Can I make shepherd's pie without the beer? The answer is yes!
Guinness adds a special flavor to the beef and most of the alcohol does cook off, but it's still comforting and delicious without it. Here's how you make shepherd's pie without beer.
Substitute an extra 1/2 cup beef broth or stock. When the directions say to add the beer and reduce, skip that part. Add the Worcestershire sauce and thyme to the beef broth then reduce until thickened.
I posted the non-alcoholic version in my Shepherd's Pie Twice Baked Potatoes recipe if you want to refer to it.
How To Bake Shepherd's Pie
As you can see, I scaled this version down for two people. Because I cook alone, I eat one for dinner and the other for lunch the next day.
I bought the mini casserole dishes in the photos from a thrift store. However, after moving multiple times since, I no longer own them.
I retested the recipe and confirmed you can also bake shepherd's pie for two in a 1-quart casserole dish, one 6×2 inch round cake pan, or two 14-ounce ramekins.
What To Serve With Shepherd's Pie
Now that your main dish is in the oven, what do you serve with shepherd's pie?
If you want to stick with the St. Patrick's Day theme, serve it with Irish Soda Bread or Irish Soda Bread Muffins.
Since shepherd's pie is a heavy dish, you can also serve it with something lighter like Really Good Freekeh Salad.
Recipes Using Leftover Guinness Beer

Because you will have leftover beer after making this recipe, here are some ways to use it all up:
In the mood for a snack with your extra potatoes? Check out my Salt and Vinegar Chips and BBQ Chips.
Guinness Shepherd's Pie For Two
Total Time:
1 hour
30 minutes
Easy Guinness Shepherd's Pie For Two recipe is a comforting meat and potatoes dish made with ground lamb or beef, mashed potatoes, and Guinness stout beer.
Ingredients
1 pound Russet potatoes, peeled and cubed (roughly 3-4 small or 2 large potatoes)
1 teaspoon vegetable oil
1/2 pound (8 ounces) ground beef or ground lamb
1/2 cup chopped white or yellow onion
Salt, to taste (preferably kosher salt)
1 garlic clove, minced
One 8-ounce canned tomato sauce (roughly 1 cup)
1/2 cup beef broth or stock
1/2 cup stout beer, such as Guinness (or more broth for non alcoholic)
2 cups frozen vegetable medley (carrots*, peas, corn, and green beans)
1 tablespoon Worcestershire sauce
1 tablespoon fresh thyme or 1 teaspoon dried thyme
1/4 cup (4 tablespoons or 2 ounces) unsalted butter, softened
1/4 cup whole milk
3/4 cup shredded cheddar cheese
Instructions
Preheat the oven to 350F. Have two 12 or 14-ounce ramekins, one 6x2inch round cake pan, or one 1-quart casserole dish ready.
Add potatoes to a large pot with a handful of salt. Bring to a boil. Let this heat up while you cook the meat filling.
Heat the oil in large skillet (preferably 12 inch) until hot. Once hot, add the meat, onion, and a big pinch of salt. Cook until the beef is browned, about 5-8 minutes.
Add the garlic and cook 1 minute. Drain off the grease.
Add the tomato sauce, stock, beer, vegetables, Wocestershire sauce, and thyme. Bring to a boil.
Turn the heat down to a simmer and cook until the liquid has reduced by half and thickened, stirring occasionally, about 10-15 minutes. Taste and adjust for salt.
By now the water for the potatoes should be boiling. Turn the water down to a simmer and cook until fork tender, about 8-10 minutes. Drain and cool.
Mash the potatoes either by hand with a potato masher or with a mixer. If using a stand mixer, do not overbeat. Add the butter, milk, 1/2 cup cheese, and 1/2 teaspoon salt. Taste and adjust for salt.
Once the meat mixture is done cooking and the potatoes are mashed, add the meat to the dish/pan you're using. Top with mashed potatoes then top with the remaining 1/4 cup cheese. Bake for 30-45 minutes or until golden brown and bubbly. Let cool for 15 minutes then serve warm.
Notes
Complete your meal with Small Irish Soda Bread.
*You can also substitute 1 large carrot, diced. Add it with the onion to cook.
**To make shepherd's pie ahead of time, fully assemble the dish right before baking. Cover and refrigerate for up to a few days before serving. Bake as directed, adding extra time if needed.
Recommended Products
As an Amazon Associate and member of other affiliate programs, I earn from qualifying purchases.
Source: Adapted from
The Goddess's Kitchen