Irish Soda Bread Muffins – moist buttermilk muffins with raisins – are a great nod to Ireland plus uses up leftover buttermilk you may have sitting in your fridge.
Every year around this time, I get a little "homesick" for Ireland. It's hard to believe it's been 7 years since I spent four months studying abroad in Limerick.
It was my first time cooking for myself, which is how this blog got started.
I miss walking to campus through what felt like a tunnel of green trees and feeling so tranquil.
I miss walking to the abandoned castle off of campus and hanging out for the afternoon.
I even miss walking 20-30 minutes one way to the grocery store.
If there's one thing I regret, I wish I had taken more pictures of the little details.
Someday I hope to travel back and rent a car to really explore. Although that's going to be fun trying to drive on the left side of the road with the driver's side on the right side of the car (the passenger's side).
To help keep the memories of Ireland alive, I make Irish-inspired food, although these Irish Soda Bread Muffins are a bit of a stretch from traditional Irish soda bread.
Whether you are purist or open to interpretation, I don't think you can say no to these muffins.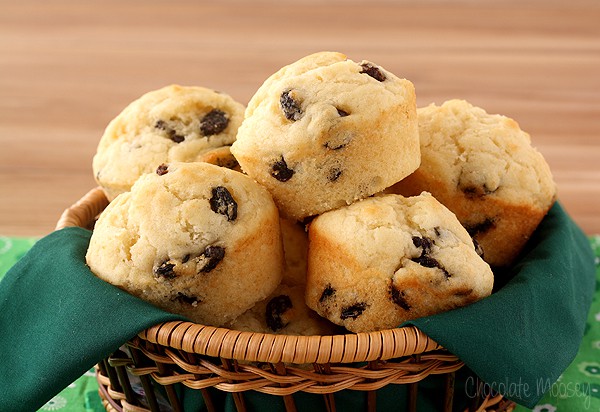 Now I know traditional soda bread is only flour, buttermilk, and baking soda. Even the raisins that I love adding aren't technically traditional.
However, if you can look past that, these muffins make a great breakfast or snack.
They aren't too sweet except for the little bit of sugar sprinkled on top (which I forgot the first time I made them).
The muffins are also more moist than soda bread, so no butter necessary.
It doesn't need to be
St. Patrick's Day
either to make them.
Make them for breakfast, brunch, snack, Mother's Day, Father's Day, Tuesday, Sunday, any day really.
Got leftover buttermilk? This recipe will take care of it.
Irish Soda Bread Muffins
Yield: 1 dozen

Prep Time: 30 minutes

Cook Time: 15 minutes

Total Time: 45 minutes

Irish Soda Bread Muffins are moist buttermilk muffins with raisins – are a great nod to Ireland plus uses up leftover buttermilk you may have sitting in your fridge.
Ingredients
2 1/4 (281 grams) cups all purpose flour
1/2 cup (104 grams) + 1 tablespoon granulated sugar
2 teaspoons baking powder
1/2 teaspoon salt
1/4 teaspoon baking soda
1 egg, room temperature
1 cup (236.5 mL) buttermilk, room temperature
1/4 cup (2 ounces, 58 grams, or 4 tablespoons) unsalted butter, melted
1/4 cup (60 mL) vegetable oil
1/2 cup (60 grams) raisins
Instructions
Preheat oven to 400F/200C. Grease a 12-cup muffin pan.
In a large bowl, whisk together the flour, 1/2 cup sugar, baking powder, baking soda, and salt.
In a large measuring cup or bowl, beat together the egg, buttermilk, melted butter, and oil.
Gradually stir the buttermilk mixture into the flour mixture until moistened. Stir in the raisins.
Fill each muffin cup about three-fourths full. Sprinkle the tops with the remaining 1 tablespoon sugar.
Bake 15-18 minutes or until a toothpick inserted in the center comes out clean. Cool 5 minutes before removing from the pan. Serve warm or cool to room temperature. Store in an airtight container.
Source: Adapted from Taste Of Home