Whether you're impressing a date or treating yourself, Pistachio Pudding from scratch is a luscious small batch dessert that makes two servings. The hardest part is deciding if you should share.
Valentine's Day is coming up, and today
Sunday Supper
is focusing on Recipes For Two. For the average person, it means a romantic evening without leftovers. For me, it's how I cook everyday. It's practically my expertise since I've been cooking for myself since 2007. One of the hardest parts about cooking for one is dessert. Cinnamon rolls, cupcakes, cookies, ice cream. Not exactly one or two servings. However, some desserts do scale down well. Today's recipe for Pistachio Pudding from scratch serves two – one for you, one for your Valentine. Or if you're like me – one for now, one for later.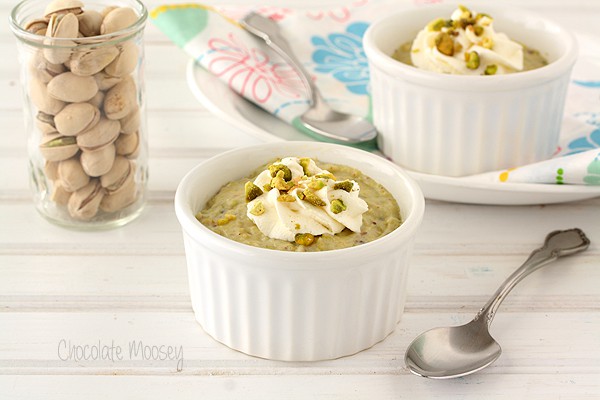 Pistachio pudding is probably my favorite pudding, so I've been dying to try it from scratch for years now. When I needed pistachios for my
Goat Cheese Truffles
, I knew immediately I was making pudding with the extra nuts. Then the challenge – how exactly do you make instant pudding from scratch and still retain that pistachio flavor? The answer – homemade pistachio paste. Grind up the nuts in a food processor with some sugar and water then it's off to make the pudding.
As you can see, it's not exactly a pretty green color like its boxed cousin, but it tastes phenomenal. So good that I'm glad I didn't have to share. I did take whatever I didn't eat and made Watergate Salad, which I love more than the pudding itself. The recipe is coming soon, but it's pretty much pistachio pudding with whipped cream, pineapples, walnuts, and a few other things folded in.
Pistachio Pudding For Two (From Scratch)
Ingredients
1/4 cup + 2 tablespoons salted pistachios, shelled and chopped
1/4 cup granulated sugar
1 tablespoon water
1 cup whole milk
1 egg yolk
1 tablespoon cornstarch
Pinch of salt
1/2 teaspoon vanilla
1 tablespoon butter
Whipped cream, for garnish
Instructions
In a food processor, grind up 1/4 cup pistachios until they are in tiny pieces. Add 2 tablespoons sugar and water then grind until a paste forms.
Scrape the paste into a medium saucepan then add the milk. Heat until hot and it starts to steam, whisking often.
Meanwhile, in a small bowl whisk together the remaining 2 tablespoons sugar, egg yolk, cornstarch, and salt. Add a little bit of the hot milk, whisking constantly. Pour the entire yolk mixture into the saucepan.
Continue cooking the mixture until thick and bubbly, whisking constantly. Remove from the heat and whisk in vanilla and butter. Whisk until the butter has melted.
Divide the pudding between two ramekins, cover with plastic wrap, and chill for at least 4 hours. When ready to serve, garnish with whipped cream and remaining 2 tablespoons pistachios.
Source: Adjusted from
Joy The Baker
—-
If you liked this Pistachio Pudding From Scratch recipe, you may also like these recipes:
From me: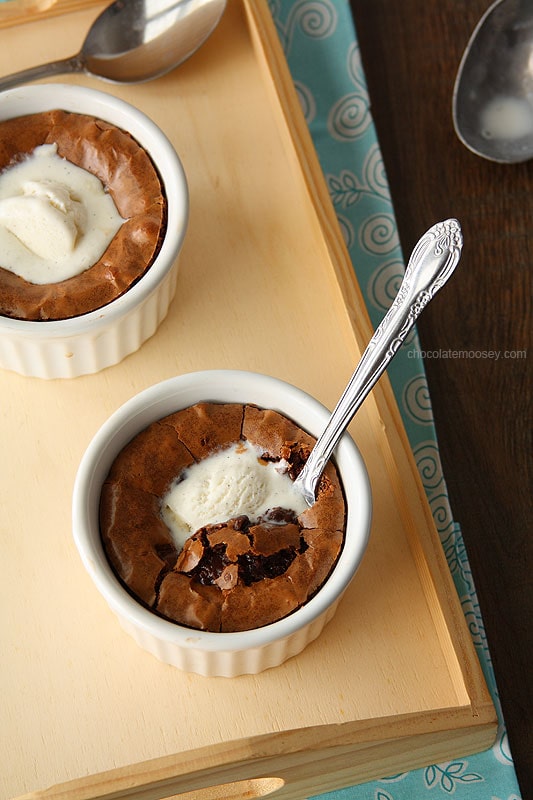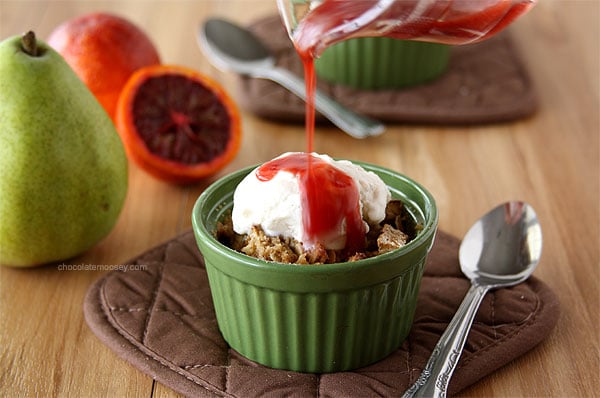 Be sure to follow my Dinner and Dessert For Two Pinterest board for ideas all in one place.