I'm documenting my journey in menu planning and sharing what I've learned along the way.

As I said in the beginning of the year,
one of my goals for 2014
is to be better at menu planning. I was trying to figure out how to tie that into my blog, not only to hold me more accountable but to also share tips and recipe ideas with you. With that, I am going to try a new series called Moosey's Menu Planning where I share what I ate for dinner and my successes and mishaps of planning along the way. This isn't me making a menu for you to follow. Rather, this will be a journal of what I ate the few weeks prior to a new post. My goal is to give you recipe ideas for your own menu plus maybe learn some tips along the way.
The Challenge
Just to give you some background (in case you haven't read my about page), I am single and live by myself. No family, no relationships, no friends coming over, just me, so you'll notice a lot of these recipes are either scaled down or I don't make a full meal (you'll notice I'm really bad at not making side dishes. Baby steps!). I also work a full time job, so my goal is to have dinner ready in an hour from the time I open the front door to the time I sit down and eat. However, just because I cook a recipe for two servings doesn't mean you can't go ahead and double it. For example, fajitas are a pretty simple dinner. A family of four can still have the same exact fajitas I'm eating; you just need to buy more ingredients. I know that sounds like a duh moment, but I wanted to show the connection no matter how many people you cook for. Everyone is at different levels of cooking, and sometimes the obvious needs to be said :)
I think the hardest part is simply getting started. Where do you even begin?! I was coming back from the holidays to a bare fridge (I was gone for a week and a half at my parents, so prior to leaving I used up a lot of what I had). I felt a little overwhelmed with so little food, so I focused on what I did have – some proteins in the freezer: beef, shrimp, ground chicken, and chicken quarters. From there I started writing down what I could possibly make then narrowed that list down and assigned days, grouping dishes that used similar ingredients together. For example, I knew several dishes used scallions, so I put those in the same week. Then I had a recipe using cauliflower, and I knew I would use my head for two recipes (any leftovers would be roasted for a side), so I put those two recipes in the same week.
Here's another curve ball – I do the bulk of my grocery shopping at several discount stores and Wal Mart on the weekend. Because they are about a 40 minute drive on the other side of the mountain, I don't go every weekend. So now I have to menu plan for two, possibly three weeks at a time. Yes, there is a grocery chain store and a discount store in town, but the prices are a little more money than where I normally shop. I know I can't completely avoid them (like if I run out of milk on Wednesday), but the better I plan, the less money I have to spend on "convenience" in a small town. For example, coconut milk at the grocery chain store is twice as much money as it is at Wal Mart, and the discount store in town sure doesn't carry it. Because coconut milk is canned and I don't need to buy it fresh (like produce or dairy milk), I can stock up on it when I do go to Wal Mart.
Recipes At A Glance
To see a complete list of recipes from all of the menu planning series, please check out the Moosey's Menu Planning Pinterest board.
The Menu
Here's what I ate the past two weeks:
1/1/14: My parents made an early dinner of kielbasa, rice meatballs, sauerkraut, and mashed potatoes before I got on the road to go back to my place. I took some leftovers back with me for later.
1/2/14: I had some beef and tortillas in the freezer, so I made fajitas. I rubbed my
fajita seasoning
onto my beef and broiled it (electric broilers are so not the same as gas). Meanwhile, I cooked some bell peppers, onions, and canned mushrooms on the stove (because I didn't have any fresh). Sauteing them in some olive oil helps get rid of that canned flavor. After the veggies are done, I toss in some more fajita seasoning then add the cooked beef. Instead of sour cream, I used ranch dressing. Yes, I use ranch a lot. I had some filling leftover, so I packed it for lunch the next day.
1/3/14: Today I had planned shakshuka, but because I bought lunch at work (usually on Fridays), I ate my leftover fajitas for dinner.
1/4/14: I had one uncooked lamb chop leftover from Christmas dinner, so I rubbed it with some salt and pepper then pan-fried it until medium-rare. I had some steam-fresh vegetables leftover from lunch on Thursday, so I ate those along with the lamb.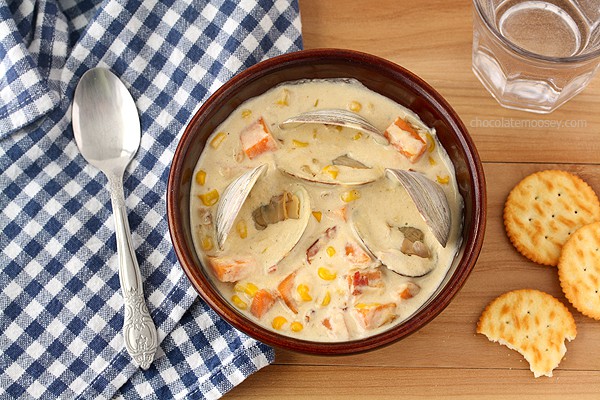 1/5/14: I wanted to blog about clam chowder (updated:
recipe found here
), so I chose to make, shoot, and eat it for dinner today. Plus fresh clams are best eaten within 24 hours because they are alive (and I bought them the day before). You don't want to eat them if they are dead (
read more about fresh clams here
). When I was buying clams for my clam chowder, I noticed cod was on sale. I've been wanting to make homemade fish sticks but fish can be pricey, so on a whim I bought cod to make fish sticks soon.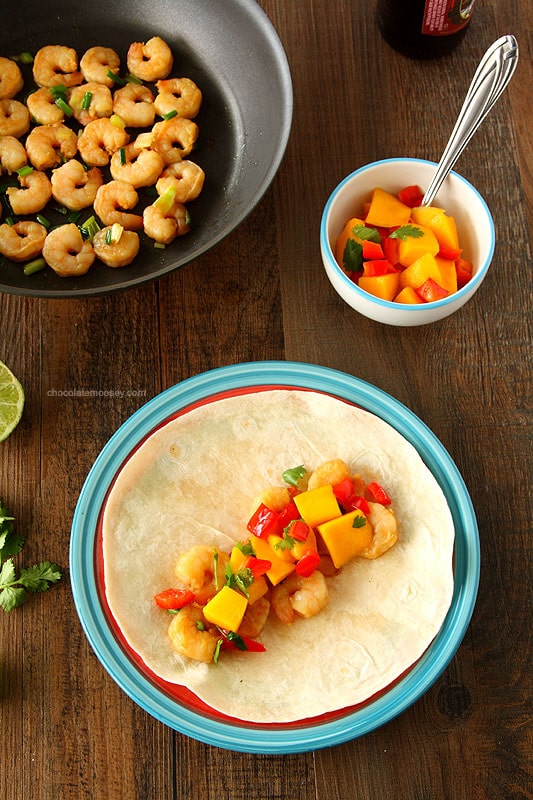 1/6/14 – Today I had my
Asian Shrimp Tacos with Mango Salsa
for dinner. I could've done a better job planning ahead, like marinating (or even just defrosting) the shrimp and cutting up the mango the night before. Regardless I still got dinner done in less than an hour (with the shrimp marinating just under 30 minutes).
1/7/14 – Somehow I missed this Cauliflower "Fried Rice" recipe my friend Anita posted. She did a best of 2013 recap when I saw it and knew I just had to make it. I loved how she used tiny bits of cauliflower instead of actual rice, meaning more veggies and less carbs. There is a lot of prep work involved, but fortunately the food processor does most of it for you. If you know ahead of time you will be pressed for time, you can certainly prep your veggies early. I didn't even have the head of cauliflower cut, so I took the time to cut all of it and saved roughly half of it in a container for another recipe. As far as dinner, I thought I would make a meal out of the "rice" by putting a runny egg on top, but between the runny egg and the scrambled egg in the recipe itself, I was on egg overload. Next time I'll just stick to the written recipe. Also, I accidentally put in too many peas. Measure your peas!
1/8/14 – My department at work had our big belated Christmas lunch today at a local restaurant with good food. Because I had such a big lunch (prime rib panini with homemade potato chips plus various appetizers), I didn't eat much of a dinner. I eventually ate some ramen soup later in the evening. I knew this ahead of time, so I didn't plan anything for dinner.
1/9/14 – Recently, I won some Texas Brew Salsa in a giveaway. Originally I had Roasted Cauliflower Soup on the list, but I really wanted to try the salsa. I used the Honey Roasted Mango Salsa as sauce for some spaghetti. Premade salsa, especially when it's good on its own, makes the easiest and quickest sauce when you don't feel like cooking. I threw in some corn to add some vegetable (yes, I know corn is technically a grain and probably not the best nutritional thing out there).
1/10/14 – Tonight I originally had Mexican Shrimp Bisque on the menu (recipe not yet posted), but because I saw cod on sale last weekend, I decided to make Baked Fish Sticks but without the dipping sauce. I just used ranch instead.
1/11/14 – Originally I had wings on the menu but was not in the mood for chicken. Because I had some cubed sweet potato leftover from my clam chowder (updated: recipe found here), I decided to retest the recipe and made some adjustments. Since I was out of clams, I used some leftover fish sticks from the night before for a fish chowder.
1/12/14 – Today's dinner made me really excited to cook. A few weeks ago, I made Chicken Parmesan Meatballs from Hungry Couple to go with some spaghetti. That same night I literally had a dream about making chicken parmesan meatball soup and have been thinking about it ever since. The recipe came out wonderful and can't wait to share it with you.
Later that evening, I cooked some chicken quarters to use for dinner in the upcoming week.

1/13/14 – Because I planned ahead the night before, I was able to use the cooked chicken to make my
Buffalo Chicken Salad Sandwiches
. I had a little bit leftover, so I packed the remaining sandwich for lunch the next day.
1/14/14 – Remember last week I made clam chowder? I ended up with an extra whole sweet potato (always hard to tell how much to buy), so I made Curried Shrimp On A Sweet Potato from the cookbook Serve Yourself: Nightly Adventures in Cooking for One (Amazon affiliate link). Pretty much it was a baked sweet potato topped with shrimp cooked in coconut milk and curry powder. I made the recipe once last month, so I knew it was a keeper. Now I have leftover canned coconut milk.
1/15/14 – Original plan was Sesame Peanut Noodles from Nigella Lawson, but I couldn't find any Asian noodles. The one Wal Mart I went to had almost a full aisle dedicated to Latin food but only one tiny little section for Asian. I'll have to wait on the Sesame Noodle Salad. Instead, I finished up the remaining Texas Brew Salsa I had last week and tossed it with spaghetti (again).
Lessons Learned
Not bad for the first two weeks! I had to make some changes as the days went on to reflect both my mood and leftover ingredients. I'll have to schedule in some "free days" to use up those ingredients and avoid throwing away food. For the next two weeks, I took inventory and wrote down everything that must be eaten soon. Now to plan everything out before I go shopping on Saturday…
Menu planning is definitely harder than it sounds. What are some of your favorite menu planning tips?