Soft on the inside, slightly crisp on the outside, these nutty molasses cookies bring the flavors of the season to your holiday cookie tray.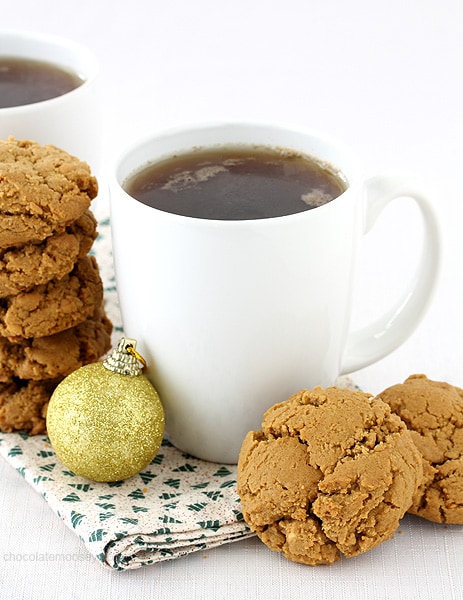 This post is sponsored by Grandma's Molasses.
When you think of Christmas cookies, what ingredients come to mind? I don't know about you, but I can't bake through the holidays without opening a jar (or two) of molasses; after all, it's one of the main ingredients in gingerbread and molasses cookies. One of the brands I use quite often is Grandma's Molasses, so you can imagine how honored I was when they asked me to help celebrate their First Annual National Cookie Exchange campaign this year. For the past several years I've made chocolate gingersnap cookies to bring into work. This year, I wanted to go sans chocolate with Peanut Butter Molasses Cookies. These soft nutty cookies with a slightly crisp exterior will spice up the holiday without needing any chocolate (says this chocoholic).
Every Christmas, I bake cookies for everyone, whether it's exchanging with friends
via snail mail
, bringing them into work to share, or making them for
Santa
my parents. These spiced nutty cookies went to my coworkers, who gobbled them up within a day or two. One guy was hesitant because they had molasses, but one bite and he was a believer.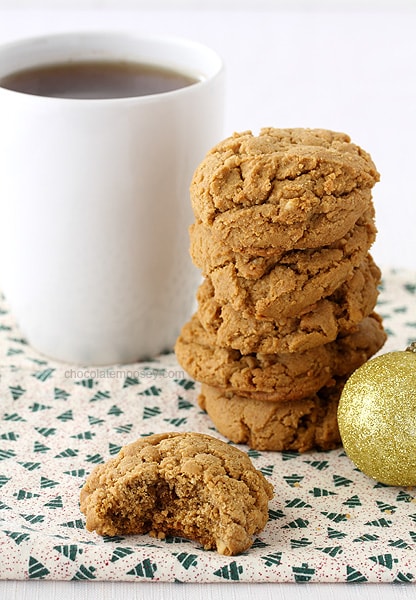 I have so much fun doing cookie exchanges, from selecting and baking the cookies to packaging and seeing people's reactions. You can go very basic with clear plastic treat bags and some ribbon to decorated paper boxes and Christmas tins. Pretty much any retail store that sells Christmas decorations have some sort of packaging to help you out.
Speaking of cookie exchanges, this year Grandma's Molasses is celebrating their First Annual National Cookie Exchange by launching a recipe submission cookie contest on
their Facebook page
from December 3 through December 14. All you need to do is submit an original cookie recipe that features Grandma's Molasses. One lucky winner will receive a $500 Visa gift card and have his or her recipe featured along side mine and 11 other bloggers' recipes. In addition, there will be a daily sweepstakes for a chance to win a Visa gift card and free Grandma's Molasses. Because the contest doesn't start until next week, that'll give you time to bake over Thanksgiving weekend and have family and friends be your taste testers. Mark it on your calendars so you don't forget!
For more molasses recipe ideas, be sure to follow Grandma's Molasses on Facebook, Twitter, and Pinterest.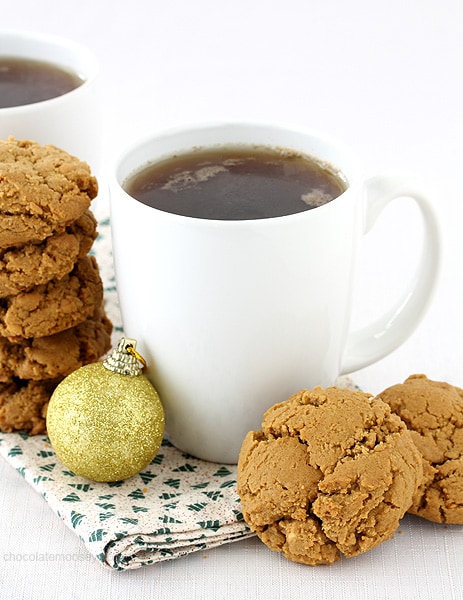 Ingredients
2 + 1/4 cups all purpose flour
2 teaspoons baking soda
1 teaspoon ground cinnamon
1 teaspoon ground ginger
1/2 teaspoon ground cloves
1/4 teaspoon salt
1/4 cup Grandma's Molasses
1/4 cup (1/2 stick) butter-flavored shortening
1/2 cup peanut butter
1 cup packed brown sugar
1 egg
Instructions
Preheat oven to 325F. Line two cookie sheets with parchment paper.
In a large bowl, whisk together the flour, baking soda, cinnamon, ginger, cloves, and salt.
In another large bowl, beat together the molasses, shortening, peanut butter, and brown sugar until smooth. Beat in the egg. Gradually beat in the flour mixture until combined (if the dough seems crumbly, keep beating another minute or two until it all comes together to form the dough).
Shape the dough into 1 1/2 inch balls and place about 2 inches apart on the cookie sheets. Bake 13-15 minutes or until edges are firm and tops crack a bit. Transfer cookies to a cooling rack.
7.6.3
3219
https://www.chocolatemoosey.com/2013/11/26/peanut-butter-molasses-cookies/
—-
If you liked these Peanut Butter Molasses Cookies, you may also like these recipes from me using molasses: