Peanut butter rice crispy treats dipped in chocolate then sprinkled with coconut flakes make an easy holiday gift from the kitchen.

I was shopping at Wal Mart the other weekend, spending more money than usual (don't we all when November rolls around?). When the cashier rang me up, she said, "You're a baker, aren't you?" That's because in addition to what I call normal people groceries, I also had marshmallows, chocolate, coconut, peanut butter, chocolate chips, molasses, and a few other things ready for the oven. I bet I could've cut my grocery bill in half if I didn't bake, but I can't help it – I love baking around the holidays. Every Christmas I give gifts from the kitchen – homemade goodies made from the heart. Not only is it easier on my wallet, it lessens the stress of what to buy everyone. That's why today I am bringing you one of my latest creations – Chocolate Dipped Peanut Butter Rice Crispy Treats. Nutty, crunchy, sweet. Who wouldn't want to get these as a gift?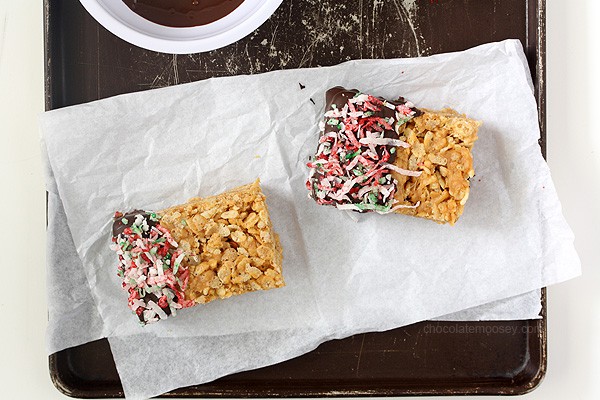 It's no secret I love
rice crispy treats
. They can easily be made with your eyes closed. Ok so they need to be open just a little so you can see, but it won't require much brain power. During the summer, I made
peanut butter rice crispy treat truffles
, but then I realized – I never made just basic peanut butter treats. All you do is add peanut butter to the melted marshmallows, and they take on a whole new flavor.
To decorate the treats for Christmas I dipped them in chocolate and sprinkled on coconut flakes I had dyed red and green. Of course if your recipients don't like coconut, you can use sprinkles or even chopped peanuts. The key is knowing your recipient and personalizing your homemade gift.
I couldn't make these treats without Kraft products, products I use often. I usually have several bags of Jet-Puffed Marshmallows in my pantry because one time I bought generic marshmallows and hated them because they had a weird aftertaste. I also have several Baker's Chocolate on hand because it seems like I'm always
melting or dipping chocolate
. Let's not forget
how much peanut butter I consume
and that I'm a rock star with two award-winning coconut desserts (
here
and
here
).
To give these chocolate-dipped treats as a gift, I wrapped mine in clear plastic treat bags that you can find at most craft stores. I thought I had cute gift boxes with little windows, but I couldn't find any from last year's stock. If your friends and family are far away, rice crispy treats can be mailed without worry.
Check out my mailing tips from last year
.
Chocolate Dipped Peanut Butter Rice Crispy Treats
Ingredients
3 tablespoons butter
One (10 ounce) bag large marshmallows (roughly 40 large marshmallows)
1 cup creamy peanut butter
6 cups rice crispy cereal
8 ounces semisweet chocolate, chopped
1 cup shredded coconut
Red and green food coloring (optional)
Instructions
Line an 8x8 or 9x9 pan with parchment paper (or grease with cooking spray).
In a large wide-bottom pot, melt the butter. Add the marshmallows and melt, stirring constantly. Stir in the peanut butter. Add the cereal and mix until everything is fully incorporated. Quickly spread into the prepared pan, pressing down to form an even layer (I use a piece of parchment paper to protect my hands). Cool completely then cut into 12 rectangles.
If using food coloring, divide the coconut into three small bowls (1/3 cup each). Leave one bowl plain. With the second bowl, add a few drops of red and stir to mix. In the last bowl, add a few drops of green and stir to mix.
Line a cookie sheet with parchment paper. In a narrow yet deep microwave-safe bowl, melt the chocolate*. Dip one treat into the chocolate and place on the cookie sheet. Sprinkle on coconut. Repeat until all of the treats are dipped. Let the chocolate harden before storing in an airtight container for up to one week.
Notes
*Since my dipping bowl was small, I melted about 2 ounces of chocolate, dipped a few treats, then melted more chocolate.



If you liked these Chocolate-Dipped Peanut Butter Rice Crispy Treats, you may also like these recipes from me: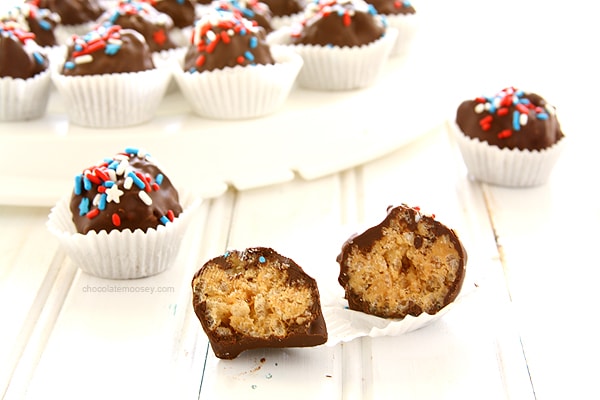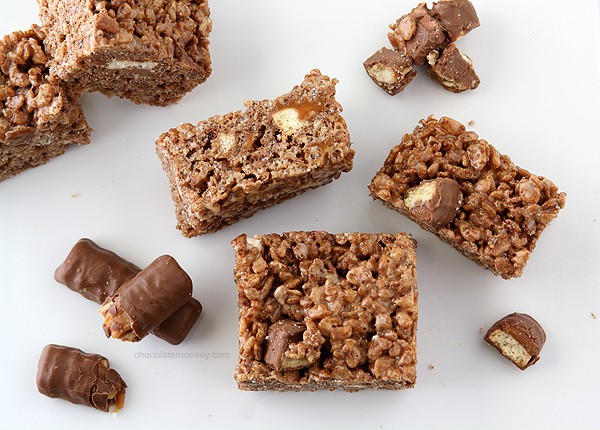 Disclosure: This shop is part of the #KraftEssentials campaign and has been compensated as part of a social shopper insights study for Collective Bias and its client. As always, thanks for supporting Chocolate Moosey!