Soft pumpkin sugar cookies topped with creamy cinnamon frosting and festive sprinkles to put you in the pumpkin mood.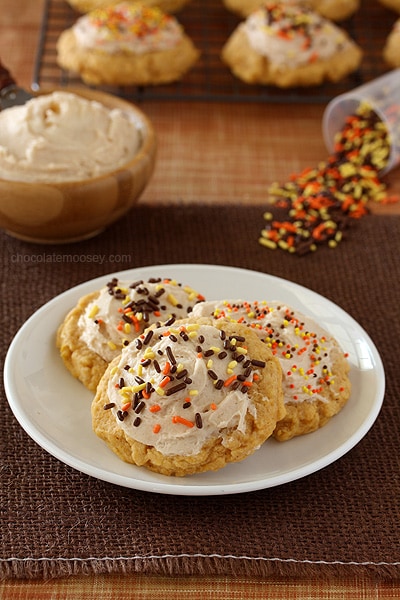 I knew I couldn't go through November without posting anything pumpkin, so I finally opened my first can of the season. Usually I don't wait this long, but I wanted to get through
apple season
first before I could concentrate on pumpkin goodies. As soon as I heard about cookie week, my first thought was pumpkin cookies of some sort. I already posted about
my favorite pumpkin raisin cookies
when I first started blogging. Now to bring you something different – Pumpkin Sugar Cookies with Cinnamon Frosting. Soft and spiced, these festive cookies belong on your cookie tray for fall.
I don't know about you, but I love decorating sugar cookies with sprinkles even though I don't use them enough. Seriously, I'm a sprinkles hoarder. Which type do you like – traditional sprinkles or nonpareils (the dots)? Personally I like the traditional kind the best, but I eat all sprinkles equally.
You won't need to roll out the dough, which is a huge plus when time is limited. Just make balls like you would with any cookie dough and place them on the cookie sheet. However, I used shortening, so the dough won't spread much. If you want smaller cookies, gently flatten the top just a bit (think flat fat dough balls). If you want slightly bigger cookies as pictured, flatten with the bottom of a glass before baking. Please note that if you do use butter, you may want to bake a test batch to see how much they'll spread.
The frosting is very similar to the
Lofthouse Cookies
you see in bakeries everywhere. Creamy, sweet, and hardens ever so slightly so your frosting doesn't get too smashed when storing the cookies. That also means it's important to add sprinkles as soon as you frost a cookie to ensure they stick. If you wait to frost all of the cookies then add sprinkles, they may not stick as well. I highly recommend using an offset spatula to frost, but a knife will do in a pinch.
Soft Pumpkin Sugar Cookies with Cinnamon Frosting
Ingredients
Cookies
2 cups all purpose flour
1/2 teaspoon baking powder
1/4 teaspoon salt
1/2 teaspoon ground cinnamon
1/4 teaspoon ground nutmeg
1/8 teaspoon ground ginger
1/8 teaspoon ground cloves
1/4 cup butter-flavored shortening
1/4 cup vegetable oil
1/4 cup canned pumpkin puree
1/2 cup granulated sugar
1/4 cup powdered sugar
1/4 teaspoon vanilla extract
1 egg
Frosting
1/4 cup unsalted butter, softened
1 cup powdered sugar
1/4 teaspoon vanilla extract
2 tablespoons heavy whipping cream
1/2 teaspoon cinnamon
Sprinkles
Instructions
For the cookies
Preheat the oven to 350F. Line two baking sheets with parchment paper.
In a large bowl, whisk together the flour, baking powder, salt, cinnamon, nutmeg, ginger, and cloves.
In a large mixing bowl, beat together the shortening, oil, pumpkin, and both sugars until smooth. Beat in the egg and vanilla. Gradually beat in the flour mixture until completely incorporated (do not overbeat).
Scoop the dough using a 1-1/2 tablespoon cookie scoop onto the baking sheets. Flatten each one with the bottom of a glass to roughly 1/2-inch thick. Bake 8-9 minutes or until edges are firm and center puffs. Cool on the sheet for 4 minutes then move to a wire rack to finish cooling.
For the frosting
In a large mixing bowl, beat together the butter and sugar until smooth. Add the vanilla, cream, and cinnamon and beat until light and fluffy. Scoop a spoonful on top of each cooled cookie then spread with an offset spatula. Immediately top with sprinkles. Store in an airtight container for up to one week.

Source: Adapted from Lauren's Latest
—-
If you liked these Soft Pumpkin Sugar Cookies with Cinnamon Frosting, you may also like these recipes from me: